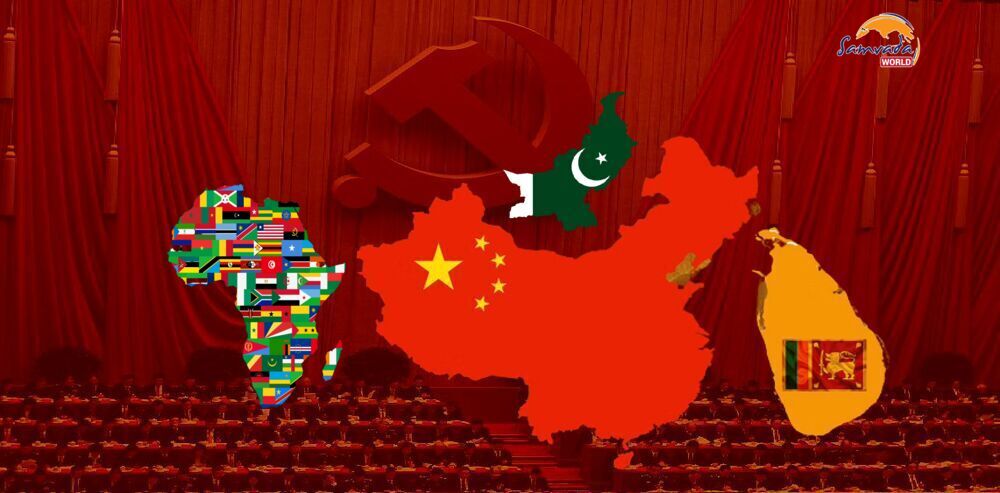 BRI plays a significant role in the rise of China.
Connects the Chinese economy with Asia, Europe and African markets.
The involvement of Pakistan and other South Asian countries in BRI is a major concern for India.
China is expanding Debt-Trap diplomacy through Belt and Road initiative.
Many countries involved in BRI are witnessing economic crises, including Sri Lanka and Pakistan in South Asia.
The Belt and Road Initiative (BRI), formerly known as One Belt One Road (OBOR), is a worldwide infrastructure development project launched by the Chinese government in 2013 to invest in over 150 countries.
BRI is a transcontinental long-term policy and investment programme that intends to expand infrastructure and accelerate the economic integration of countries along the historic Silk Road path. The initiative was launched in 2013 by China's President Xi Jinping. The National Development and Reform Commission (NDRC), the Ministry of Foreign Affairs (MOFA), and the Ministry of Commerce (MOFCOM) of the People's Republic of China (PRC) announced the formal framework for the Belt and Road Initiative on March 28, 2015, with State Council approval.
The belt and road initiative is a worldwide effort, but because it is based on the historic Silk Road, it focuses primarily on countries in Asia, Eastern Africa, Eastern Europe, and the Middle East, a region dominated by growing markets. According to the Belt and Road Portal, 71 nations currently participate in the initiative, accounting for more than a third of the world's GDP and two-thirds of the world's population.
It aims to "promote connectivity among the Asian, European, and African continents. Also, connect their adjacent seas, and establish and strengthen partnerships among the countries along the Belt and Road. Further found and supported all-dimensional, multi-tiered, and composite connectivity networks and realised diversified, independent, balanced, and sustainable development in these countries.
With vast development and investment programmes, it would run from East Asia to Europe, connected via land and sea networks to improve regional integration, increase commerce, stimulate economic growth and dramatically expand China's economic and political influence.
The five primary priorities of the project are:
Policy cooperation,
Infrastructural connectivity,
Unhindered trade,
Financial integration, and
Linking people.
BRI and Debt-Trap Diplomacy
Critics fear China may employ "debt-trap diplomacy" to compel strategic concessions, such as territorial conflicts in the South China Sea or human rights crimes. Some observers regard the BRI idea as an unsettling extension of China's expanding power, and as the costs of many of the projects have risen, criticism in some countries has intensified. Meanwhile, the US shares some of Asia's concerns and has expressed concern about Beijing's activities, but it has struggled to offer an alternative economic strategy to Asian nations.
The risk for the countries involved in the BRI project is high. Sri Lanka, where the government leased a port to a Chinese business for 99 years after failing to make payments, is an exemplary example. Earlier this year, the Centre for Global Development discovered that eight more Belt and Road countries were in significant danger of failing to return their debts. Djibouti, Kyrgyzstan, Laos, the Maldives, Mongolia, Montenegro, Pakistan, and Tajikistan are among the poorest in their respective regions and owe China more than half their total foreign debt.
Some observers regard the BRI idea as an unsettling extension of China's expanding power, and as the costs of many of the projects have risen, criticism in some countries has intensified.
The US and G7 are worried about China's regional involvement and rising economic power. They have responded by initiating the Partnership for Global Infrastructure and Investment (PGII) at the 48th summit held in Germany, emphasising its commitment to closing the infrastructure deficit in developing countries.
US President Joe Biden and other G7 leaders have announced ambitious plans to raise USD 600 billion in investment by 2027 to provide transparent and game-changing infrastructure projects in developing nations such as India, considered a challenge to China's Belt and Road Initiative.
The US International Development Finance Corporation (DFC) will invest up to USD 30 million in Omnivore Agritech and Climate Sustainability Funding. It also invests in entrepreneurs building the future of agriculture, food systems, climate, and the rural economy in India. It stated that the Fund aims to invest in enterprises that promote climate resilience and adaptation in India and boost the profitability and agricultural output of smallholder farms.
India's Concern
To better comprehend India's worries, consider four specific corridors that are essential components of the BRI and run through India's South Asian neighbour: the China-Pakistan Economic Corridor (CPEC), the Bangladesh-Chia-India-Myanmar (BCIM) Economic Corridor, the Trans-Himalayan Economic Corridor (THEC) and the Maritime Silk Road (MSR). These four corridors and the infrastructure developments linked with them directly affect India's strategic interests. They are close to India's continental and marine borders and impact its security interests and strategic environment. China's engagement with India's immediate neighbours through these corridors threatens to disrupt the region's existing power relations.
India has declined to participate in BRI due to China's participation with Pakistan in the China-Pakistan Economic Corridor (CPEC), a significant project under BRI connecting Xinjiang in China and Gwadar in Balochistan via PoK and Gilgit-Baltistan. Second, India regards CPEC as a 'unilateral' effort from China, which violates its sovereignty. New Delhi is concerned that Chinese-funded infrastructure projects will violate accepted international standards and norms, grant China more significant geopolitical influence, and provide China with undue economic and diplomatic leverage over India's neighbours' policy-making decisions in ways that will disadvantage India.
Furthermore, India is concerned about the Maritime Silk Silk Route, which the Chinese promote as part of the OBOR. Also, the Maritime Silk Route is frequently associated with China's String of pearls' strategy for dominating the Indian Ocean. As China has committed to port developments with Pakistan, Sri Lanka, Bangladesh, and Myanmar, India is concerned about Chinese influence. Given that BCIM predated BRI and was conceived with the goal of sub-regional development, India should pursue those objectives.
By partnering with BCIM, India can capitalise on the region's economic linkages. As a result, it would be good to reconsider the chance to expand the BCIM forum. As one of the world's major economies, India's vital geostrategic position will lend momentum to the forum regarding practical outcomes. A comprehensive strategy to analyse and expand business between South, Southeast, and East Asia should be emphasised through BCIM. For its benefit, India should be an active participant in the forum. India should not pass up the potential presented by BCIM, especially in light of China's regional connectivity projects.
India is concerned about the Maritime Silk Silk Route, which the Chinese promote as part of the OBOR. Also, the Maritime Silk Route is frequently associated with China's String of pearls' strategy for dominating the Indian Ocean.
Aside from CPEC, the Chinese are also pushing hard for the China-Myanmar Economic Corridor (CMEC). The corridor will be a Y-shaped corridor that will run from China's Yunnan region to Mandalay, Myanmar. After reaching Mandalay, the corridor might be extended to Yangon and the Kyaukphyu Special Economic Zone in Rakhine State.
The Chinese will have access to the Indian Ocean through CMEC, which may be of concern to India. Bangladesh has officially been a part of the BRI since 2016, and China has made substantial investments in the country, totalling more than 38 billion. Apart from Bangladesh, Myanmar, and Pakistan, China's enormous investment in Nepal, Sri Lanka, and the Maldives has irritated India. India appears to have two options: "catch up" or claim a stake in the transformations. While catching up may take a significant amount of time and resources, being a part of the transformation with better coordination and cooperation can be a step forward.
India's Counter Measures
To counter the Belt and Road Initiative, India has already started a number of its connectivity programmes.
Project Mausam: Project 'Mausam' is a Ministry of Culture project carried out by the Indira Gandhi National Centre for the Arts (IGNCA) in New Delhi as the primary coordinating body, with assistance from the Archeological Survey of India and the National Museum as partner bodies.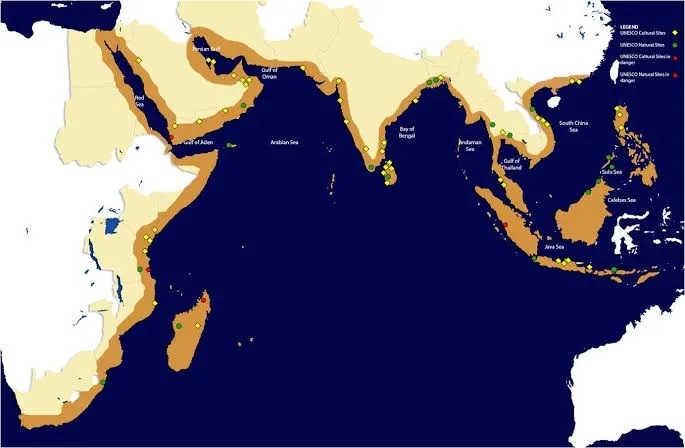 Project 'Mausam,' which focuses on monsoon patterns, cultural channels, and maritime landscapes, investigates key processes and phenomena that connect different areas of the Indian Ocean coast and those that connect coastal centres to their hinterlands. In general, Project 'Mausam' seeks to explore how knowledge and manipulation of monsoon winds have affected contacts across the Indian Ocean, resulting in the spread of shared knowledge systems, traditions, technologies, and ideas via maritime channels. Also, it focuses on two levels. At the macro level, it strives to reconnect and re-establish communications across Indian Ocean countries, resulting in a better understanding of cultural values and concerns. The emphasis at the micro level is on understanding national cultures in their regional maritime milieu.
The second project India is involved in is the Quad. The Quad or the Quadrilateral Security Dialogue is a group of four countries: the United States, Australia, India, and Japan. Following the 2004 Indian Ocean tsunami, they began cooperating on maritime matters. Today, however, the countries—all democracies with thriving economies—are focused on a far larger agenda that addresses security, economic, and health concerns. Leaders in all four nations have become more aligned in their shared concerns about China's growing assertive behaviour in the area as of 2021, and they are more inclined to set a constructive agenda of cooperation. In November 2020, all four navies engaged in their first joint exercise in almost a decade.
Another project India is involved in is the Chabahar Port. India has contributed to the construction of Iran's Chabahar port. Because of Chabahar's unique location, India has access to Iran, Afghanistan, Central Asia, and Europe, avoiding Pakistan and significantly shortening present travel distances and times.
(Noureen Mansoor is a Research Scholar in the Department of International Relations, Peace and Public Policy (IRP&PP), St. Joseph's University (SJU), Bengaluru-Karnataka, India. Dr. Karamala Areesh Kumar teaches in the Department of International Relations, Peace and Public Policy (IRP&PP), St. Joseph's University (SJU), Bengaluru-Karnataka, India)