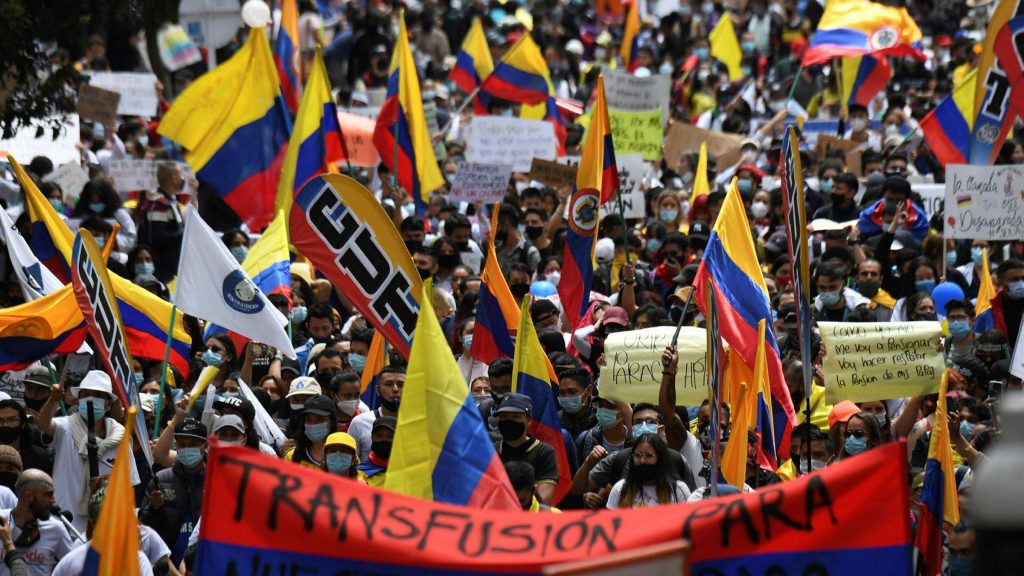 At least 50 people have died since the protests in Colombia began, according to media reports, while 524 have disappeared.
The protests are turning out to be a big headache to the Colombian government, which is already struggling to deal with the coronavirus pandemic in the country. With Colombia fast running out of hospital beds, it is feared that the protests will lead to the virus spreading even faster. The government is also facing challenges in ensuring the distribution of food, fuel and other essential supplies, with transportation routes blocked by protesters.
The Colombian government has said that it would consider a list of demands put forward by demonstrators as country-wide protests moved into the third week.
 
Why are Colombians protesting?
First, controversial tax reforms as the initial trigger. The reforms, put forward by right-wing president Ivan Duque Marquez and aimed at pulling Colombia out of a pandemic-induced financial crisis, had imposed service tax on essential goods, widened the tax bracket and eliminated tax benefits. Duque's decisions caused uproar in the country where the poverty rate had crept up to 50 per cent while the unemployment rate had risen to 15 per cent. The new tax regimen had prompted trade unions to call for a strike on 28 April.
On 2 May, Duque had withdrawn the tax regimen, while a day later, his finance minister had announced his resignation. However, these developments did not pacify protesters.
Second, the violent response by the government. The police have been accused of resorting to extreme violence to quell the protests, with deaths and injuries mounting by the day. On 16 May, Reuters quoted Colombia's national police director general Jorge Luis Vargas who said that 122 disciplinary proceedings had been initiated against policemen since the protests began. The extreme violence led to the nationwide expansion of the protests, which were initially confined to Bogota and Cali's capital in the southwest.
Third, a multi-dimensional expansion of the protests. The demands of the protesters had evolved from rolling back the tax reforms to a long list that includes universal basic income, free university tuition and dismantling of the riot police force. The protests also saw a geographical expansion with separate incidents triggering escalations in different cities.
In Popayan, it was the suicide of a young woman after alleged police harassment, while in Jamundi, it was the fatal shooting of a student protester. After initially being led by trade unions, the protesters now belong to a wide array of socio-economic classes, with students, religious groups, LGBTQ+ activists and indigenous communities now taking to the streets.
Latin America plagued by Protests
Many countries in Latin America are plagued by similar protests with many countries sharing the same societal fault lines that have been laid bare in Colombia.
In 2019, similar protests in Ecuador had quickly spread to Chile, Paraguay, Bolivia, Peru, Venezuela and Colombia. It remains to be seen if these protests too will lead to instability across the continent.