Europe is now dealing with two extremes related to the COVID19 pandemic – The rise in Corona infections on one end with large scale protests against lockdown and COVID19 safety norms at the other. Many countries in the continent are in the grip of protests against fresh lockdown as COVID19 cases continue to rise. Germany has become the epicentre of this anti-lockdown movement in Europe, as thousands of people have been taking to the streets in several cities to defy social distancing measures and mask mandates for many months now.
As the second wave of COVID19 hit Europe in early November, patients started to fill hospitals in many countries. In order to stem further increase in infections, governments resorted to partial to full lockdowns and strict enforcement of COVID19 safety norms – social distancing, wearing masks, washing hands regularly among others. Many in Germany and the UK have protested against lockdown when it was first imposed in March and April. However, these protests were seen as sporadic and not many governments took it seriously. But as weeks passed and governments relaxed complete lockdowns and resorted to partial lockdowns, protests against lockdowns increased. What was restricted to few pockets, spread to city centres and towns.
While some reasons related to livelihood and economy can be viewed as legitimate concerns, infiltration of conspiracy theorists, anti-vaccination gangs (anti-vaxxers), QAnon activists and criminal organizations has vitiated the atmosphere as governments were forced to crackdown on the protesters.
Reasons for Protests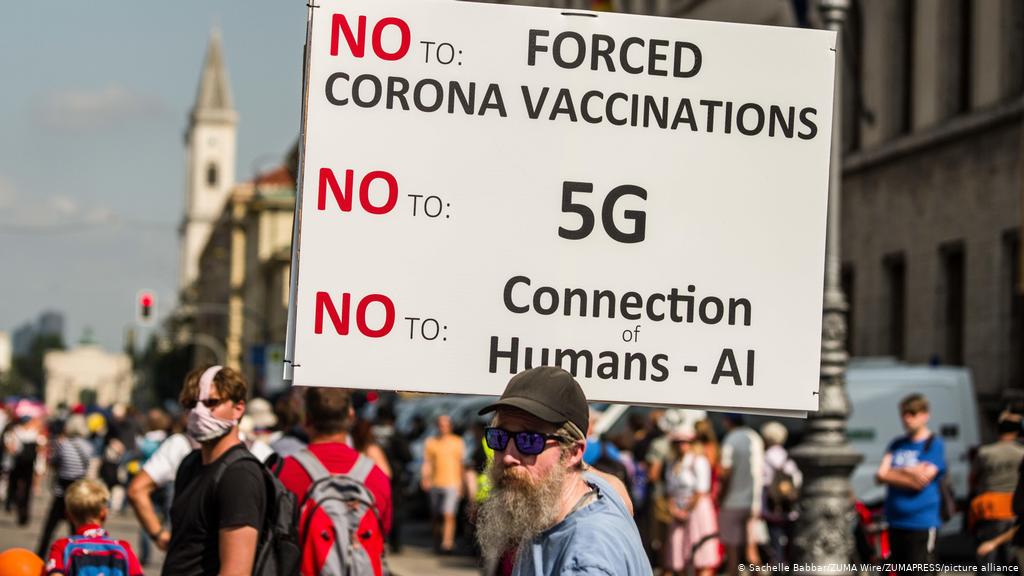 A study by Social Observatory for Disinformation and Social Media Analysis (SOMA) funded by the European Union found that these protests started with genuine concerns over loss of livelihood and ailing economy. According to a report released by Eurostat on October 30, on a year-over-year basis the Gross domestic product (GDP) in the European Union decreased by 13.9% (-ve) during the second quarter of 2020, and it then partially recovered to -3.9% in the third quarter. People expected things to look up during summer as governments relaxed restrictions. However, the number of COVID19 cases which saw a dip in September started to increase in October. In early November, France registered more than 60,000 cases per day and infections increased rapidly even in Germany, Italy, Spain, and the United Kingdom.
The rise in infections forced the governments to consider imposing lockdowns again. As the shadow of a fresh lockdowns started looming over Europe, labour groups who were most affected by the first set of restrictions got organized to make their voices heard and call on authorities to rethink their decisions. In October and early November, anti-lockdown protests took place in major cities in a number of countries such as Italy, Spain, Germany, the United Kingdom, and the Czech Republic. The study by SOMA shows that the main demands and goals of the protest were set up by the genuinely affected professional categories like, the restaurants owners, entertainment workers, tourism operators among others.
On October 26, people took to the streets in Italy protesting against the new regulations, effective since that morning, which among other things forced restaurants and bars to close between 6 p.m. and 5 a.m. In Milan, protesters damaged shops and threw firecrackers, stones and bottles toward the Regione Lombardia building, where local authorities are based. Similar scenes were witnessed in Rome, Turin, and several other cities.
In Spain, Prime Minister Pedro Sanchez declared a six months state of emergency in the country and imposed a nationwide curfew on October 25. The Guardian reports that more than 30 people were arrested in Madrid on November 1, when protesters set trash bins on fire and damaged stores in main streets of the capital. On November 6, more than 190 people were arrested in London for participating in anti-lockdown demonstrations. Clashes between protesters and police forces were also reported in Leipzig, Germany, on November 8, when more than 20,000 people joined a demonstration against the new restrictions imposed to stop the spread of Covid-19 in the country. France too was hit by a wave of anti-lockdown protests towards the end of October but were less violent.
However, these protests often turned violent and ended in a series of arrests by local police forces. Investigation by SOMA into the violent protests showed that the protests were infiltrated by extremists and criminal organizations. In Italy, it was suspected that protests turned violent due to the involvement of Camorra (Mob) or extremist forces in the demonstrations.
In July, the British government published a study called "Covid-19: how hateful extremists are exploiting the pandemic". The results link the violence experienced during protests to the increasing amount of conspiracy theories that spread during the pandemic. The report claims that these theories are not specific to any one ideology, but are used by the Far Right, Far Left and Islamists to further their own ideological aims. SOMA says that the role of disinformation is the final element that links together anti-lockdown protests across Europe.
Role of anti-vaxxers, conspiracy theories, and QAnon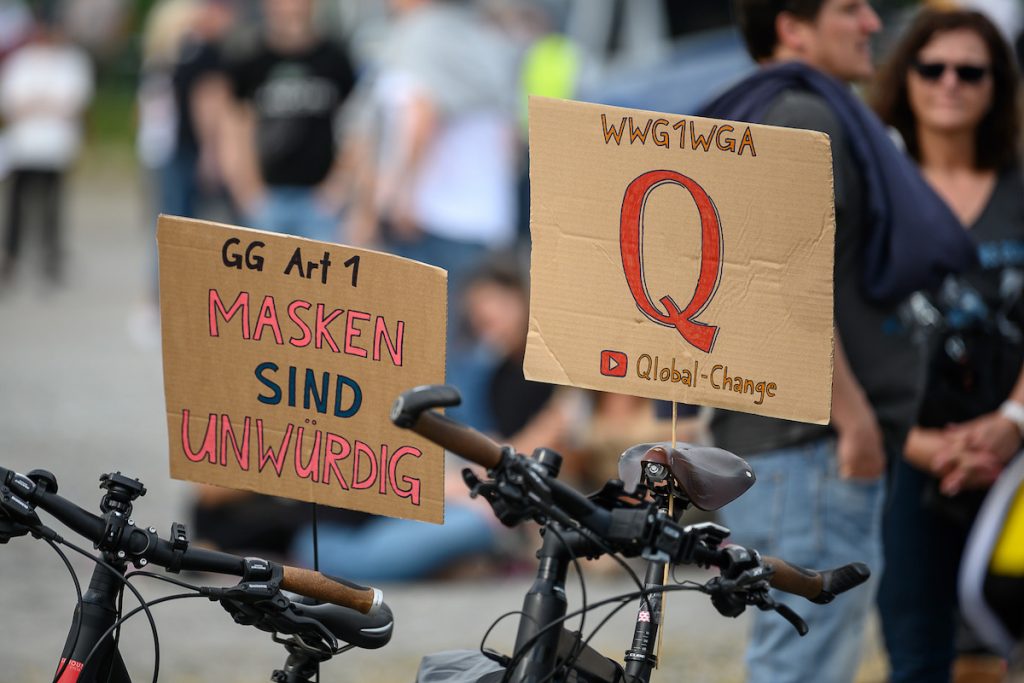 Newspaper reports from across Europe, studies by groups like SOMA, and Eurostat show that most Anti-lockdown protests turned violent due to the involvement of supporters of conspiracy theories, anti-vaxxers and activists from groups like QAnon.
Conspiracy theorists and anti-vaxxers compliment each other. While the first group negates the very existence of the virus, the second group sees the entire pandemic as a ploy by the vaccination producing companies and their evangelists like Bill Gates. Since the beginning of the health crisis, the members of these groups have believed and disseminated large amounts of fake news and disinformation about the origins of the disease, potential remedies and vaccines.
At the same time, the QAnon movement which started in the USA started acquiring followers in Europe. The QAnon group's beliefs are based on a set of conspiracies that claim that the US is secretly controlled by a cabal of politicians, celebrities, and media figures who engage in child abuse and pedophilia and that President Donald Trump will eventually move against these people. Its believers seek clues from an unknown government insider known as Q. There is no evidence to support this theory, and none of its claims have come true.
QAnon became quickly popular among anti-vax movements, and it encouraged its growing audience to downplay the risk posed by the pandemic. It also supported the thread of fake news about the alleged involvement of vaccine evangelists like Bill Gates' in the pandemic. The QAnon believers also claim that protective masks have been imposed to cause harm. Some of these outrageous claims were supported by some politicians in several countries. For example, in Italy prominent leader Sara Cunial repeatedly supported no-vax and 5G conspiracies in Parliament. In Germany, Alternative für Deutschland (Afd)'s take on COVID19 matches the theories of QAnon. In Spain, the far-right Vox party, has bitterly criticised the Socialist-led government's handling of the pandemic, and has given all support to the protesters and has directly helped the conspiracy theorists and fringe groups.
QAnon supporters were often involved in anti-lockdown protests across Europe especially in Germany and the United Kingdom. As the conspiracy theories spread, so did the protests and supporters for groups like QAnon. Studies from the University of Cambridge and Oxford show that people who believe in coronavirus conspiracy theories are less likely to comply with social distancing guidelines or take-up future vaccines.
Why is Germany considered the epicentre?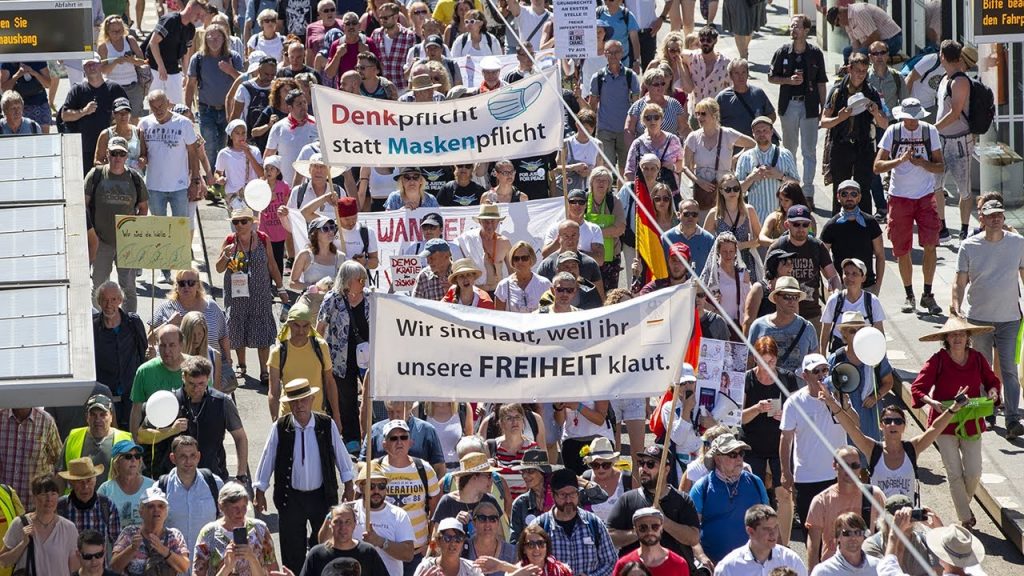 While anti-lockdown protests are taking place across Europe, Germany has seen the largest protests. Guardian reports that for nine consecutive weekends, the country has witnessed thousands of people protest lockdown measures in cities including Berlin, Munich, Stuttgart, Cologne, and Frankfurt. On November 21, Berlin saw more than 10,000 protesters rally in front of the Reichstag — Germany's parliament — in defiance of social distancing measures and mask orders.
Local media reports show that the large number of protesters is due to huge support to the conspiracy theorists, esotericists, anti-vaxxers, QAnon group and the involvement of radical extremists, anti-semites and even football hooligans who have united to accuse lawmakers of being in collusion with the vaccine industry, 5G trial companies, triggering unnecessary panic, among other things. Another group called "Querdenken 711" (Lateral Thinking 711) inspired by QAnon has found lakhs of supporters in Germany adding to the confusion. "Querdenken 711" was founded by a 46-year-old computer entrepreneur called Michael Ballweg. Reports show that protests have become increasingly radical, with the number of followers of QAnon-related accounts on all platforms in Germany rising to more than 200,000.
Anti-lockdown protesters in Berlin for example are accusing Chancellor Angela Merkel and pharmaceutical companies of inventing COVID-19 to impose dictator-ship like conditions on the country. Some protesters referred to the social-distancing measures as a "social Holocaust." A protester who spoke to the media during an agitation in May had said that lockdown measures were not debated in Parliament and were passed without asking the people. "Lockdown is distatorial", the protester had said.
Many protesters in Germany have blamed Bill Gates for the pandemic and claim that he is responsible for the coronavirus pandemic. They say that as a vaccine evangelist, he created the virus in order to sell the vaccine produced by the companies he has invested in and in order to control the population. Images and tweets describing Bill Gates as a "deep state puppet" who wants a vaccine in order to control the population are being posted and circulated on social media sites by the conspiracy believers. A video of Bill Gates talking about population control is circulated along with the claim.
Support by prominent individuals like Robert F. Kennedy Jr., who is the nephew of former President John F. Kennedy to groups like "Querdenken 711" have vitiated the atmosphere further in Germany. Kennedy is an anti-vaxxer who owns an organization called Children's Health Defense, which promotes the idea that Bill Gates has a "globalist" agenda for mandatory vaccinations. Robert F. Kennedy Jr is seen as a hero among the anti-lockdown protesters in Germany and his image has been used during protests prominently. Kennedy even spoke during one of the movement's rallies in Berlin alongside Ballweg.
Another conspiracy theory that has takers in Germany is that the virus and a subsequent vaccination program is a cover for the government to plant computer chips into people to control them. Hence, many protesters were heard shouting that they will not take any vaccine. "I don't want to get vaccinated, I don't want that poison in my body", they say. The hero of the anti-vaccination group in Germany is Heiko Schöning, the founder of the anti-vaccination group Ärzte für Aufklärung ("Doctors for Enlightenment") and is also a regular speaker at Querdenken events.
Conclusion
Anti-lockdown protests have taken place even outside Europe in Canada, Mexico, United States, Australia, New Zealand, Argentina, Brazil and Chile. However, these protests were sporadic with hardly a few hundred protesters at most places. Some of these protests were attended by those genuinely affected by the lockdown while most were organised by conspiracy theory groups.
Many medical experts believe that vaccination against the virus can hamper the herd immunity due to such anti-lockdown protests and conspiracy theories. While there are no documented proofs for the conspiracy theories peddled by the anti-lockdown protesters, the governments too would do well to disseminate factual info on the safety measures and vaccines to allay any fears and misinformation. In most instances, lack of information leads to misinformation and ends in a conspiracy theory.
The governments must also separate the wheat from the chaff. Not all protesters are conspiracy theorists or QAnon supporters. The genuine concerns over livelihood must be addressed by the governments. Identifying trouble makers using unfound conspiracies must be identified and punished. Police action on all protesters may further alienate the common people who are already confused. A massive information campaign coupled with income generation measures is the need of the hour.