India's defence deal with Armenia results in an economic gain for India boosting its forex reserves, apart from being recognised as a major defence exporter in the international arena.  As an arms-exporting country, India will be in a position to use its influence to secure its interests.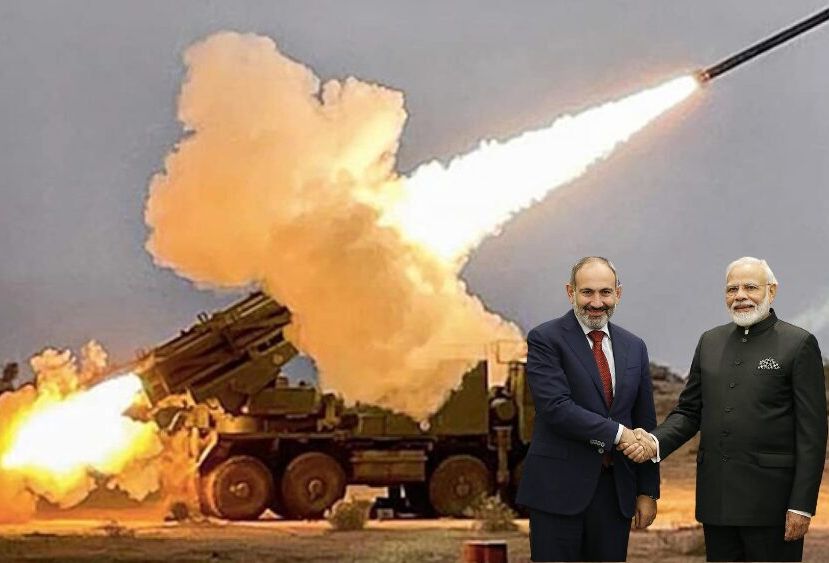 Recently, in an interview with the local Azeri TV channel Azernews, the President of Azerbaijan Ilham Aliyev said, "unfortunately, India is now playing a role among them. We consider this an unfriendly step, because, these weapons especially offensive weapons have a target, and it is Azerbaijan (source- Firstpost).
Background
Armenia, sandwiched between Turkiye and Azerbaijan, has territorial disputes with Azerbaijan. They both have conflicting claims for the Nagorno-Karabakh region. For the sake of this region, they engaged multiple times in armed conflicts with each other. However, sometimes it was a full-fledged war but many times it was a small-scale conflict in the past.
Nagorno-Karabakh region is a territory of 4400 square km which is inhabited by mostly ethnic Armenians, but it is recognised internationally as part of Azerbaijan. After the Armenia-Azerbaijan war (1988-1920) both Armenia and Azerbaijan underwent Sovietisation and after the collapse of the Soviet Union, in the first Nagorno-Karabakh war (1988-94) the region of Nagorno-Karabakh was unified with Armenia. However, internationally it was considered a part of Azerbaijan. Later on, after a series of conflicts Azerbaijan gained and increased the area of its control.
Geopolitics of the Armenia-Azerbaijan conflict
Azerbaijan is a Muslim-majority country and has a very deep relationship with Turkiye which is a Muslim-majority country. Turkiye has strong ethnic, cultural and historic ties with Azerbaijan and refers to their relationship as 'Two states – One Nation'. Turkiye considers that Armenia, a Christian-majority country), is the reason for regional de-stability. For Azerbaijan, Turkiye is not only the major arms supplier but has also been training Azerbaijani officers for decades. For Turkiye, Azerbaijan is important for its oil and natural gas resources. Their relationship is so strong that Turkiye is ready to support Azerbaijan through all means. In 2020, Reuters reported that Turkish military exports to its ally have risen six-fold to better equip Baku's armed forces.
Pakistan, an Islamic Republic, supports Azerbaijan's claims over Nagorno-Karabakh. In turn, Azerbaijan supports Pakistan's claims over Kashmir. Pakistan is the only country which does not recognise Armenia. Whereas Islamabad and Baku enjoy a strategic relationship, Islamabad had shown its willingness to equip Baku militarily too.
Pakistan and Turkiye are unfriendly towards India and support Azerbaijan. Consequently, India supports Armenia by selling defence equipment to it. However, India does not consider Azerbaijan as an unfriendly country but it is the geopolitical alignment which forces India to shift its policy towards Armenia. Baku openly supports Pakistan whereas Yerevan openly supports India on the Kashmir issue.
Pakistan-Turkiye-Azerbaijan trilateral cooperation was officially launched in November 2017. All sides of this trilateral agreed to support each other in international organisations. Turkiye from time to time raises the issue of Kashmir on multiple forums supporting Pakistan and opposing India. This is a matter of concern for India as together they can put more pressure on India through international organisations like the United Nations and the Organisation of Islamic Countries.
Armenia is a member of six countries alliance called the Collective Security Treaty Organisation (CSTO). CSTO is an intergovernmental military alliance that came into effect in 2002. The other five members of CSTO are Belarus, Kazakhstan, Kyrgyzstan, Russia and Tajikistan. CSTO was organised with the objectives like strengthening peace in the region, promoting international and regional security & maintaining stability, and protection on a collective basis of the independence, territorial integrity and sovereignty of the member states. Basically, it is a NATO-like organisation as both have collective security as their objective. The latest armed conflict of 2022 between Baku and Yerevan was a very well-calculated move by Baku. As the main country in this alliance, Russia is occupied in the Ukraine war and other countries are not expected to help Armenia. Therefore, Azerbaijan was very confident of its move.
Iran also has territorial disputes with Azerbaijan. International North-South Transport Corridor (INSTC) is a multi-mode network of road, rail and shipways which connects India with Europe via Iran, Azerbaijan, Central Asia and Russia. The original route of INSTC was decided to conduct trade through Azerbaijan. But because of Iran and support from India, countries are discussing conducting the trade through Armenia instead of Azerbaijan. From India's strategic point of view, it is a very good move because in case, due to the influence of Pakistan or Turkiye or other unforeseen factors, Baku goes hostile against India, India could face trade and security-related issues like blockades. Therefore, it is in India's interest to conduct its trade through a friendly country.
Given these points, it is clear that it is in India's national interest to reach out and play a decisive role in this conflict. Though New Delhi has not openly declared support for Armenia against Azerbaijan, but is selling defence equipment to Yerevan overtly.
India-Armenia Defence deal
Pakistan and Turkiye are providing defence equipment to Azerbaijan and their political relationship is developed towards a defence relationship. On the other hand, Armenia and India are developing their partnership and Armenia is purchasing defence equipment from India.
In 2020, India and Armenia had a deal of Rs. 350 crores to supply SWATHI Weapons Locating Radars to Armenian defence forces.
Turkish Bayraktar drones were used by Ukraine which played a significant role in the Ukraine-Russia war. During the 2020 Azerbaijan-Armenia conflict these drones helped a lot in turning the war in favour of Baku. Therefore, to take down these drones Armenia is procuring Astra- Beyond visual range air-to-air missiles and supersonic Brahmos missiles from India.
During the Kargil war in 1999, India used Pinaka multi-barrel rocket launcher against Pakistan. It has shown its reliability in actual high-altitude conflict. Therefore, to procure it, in September 2022, Yerevan signed a government-to-government contract with New Delhi.
The next important defence equipment which is on Yerevan's shopping list is a multi-terrain artillery gun, manufactured by a private defence company Bharat Forge. According to sources in the media, this mounted 155mm 39-calibre artillery system is procured by Yerevan for USD 155 million.
These are the defence equipment which Armenia is procuring from India. While replying to these procurements, Mr Ilham Aliyev called India's supply of weapons to Armenia an 'unfriendly move', adding "if we are facing a serious threat we will deal with that threat immediately, regardless of where that threat arises, within our territory or outside our borders. It is our legitimate right to do so" (source- The Tribune). However, within a few hours after president Aliyev's interview, Azerbaijan's ambassador to India Ashraf Shikhaliyev tried to cool down his president's harsh observation.
Benefits for India
Now the question is what are the benefits that India will get due to its supply of defence equipment to Armenia?
Defence deal with Armenia is not just equipping a friendly country's armed forces better so that it could deal with the hostile situation but it is also an economic gain to India as a seller. As these deals are not aid, New Delhi is earning hard currency by selling arms to Yerevan. This results in an increased forex reserve. Getting recognised as a defence exporter in the international market is a very valuable identity to achieve. It increases the stature of a country on the world stage. India is a major power and being dependent on others for its defence requirement is a dent in its image. Therefore, preparing itself to export arms, automatically gives a boost to becoming 'Atmanirbhar' (self-reliant). As an arms-exporting country, India will be in a position to use its influence to secure its interests.
(Ashish Keserwani has an MA in Political Science from Indra Gandhi National Open University. He is currently a Research Scholar Pursuing PhD from Amity University, Noida)