Bharat always believes Trade Globalization and new Technology innovations are for world's mutual growth and development. Indians have gone through the world to do Business, Work as Scientists, Engineers, Students, Labors and have contributed for the next generation edge. From Google to Microsoft to getting nominated in a Presidential Race of a powerful country Indians have made their own mark. Neither they nor Bharat as a Nation has ever wanted to dominate a product or resource or Nations for their own selfish ends. A question has now arisen as to how the Battery Supply Chain has been used and dominated by China with more than world's 50% share and how it has used it for its narrow political interests. This could make the global battery supply an issue of national security.
China now dominates the world's production of new generation batteries that are key to transitioning away from fossil fuels. These new batteries are essential for electric vehicles, power grids, mobile phones and laptop computers to name few. According to the U.S. Department of Energy, if current trends continue, most of them will likely use Chinese batteries, a key element for transitioning away from fossil fuels, and most of those batteries will be lithium Ion because of their high energy per unit mass relative to other electrical energy storage systems. According to 2019 report by Bloomberg's New Energy Finance (BloombergNEF) by 2040, over half of all passenger vehicles sold worldwide could be electric.
Lithium-Ion – The New Fuel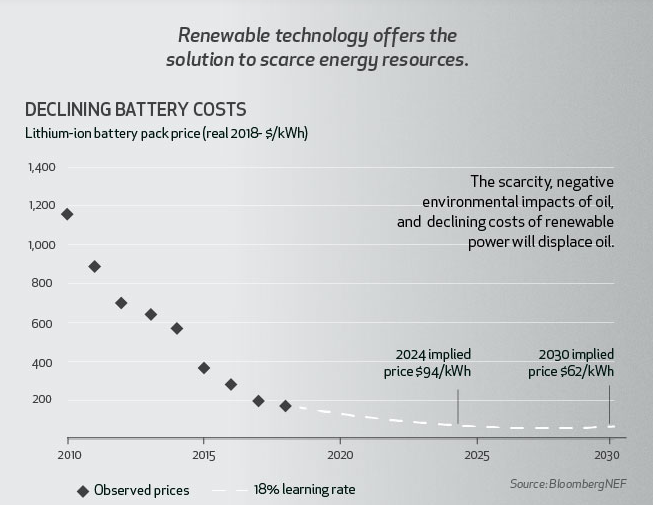 The question now is a challenge of controlling the raw materials that will power the world's next energy revolution. For the foreseeable future, Bharat or any other country will likely need to depend on Chinese supply chains to produce the batteries. Chinese chemical companies accounted for 80% of the world's total output of raw materials for advanced batteries. Of the 136 lithium-ion battery plants in the pipeline to 2029, 101 are based in China.
According to Pini Althaus, the chief executive of USA Rare Earth "China controls the processing of pretty much all the critical minerals, whether it's rare earth, lithium, cobalt or graphite. It does not matter whether it is China or any other country. It is very dangerous if the world only depends on one country to provide key raw materials."
China's Contemporary Amperex Technology Co. Ltd. (CATL) founded in 2011 is now the world's biggest maker of electric vehicle batteries with a 27.9% market share. China has focused on building capacity at every stage of the battery supply chain. In addition to rare earths, the manufacturing of lithium-ion batteries depends on some key materials like graphite, the material used in pencil tips. In 2019, China produced more than 60% of the world's graphite, according to U.S. government research. That means Beijing can set world prices.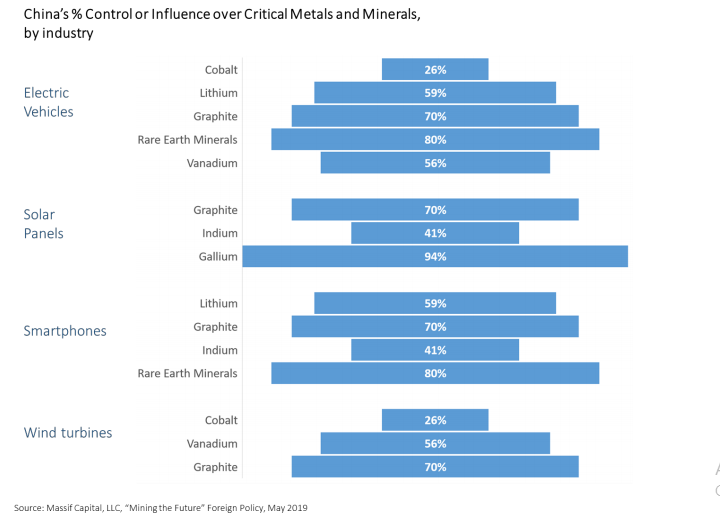 When it comes to Cobalt which is one more important commodity widely used in electric vehicles as well as computer and consumer electronics China reserves accounts for only about 1% of the world's total. The Democratic Republic of the Congo (DRC) produces more than 60% of the world's mined cobalt. But Beijing controls the global supply of this silvery-blue metal. Nearly eight of the 14 largest cobalt mines in the DRC are Chinese-owned and account for almost half of the country's output. China's influence dominates cobalt processing with Chinese companies controlling about 80% of the cobalt refining industry, where it is turned into commercial-grade cobalt metal and power.
Dominance of China
China is among the five top countries with the most lithium resources but it has been buying stakes in mining operations in Australia and South America where most of the world's lithium reserves are found. According to an analysis by BloombergNEF, in early 2019 there were 316 gigawatt-hours (GWh) of global lithium cell manufacturing capacity. China is home to 73% of this capacity. China is taking the same path that it did previously with solar panels. While solar cells were invented by American engineer Russell Ohl, today China dominates the global solar panel market.
Now China is focused on controlling the world's production of lithium ion batteries. Beijing government subsidies and quotas for EV sales appear to have incentivized efforts to corner the electric vehicle supply chain. Chinese entities now control nearly half of global lithium production and 60 percent of the electric battery production capacity. By 2030, Goldman Sachs predicts China could supply 60 percent of the world's EVs.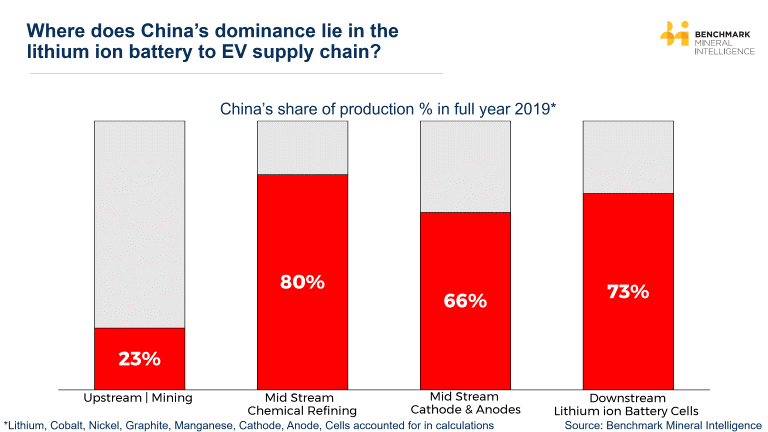 At last one can say that the world is rapidly shifting to renewable energy technologies. Battery minerals are set to become the new oil, with lithium-ion battery supply chains becoming the new pipelines. China is currently leading this lithium-ion battery revolution leaving Bharat or any other nation dependent on it. However, the geopolitics of our Neighbors attitude, 1962 War, support of our arch rival in UN, blocking of Bharat in Multilateral Forums, change of land air water makes us increased pressure to develop own domestic energy supply chain and gain access to key battery metals.
On its part, the Indian government has to release a list minerals it deems critical to the national interest. This would help the country avoid supply disruptions like during war, natural calamity or unseen future. For now Battery metals are becoming the new oil and supply chains the new pipelines. It is still early in this new energy era, and the victors are yet to be determined in the battery arms race. For now Bharat has to take the final lead as world resources are not for domination but for peaceful coexistence which is embedded in Bharat Culture and ethos of 'Vasudaiva Kutumbakam' (World is one Family).
(Author is a Political Analyst, Columnist, International Affairs and Korea Expert)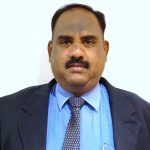 M.AM.PhiL/(PhD SNU South Korea)