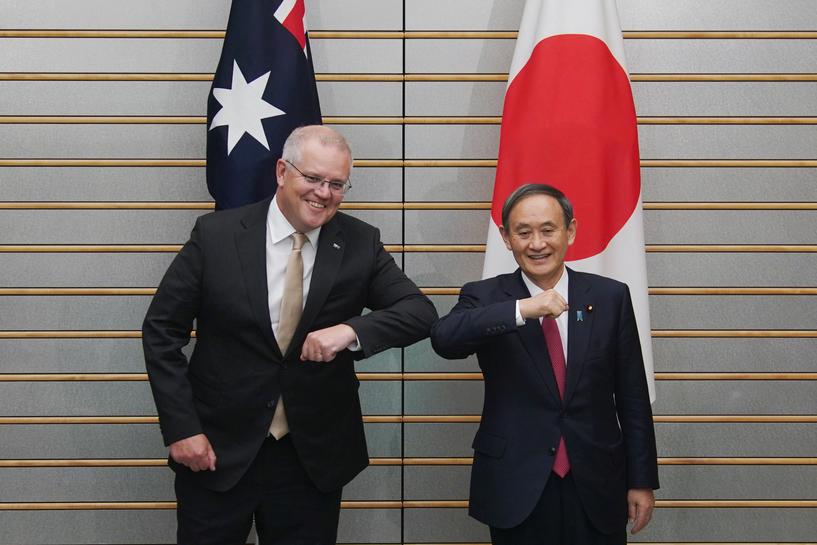 China has created unrest in the world due to its authoritarian military dictatorship and unilateral actions. It has directly attacked, threatened and ordered its neighbors and has changed land, air and water boundaries unilaterally. It has neither accepted international conventions nor respects international freedom of navigation. Every neighbor of China feels threatened by its acts. Many countries are increasing their military spending to counter China's military might and forming alliances to safeguard their national interests and security.
Recently Japanese Foreign Minister Toshimitsu Motegi and Defense Minister Nobuo Kishi, with Australian counterparts Marise Payne and Peter Dutton announced that Australian ships will be guaranteed protection if they request it from Japan's Self-Defense Forces (SDF). This agreement signed on June 9 would involve Tokyo resorting to national security legislation passed by the previous administration. This would make Australia the second nation after the United States to be accorded such protection by Japan. The two sides confirmed that SDF personnel will provide protection if a request is made by Australia.
This legislation effective since 2016 included revisions to the SDF Law that allow SDF members to protect U.S. naval ships. From the outset of Diet ( Japan's bicameral legislature) deliberations, Australia was considered a likely future candidate if the need arises. China's acts in East China and South China seas is seen as a threat and needs protection as quasi-allies. Most important observation here is once a request for protection is received from Australia, the National Security Council will decide whether to give it. The law does not require the government to report to the Diet about any expansion of the protection duties.
For the first time both the countries named China as a nation of concern due to its activities in the South China Sea. The statement said Japan and Australia "express our objections to China's maritime claims and activities that are inconsistent with the 1982 United Nations Convention on the Law of the Sea (UNCLOS)." It also touched upon the "the importance of peace and stability across the Taiwan Strait."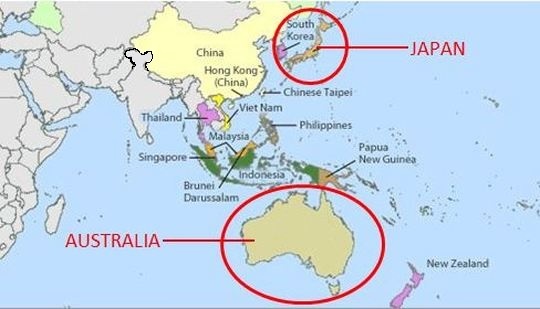 In 2020 Japan began to coordinate to protect Australian military assets even in non combat situations. The Reciprocal Access Agreement allows Japanese and Australian troops to visit each other's countries and conduct training and joint operations and was agreed in principle by Japanese Prime Minister Yoshihide Suga and his Australian counterpart, Scott Morrison during his visit in Tokyo in 2020. The pact "establishes streamlined arrangements to support the deployment of defence forces more quickly and with less administration", Morrison said. The two sides also agreed on the need for a framework to allow Japanese military to protect Australian forces if needed, the joint statement said.
Earlier on the situation in North Korea, they confirmed cooperation toward the elimination of weapons of mass destruction including ballistic missiles. Japan and Australia said they also shared concerns about the East China Sea and the former British colony of Hong Kong where China has imposed a strict new national security law, clamping down on dissent. They also agreed to deepen their ties in 5G networks technology, and undersea cables and resource security for critical minerals supply. "Trade should never be used as a tool to apply political pressure," Suga and Morrison had said in the 2020 Meet.
Japan's acts during World War II haunts China even today. China was humiliated by Japan's invasion and occupation of parts of China in World War II. Both the countries have disputes over the ownership of islands in the East China Sea which can worsen the relations further. Relationships between Australia and Japan have improved in order to safeguard themselves from Chinese hegemony. Now, if the same protection is extended to India, a Quad Member, by signing Reciprocal Access Agreement, it will have a major implication in the region leading to the containment of China's unilateral acts.
Japan should immediately sign the same agreement with India too for mutual protection from expansionist China. This can strengthen democracy and freedom of navigation in the region. Already Australia's relations with China have deteriorated after Australian allegations of Chinese meddling in its affairs and calls for an international inquiry into the source of the coronavirus. Australia, India, Japan and US relations have to be strong not only for their bilateral relations but for region and global at large. As they all are democratic countries with free markets and respect to Human Rights, Right to dissent, Free Elections, it will be a benchmark for the world. 
(The opinion expressed are author's own and do not necessarily reflect the views of SamvadaWorld)