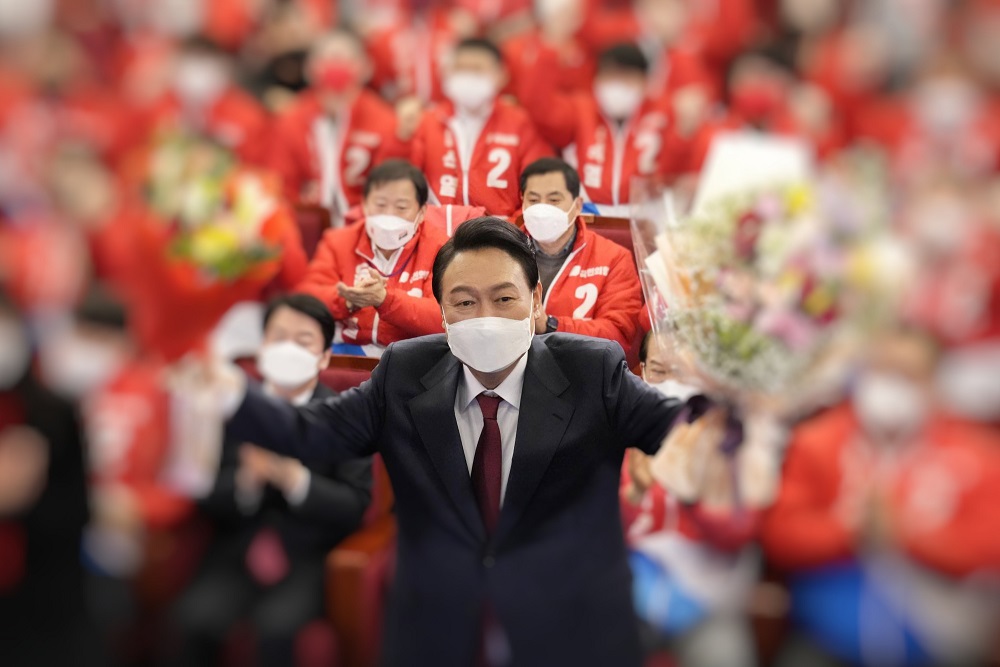 During his campaign, President-Elect Yoon Suk-yeol had called for "pursuing additional anti-missile system deployment," and "doing away with South Korea's submissive diplomacy toward China."
South Korea's approach to Quad has been similar to its approach to the free-and-open Indo-Pacific narrative work with partners practically while avoiding open endorsement of their regional strategies.
Seoul is looking to diversify its economic and strategic partnerships in the region by strengthening ties with India under South Korea's New Southern Policy (NSP).
A democratic South Korea likes India due to its democratic nature, freedom of press, religion, dissent and more.
Yoon Suk-yeol, the candidate for the People Power Party, has been elected South Korea's next president in the Presidential Election. Lee Jae-Myung of the ruling Democratic Party lost by a small margin by just over 250,000 votes. According to the ballot count, Yoon won 48.6% of the vote, a figure 0.8 percentage points higher than Lee's (47.8%). Why the opposition lost as it was dragged on real estate policies, perceived hypocrisy and the party's losses in by-elections for the Seoul and Busan mayoralties on April 7 last year did not make them learn a lesson. So they had to lose the election though there was some last-minute unity in the opposition circles.

Most of the former Presidents were experienced. Since 1987 most of them have been in the National Assembly. Former Presidents like Kim Young-sam served nine terms, Kim Dae-Jung Nobel Laureate served six, Roh Moo-hyun and Lee Myung-bak both had two, Park Geun-Hye had five, and most recently, Moon Jae-in had one. However, President-Elect Yoon Suk-yeol Yoon's journey is very interesting. Just 371 days after stepping down as prosecutor general for 27 years he won the presidency at the first step in a political career.

However, political analysts are really worried about the President-Elect's campaign promises and acts. His remarks like "People ought to work hard for up to 120 hours a week", and "The destitute and uneducated don't even know what freedom is" had caused concern in various circles. Yoon placed particular emphasis on the "rule of law" and rooting out corruption. His hardline attitude vis-a-vis North Korea while emphasizing principles is a message to the estranged northern neighbour. "I plan to respond resolutely according to principle to illegal and irrational acts by North Korea, while always leaving the door open for inter-Korean dialogue."

Relations with China and others

With regards to China, during his campaign President-Elect had called for "pursuing additional anti-missile system deployment," and "doing away with South Korea's submissive diplomacy toward China." His remark that "young [South Koreans] dislike China" had created a flutter across the nation. Suk-yeol argues that China deserves criticism for its return to authoritarianism and its high-handed behaviour in Taiwan, Hong Kong and the South China Sea. "We will also need to respond more assertively if China attempts to dismiss South Korea as a 'small country'" he had said during his speeches. China also fosters concerns about whether he'll be able to play a meaningful role in multilateral diplomacy on a global stage.

For most of its history, South Korea has kept its diplomacy focused predominantly on major powers around the Korean Peninsula. China, Japan, Russia, and the United. However, as U.S.-China frictions intensify, South Korea is increasingly concerned about being entangled in great power competition. This has been especially true since 2017 when China launched a campaign of economic coercion in retaliation for Seoul's decision to allow the deployment of a U.S. THAAD missile defence system in South Korea. Seoul experienced firsthand Beijing's willingness to weaponize economic ties to influence its strategic decisions.

India and South Korea

India's relations with South Korea are bilateral, regional and global. Both the nations are connected through history as according to "Samguk Yusa" or "The Heritage History of the Three Kingdoms" written in the 13th century, a Princess from Ayodhya (Suriratna) went to Korea, married King Kim-Suro, and became Queen Hur Hwang-ok in the year 48 AD. Buddhism made relations strong and natural. After India's opening of the economy in 1991 Korean Companies seized the opportunity with Samsung, LG, Hyundai, Daewoo, Hanwha, Kia, SK, Lotte and many more which Indianized themselves to a great extent. Indian companies like Mahindra and Mahindra, Tata Motors and banks like State Bank of India and Bank of Baroda have large investments in South Korea. Bilateral trade had grossed around $21 billion dollars. So happenings in Korea are important to India and vice versa.

Seoul is looking to diversify its economic and strategic partnerships in the region by strengthening ties with India under South Korea's New Southern Policy (NSP). The policy has three pillars: peace (meaning political and strategic cooperation), prosperity (meaning economic cooperation), and people (meaning socio-cultural cooperation). The policy's goal is to elevate ties with India to the same level as South Korea's relationships with China, Japan, Russia, and the United States. But the new President, who is a conservative wants to side with the US very forcefully as he openly supported the THAAD Missile System in Korea and pre-emptive strikes on North Korea. Whether he will be partnering with the US or will go with China has to be seen.

South Korea's approach to Quad has been similar to its approach to the free-and-open Indo-Pacific narrative work with partners practically while avoiding open endorsement of their regional strategies. South Korea is not a member of the Quad but was part of the Quad Plus meetings in March 2020, where it participated in talks on the pandemic response. How it will respond in the changing geopolitical scenario has to be seen.

A democratic South Korea likes India due to its democratic nature, freedom of press, religion, dissent and more. Geopolitics is becoming dirtier as witnessed in Ukraine. It needs to be seen as to how the new South Korean President, with less political experience, is going to lead South Korea. India needs a stable prosperous democratic South Korea and wants North Korea to stop nuclear brinkmanship. India further needs South Korea to sit and talk and resolve its issues with North Korea. India also wishes that South Korea be independent and careful in its dealing with powers external to the region. Preemptive strikes to antagonize immediate neighbours sets a dangerous precedent. So going with free market and democracy can be good for which India would like to stand. However, militarization in East Asia from China to Japan and the assertiveness of Russia has to be seen.

In conclusion, India needs Korean hardware to complement its prowess in software. Cooperation in the defence sector, automobile manufacturing, semiconductors, the joint production of batteries and cutting edge technologies between the two countries is the way forward. New investments in supply chain management, logistics, quantum computing, 6G Research and people to people contact will augment the relationship to a whole new level. If South Korea under the new president can respond positively to the cooperation in various fields, it will be a win-win situation for both democracies.

(Disclaimer: The opinions expressed are author's own)