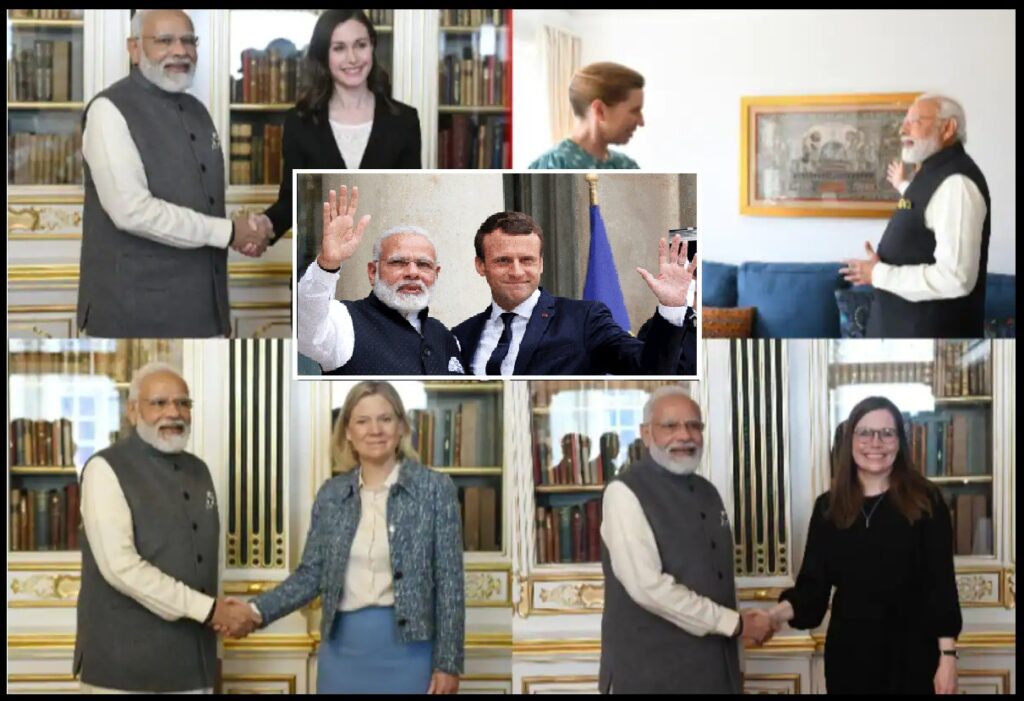 If  there is one leader in the world who can't be ignored by any other leaders among 190 countries it is Prime Minister Narendra Modi of India. By his charisma, strong leadership and inclusive politics he has overcome the present day challenges of the world that is multi-ethnic, multi-religious and multilingual. His arrival in a foreign country is a festival for overseas Indian citizens who welcome him with the chants of "Modi Modi….". His visits abroad are taken seriously even by India's adversaries while friendly nations welcome it with the hope of geopolitical stability in the world and their country in general.
It was the first time since the Covid19 pandemic, that Prime Minister embarked on a diplomatic visit abroad. The Prime Minister's 3-day visit was a great success beginning with Germany then to the Nordic countries and concluding with France. In Germany, Prime Minister Narendra Modi and German Chancellor Olaf Scholz  co-chaired the sixth edition of the India-Germany Intergovernmental Consultations. The biennial IGC is a unique dialogue format that also sees participation of several Ministers from both sides. This was the Prime Minister's first IGC with Chancellor Scholz, and also the first such Government-to-Government consultations of the new German government, which assumed office in December last year.
In his visit to Copenhagen at the invitation of Prime Minister of Denmark, Mette Frederiksen. PM Modi's first visit and his third summit-level interaction with the Danish PM touched bilateral issues as well as issues of global and regional interest. He also paid a call on Queen Margrethe II. Skill development, shipping, agri technology, mobility India-Denmark Business Forum were seen. He also participated in the 2nd India-Nordic Summit along with Prime Minister's of Denmark, Iceland, Finland, Sweden and Norway.
On the last leg of the tour, the Prime Minister made a stopover in Paris and met France President Emmanuel Macron. The Prime Minister met President Macron and held one-on-one discussions and at the delegation level too. The two leaders held discussions on the entire range of bilateral issues, including cooperation in defense, space, blue economy, civil nuclear and people-to-people ties. They also took stock of the regional and global security outlook and discussed ways to work together in making the India- France Strategic Partnership a force for global good. The Prime Minister's visit to France displayed the strong bond and goodwill not only between the two countries but also between the two leaders. The Prime Minister invited President Macron to visit India at the earliest. A Joint Statement was issued after the talks. 
Here are a few important takes during his visit.
First, the PM clarified that India believes no country will emerge victorious in the Russia-Ukraine war as all will suffer losses and there will be a "more serious" impact on developing and poor countries. He said Oil prices are skyrocketing due to the turmoil triggered by the Ukraine conflict; there is also shortage of food grains and fertilizers in the world. India is deeply concerned by the humanitarian impact of this conflict. India has sent humanitarian aid to Ukraine. Cooperation in geothermal energy and the blue economy were the prime focus areas during Prime Minister Modi's meeting with the Prime Minister of Iceland. With the Prime Minister of Finland, focus was laid to build on the existing strength that India-Finland have achieved in the entire ecosystem of digital partnership. Both the leaders also talked about cooperation in digital innovation and digital goods.
Second, India-EU relations, Indo-Pacific were discussed. Freedom of navigation, protection of small medium and island countries, coercion and change of land, air and water by big adverse power in Asia was seen. During his meeting with Prime Ministers of Denmark, Finland, Iceland, Sweden and Norway continuing cooperation and coordination in the United Nation Security Council as well as bilateral, cultural cooperation including Yoga were focused.
Third, in post-COVID era, he categorically said India is witnessing the fastest growth compared to other growing economies. We are confident that India will be an important pillar of global recovery.  PM Modi said "India signed trade agreements with the UAE and Australia in a very short time. We, even with the EU, are committed to early progress in the FTA negotiations. I am confident that the Comprehensive Migration and Mobility Partnership Agreement between India and Germany will facilitate movement between the two countries.
Fourth, cooperation in the field of climate. India's commitment  to fulfill resolutions taken at the Glasgow COP-26 was explained. He also agreed to explore more opportunities for cooperation in the Arctic region. The Prime Minister was successful in getting German support for India's green growth plans with an additional development assistance of 10 billion euros by 2030. The Prime Minister also said they have decided to create a Green Hydrogen Task Force Germany and India. This will be very useful in enhancing the green hydrogen infrastructure in both the countries.
To conclude one can say that after the Ukraine conflict many of the Nordic countries were under Russia's radar not to join NATO or to help Ukraine. They were threatened with nuclear brinkmanship. At this juncture PM  Modi's visit to Nordic Countries showed how multi ethnic multi religious multilingual countries can have their own independent foreign policy without taking sides. It is not non alignment but independence of once own nation's sovereignty. Respect democracy, rule of law and to stop aggression by big powers. Ceasefire talks were advocated. Germany and France were convinced of India's stand. His three day visit touched advanced trade & investment ties, forged new green partnerships, promoted collaborations for innovation and skill development and strengthened the spirit of cooperation with European partners. The EU, India, Germany India, India France, India Nordic Countries relations are evolving in a big way in the coming days as artificial intelligence, quantum, 6 G Research, digital, ship building, climate green technology investment research and development innovation are on the way from Europe to India and vice versa.
(The opinions expressed are authors own)