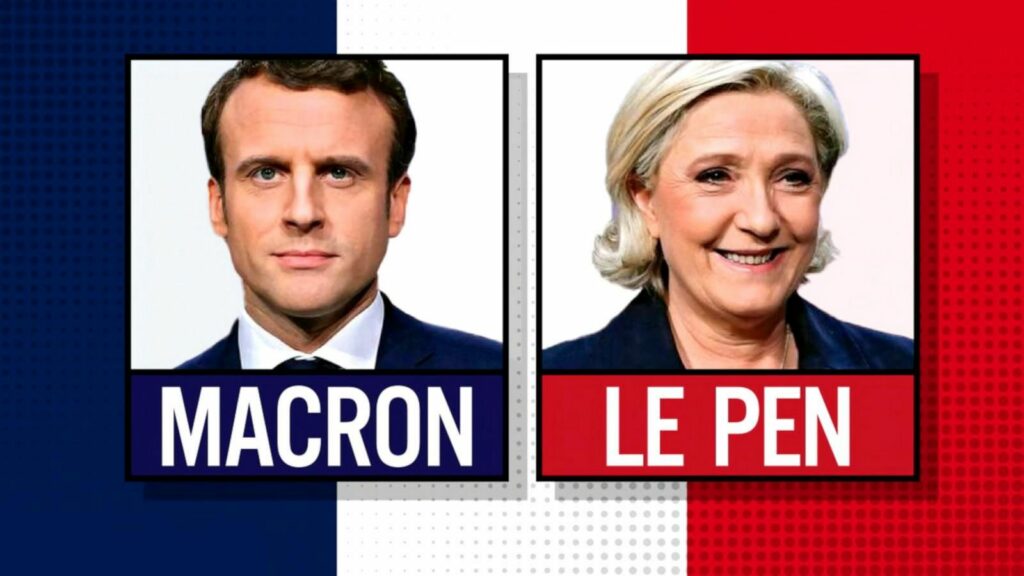 France is going for Presidential Election this Sunday with alienation and economic hardship as the main issues. The surging cost of living amid other fallouts from Russia's war on Ukraine, security and immigration, climate change, rise in Islamic fundamentalism and terror are the other key issues. The incumbent President Emmanuel Macron (44) has been challenged by Marine Le Pen (53) from the extreme right. President Macron became the nation's youngest elected leader in 2017. During his rule, he overhauled the labour code, eliminated wealth tax and reformed the national railway company. But his reformist zeal was tempered by massive strikes over his pension reform plans, Yellow Vest protests and the coronavirus pandemic.
He announced his re-election bid just a day before the deadline, against the background of the war in Ukraine. Macron is trying to tap into the country's large pool of voters worried about the environment with ambitious promises. France has recovered from Covid lockdowns. The economy is now growing at around 7 per cent, and unemployment has fallen to a 10-year low of 7.4 per cent but many feel inequality has widened. The far-right veteran, Le Pen, a nationalist with an anti-immigrant agenda, is making her third bid for the post of the President and is facing Macron for a second time after losing to him in the 2017 runoffs. If elected, she wants to ban Muslim women from wearing headscarves.
Reflection on the Russia-Ukraine Conflict
Le Pen supported Putin's annexation of Crimea in 2014 and the Donbas region of eastern Ukraine. Polls show Le Pen gaining about 44.5 per cent of the vote while Macron had secured 55.5 per cent after the first round. In elections, anything can happen and she can lead France after the results of the second rounds are out.  In case she wins the election, America could be in trouble as she would distance Europe from the United States and fracture the continent's decades-old project of unity. As a core member of the European Union and NATO, France will be standing by the actions of Russian President Putin. Though Le Pen has said Putin crossed "a red line" with the invasion, she still says her foreign-policy priority is rapprochement with Russia once the fighting stops. Since 2011, she has undertaken four trips to Moscow and one to Crimea. She would support sanctions against Russia but not cut off imports of Russian oil and gas, which she has equated with economic death for France. In 2021, she recommended Russia's Sputnik vaccine for the coronavirus, saying "our anti-Russian ideology should not ruin our capacity to vaccinate our fellow citizens." She had earlier expressed interest in "Frexit," though she subsequently revised her opinion on France exiting the EU.
Regarding her statement of taking loans from a Czech-Russian bank and allegations of being dependent on Mr Putin, Le Pen said she was "an absolutely and totally free woman" and that her aim was only to defend French interests. "If I was forced to go and make a loan abroad it was because no French bank agreed to grant me a loan," she said adding that Macron had welcomed Vladimir Putin to the presidential retreat of Bregançon in 2017. Le Pen has also said that if elected, she would withdraw France from the integrated military command of NATO.
Why do the elections matter to India?
India-France relations are natural, close and friendly. The relationship has now crossed bilateral, regional and global. Both the leaders are in touch with the global security environment with intelligence and information sharing. Their actions in Ukraine Russia Conflict, challenges in the Indo-Pacific, the situation in Afghanistan, Africa, Southeast Asia and West Asia has made them think on equal terms. The challenge of terrorism and emerging threats in maritime, cyber and space domains have made each other's problems mutual. France has consistently supported India's increasing role in international fora, including India's permanent membership of the UNSC.
India-France initiative on International Solar Alliance to accelerate cooperation in clean energy, including civil nuclear energy and green hydrogen is lauded by the world. France was the primary country with which India agreed on civil nuclear cooperation following the waiver given by the Nuclear Suppliers' Group, enabling India to resume full civil nuclear cooperation with the international community. There is also a growing and wide-ranging cooperation in other areas such as trade and investment, culture, science & technology and education. So in the present day, the India-France relations are strong.
Whoever wins the Presidential Election of France, India will welcome it. It is their people's right to choose their leader.
France, a nation of over 67 million people, is the world's seventh-largest economy and most visited country, one among five permanent members of the United Nations Security Council and nuclear power. It is a founding member of the European Union and a key driver of its policy. The Elections have relevance to India in its ways with France Russia China vs Incumbent France US and others. Joint military exercises, fighting terror and Jihad, maritime cooperation, and rules-based order make both nations work together. We cannot forget France's support in supplying the latest Rafael aircraft to India when it needed them the most. It is estimated that there are around 106,000 Indians in France. They largely originated from Puducherry, Karaikal, Yanam, Mahe and Chandranagar. There also are large communities of PIOs within the Reunion Island (about 250,000), Guadeloupe (about 57000), Martinique (about 6000) and St. Martin (about 300), the overseas territories/departments of France. 
In conclusion, if President Macron wins the election, the status quo can continue. If not, Russia could play a major with Le Penn as President. It can be a political and defence challenge to India. It can also pose a challenge to the US policy in Eastern Europe and Russia. However, it is important for democracy and rules-based order to win in the present circumstance and one hopes that the people of France will show the way.
(The opinions expressed are the author's own)