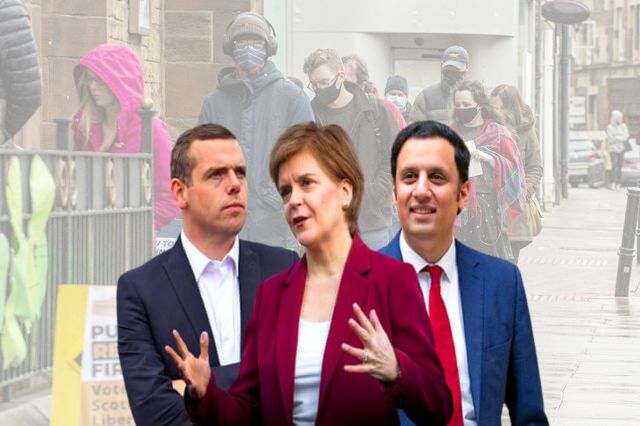 Scotland went to polls on Thursday in a parliamentary election that could decide the fate of United Kingdom. A win for the Scottish National Party (SNP) will decide the new independence referendum that might result in the break-up of the United Kingdom.
Scottish First Minister Nicola Sturgeon, who leads the pro-independence Scottish National Party (SNP), has described the election as the most important in her country's history. She has vowed to demand the legal powers for a referendum on Scottish independence by the end of 2023 if her party wins a majority in the 129-seat devolved parliament in Edinburgh.
The main parties running for election are the Scottish National Party (SNP), led by First Minister Nicola Sturgeon, the Scottish Conservatives led by Douglas Ross, Scottish Labour led by Anas Sarwar, the Scottish Liberal Democrats led by Willie Rennie, and the Scottish Greens, led by their co-leaders Patrick Harvie and Lorna Slater.
All the opinion polls suggest the SNP will win a fourth term in office.
The results could trigger a showdown with British Prime Minister Boris Johnson who has already said he would turn down any request for fresh referendum as he considers the matter settled in a 2014 referendum. But an emphatic win for SNP would put pressure on the British PM, observers say.
The final results of the polls would be available only on Saturday. Due to the coronavirus pandemic, couting began only on Friday. Just over a third of the results will be announced on Friday and the remainder will be announced on Saturday said Scotland sources.
2014 referendum
In the 2014 referendum, Scots voted by 55-45% to remain in the more than 300-year-old union.
However, Britain's departure from the European Union triggered another round of debate over exit from UK in Scotland. This was because the Brexit was effected despite most of the Scots opposing it. Further, the handling of the COVID-19 pandemic by Sturgeon compared to England have further created the need for separation say observers.
The British government says that Scotland would require the permission of the British parliament to hold another referendum legally. The SNP have said they plan to pass legislation to hold a new referendum by the end of 2023.