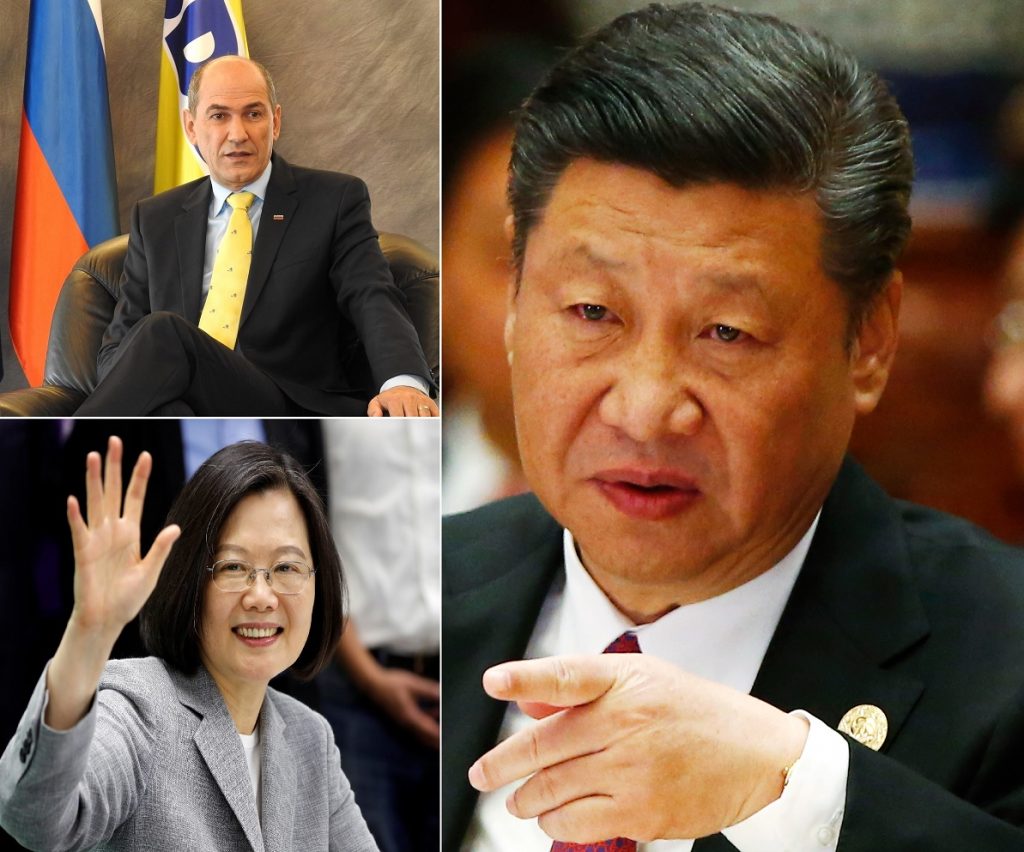 Slovenia officially the Republic of Slovenia is a country in Central Europe. It is bordered by Italy to the west, Austria to the north, Hungary to the northeast, Croatia to the southeast, and the Adriatic Sea to the southwest. Slovenia has a population of 2.1 million (2,107,007 people). In June 1991, Slovenia became the first republic that split from Yugoslavia and became an independent sovereign state. Slovenia is a developed country with one of the lowest rates of income inequality in the world. It is a member of various international organisations, including the United Nations, the European Union, the Eurozone, the Schengen Area, the OSCE, the OECD, the Council of Europe, and NATO.
Slovenia is in the news after Lithuania's decision last year to allow Taiwan to open a representative office under its own name. Slovenian Prime Minister Janez Jansa announced that a European Union country is preparing an exchange of representatives with Taiwan. Taiwan is a democratic country that respects international democratic standards and international laws. "We are working on establishing … well, on exchanging representatives. He added the move would have come much earlier had he had the support in parliament and argued that the vast majority of EU member countries already have "some kind of representative offices" with Taiwan. If Taiwanese people want to live independently, we are here to support this position," he said. Slovenia, a former Yugoslav state that joined the EU in 2004, has been part of China's "17 + 1" cooperation group created in 2012 to promote Chinese investments in Central and Eastern European countries.
Jansa criticised China's policy on Taiwan saying "it's difficult to listen to a capital with a one-party system lecturing about democracy and peace around the world. It was "terrifying" to try to isolate a country in such a way." He further said the current Covid-19 epidemic had shown how beneficial it would be if Taiwan were allowed to join the World Health Organisation (WHO). "The EU has formally backed Lithuania, and I think that any kind of pressure on Lithuania and some other countries in Europe will not benefit China's government. Good trade relations are in the common interest," he said. He called on EU leaders to back Lithuania and said using trade as a weapon in a diplomatic dispute against one member state was "a reprehensible event which will have an impact on overall EU-China relations".
Recently EU foreign ministers pledged solidarity with Lithuania in its trade dispute with China. EU's chief diplomat Josep Borrell said that an EU–China summit at the end of March would allow reviewing "where we are in our relations with China". After Lithuania's recognition of Taiwan, Slovenia's comment was well-received by Taiwan's foreign ministry's spokeswoman Joanne Ou who said "Prime Minister Jansa is a good friend of Taiwan and he had visited Taiwan multiple times before. Foreign Ministry welcomes and sincerely appreciates his insightful comments on current major international issues."
China is worried as Small Countries are challenging their might over Taiwan. Chinese government spokesman Zhao Lijian  said any relation with Taiwan is a challenge against China's national sovereignty and territorial integrity "the Chinese side is shocked by and strongly opposes the dangerous remarks by the Slovenian leader who flagrantly challenged the one-China principle and voiced support for 'Taiwan independence,"
One can conclude by saying that every nation Big or Small or Island has a right to its sovereignty and independence. Any coercion by big actors of using trade to international multilateral organisation's to tame a nation is not accepted. China's unilateral actions of dictating nations from THAAD Missiles,  Trade Relations, joining Military blocks, and having relations with minded countries is not tolerated by the democratic world? Freedom of navigation, democracy, arming artificial islands, dictating Small Medium Island Countries on their foreign policy, changing unilaterally boundaries, doing nuclear, biological, chemical drills near the border has made the world question China's intentions. Many countries who have major interests in China in trade are avoiding confrontation.
However, the small sovereign independent democratic countries are showing the way to how to challenge authoritarian military China. For now, with smaller nations like Lithuania and Slovenia siding with Taiwan, China is worried as to who it might be next.
(The views expressed are author's own)