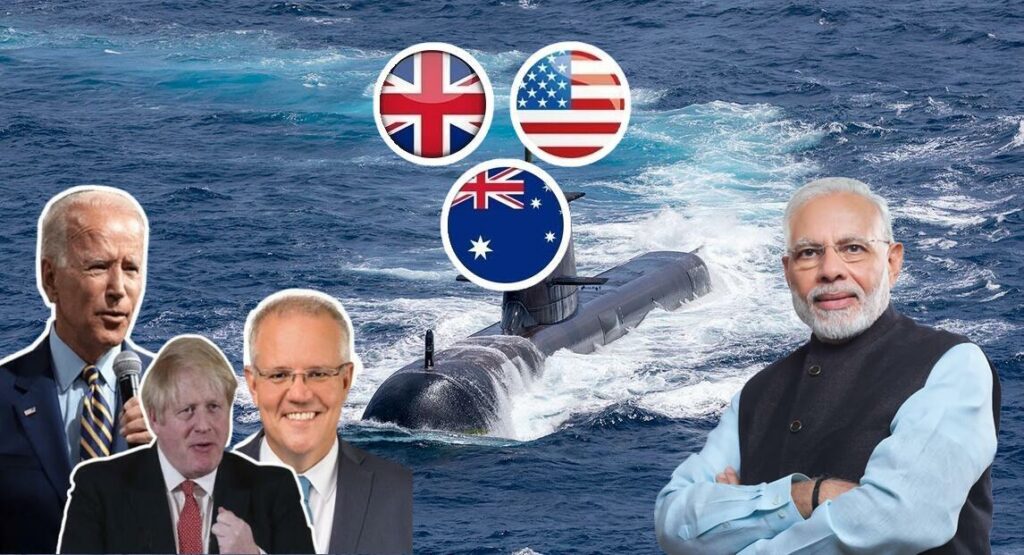 AUKUS is a trilateral security pact between Australia, the United Kingdom, and the United States of America to counter China's hegemony and expansionist policy, specifically in the Indo-pacific region and generally in global politics. The pact was signed on 15 September 2021 and announced cooperatively by US President Joe Biden, Prime Minister of the UK Boris Johnson and Prime Minister of Australia Scott Morrison in a virtual meeting.
Under this pact, the United States of America will assist Australia to build nuclear-powered submarines, a technology that was previously shared by the US only with Great Britain in 1958. Even though AUKUS was formed with shared objectives, three countries have their aims to join the trilateral alliance. Australia was interested in modernizing its submarine technology and developing its deterrence capabilities at the regional level. The UK is interested in expanding its trade, business and military relations in the pacific region. The US has global and regional interests. After the withdrawal of US troops from Afghanistan, it's very significant to the US to show its presence in the Asian region and secondly to counter China's hegemony on a global level. However, the AUKUS alliance was announced under the following stated objectives:
The primary goal of the pact is to give access to cutting edge military technology to Australia by emphasizing "cyber capabilities, artificial intelligence, quantum technologies and additional undersea capabilities".
It aims to help develop the primary beneficiary- Australia, to take up security challenges in the Indo-Pacific region over the coming decades.
It focuses on the strengthening of military capability in the Indo-Pacific region.
Lastly, to counter China's rise globally.
SIGNIFICANCE
This association is considered to be of utmost importance between these three nations. As per the UK government, "Under the 'AUKUS' alliance, we will enhance the development of joint capabilities and technology sharing, ensuring our people are kept safe from harm and reinforcing our shared goals. AUKUS will foster deeper integration of security and defence-related science, technology, industrial bases and supply chains." Furthermore, the Australian Prime Minister, Scott Morrison, even made a statement that the team of three countries would work and come up with a joint plan in the next 18 months for assembling the new Australian nuclear-powered submarine fleet for the Royal Australian Navy to be built in Adelaide. This project is initiated with a motive to share the nuclear submarine technology with Australia and make Australia one of the six atomic submarine operating nations (including India). Ultimately, a joint declaration was released illustrating the pact as "a historic opportunity for the three nations, with like-minded allies and partners, to protect shared values and promote security and prosperity in the Indo-Pacific region" (Observer Research Foundation, 2021).[1] Moreover, the pact enhances the multi-dimensionality of the project by improving joint capabilities such as cyberspace, artificial intelligence (al), and quantum technologies and strengthening deeper military interoperability, which will lift Australia's position in the Indo-Pacific to avert China's expansion in the region.
IMPACT ON CHINA
China considers the formation of AUKUS as a threat to its national interests at the regional and global level; and criticized the intentions of the UK and US in the Indo-Pacific region.
As a response to the formation of AUKUS, the Chinese embassy in Washington condemned the trilateral alliance. It urged three nations to "shake off their Cold-War mentality and ideological prejudice." Chinese embassy spokesman Liu Pengyu said states "should not build exclusionary blocs targeting or harming the interests of third parties. In particular, they should shake off their Cold-War mentality and ideological prejudice."[2]
A Chinese foreign ministry spokesperson, Zhao Lijian, said the US and UK's decision to export highly sensitive nuclear-powered submarine technology to Australia was a case of "extremely irresponsible and double standards". He added, "China will closely monitor the situation." He also pointed out that "the nuclear submarine cooperation between the United States of America, the United Kingdom and Australia has seriously undermined regional peace and stability, intensified the arms race and undermined international non-proliferation efforts." He further added that "the three countries should discard the Cold War zero-sum mentality and narrow geopolitical perspective."[3]
The deputy chief of mission of China, Wang Genhua in New Zealand, recently warned Australia's Pacific neighbours to be careful, stating that AUKUS will replace ASEAN soon. In addition to this, Hua Chunying, Foreign Ministry Spokesperson of the People's Republic of China (PRC), recently stated, "China is firmly opposed to the US, the UK and Australia's malicious exploitation of loopholes in the Nuclear Non-Proliferation Treaty (NPT) and the International Atomic Energy Agency (IAEA) safeguard mechanism".[4]
IMPLICATIONS FOR INDIA
Since India is already part of QUAD along with Australia, Japan and the United States, the formation of a new alliance with similar objectives excluding India might undermine QUAD's goals and initiatives. However, according to Harsh Vardhan Shringla, the Indian Foreign Secretary, the deal was "neither relevant to the QUAD, nor will impact any of its functioning." The formation of new alliances and new military strategies against China will enhance India's interests in the region.
AUKUS partnership with India will further accelerate the capabilities of the QUAD in fields like cyber security, Artificial Intelligence, Quantum technology and advanced missiles. For India, it will bring many opportunities for cooperation in these areas. Also, a project that stands against China is a net strategic positive for India.
Furthermore, India operates only one ship, a submersible ballistic nuclear-INS Arihant. Thus, following the AUKUS partnership India may seal a deal with France to procure nuclear-powered submarines. It is expected for India's naval capacity to fill a massive gap in future.[5]
(Aatrayee Deka is a Research Student at the Department of Political Science, St. Joseph's College (Autonomous), Bangalore, Karnataka. Dr Karamala Areesh Kumar teaches International Relations and World Politics at P.G and Research Centre, St. Joseph's College (Autonomous), Bangalore, Karnataka)
---
REFERENCES
[1] ASK US: An Asian and European perspective; B. Rahul Kamath; Observer Research Foundation; Date: 30 September 2021; Retrieved from https://www.orfonline.org/expert-speak/aukus-an-asian-and-european-perspective/.
[2] The Newly Launched AUKUS Overtakes QUAD-in its Objectives, 16 September 2021, https://forceindia.net/newly-launched-aukus-overtakes-quad-objectives/.
[3] The Newly Launched AUKUS Overtakes QUAD-in its Objectives, 16 September 2021, https://forceindia.net/newly-launched-aukus-overtakes-quad-objectives/.
[4] Ministry of Foreign Affairs of the People's Republic of China.
[5] Perspective: AUKUS- Geopolitical Impact; SANSAD TV Discussion; Date: 30 September 2021; Retrieved from https://www.drishtiias.com/loksabha-rajyasabha-discussions/perspective-aukus-geopolitical-impact.