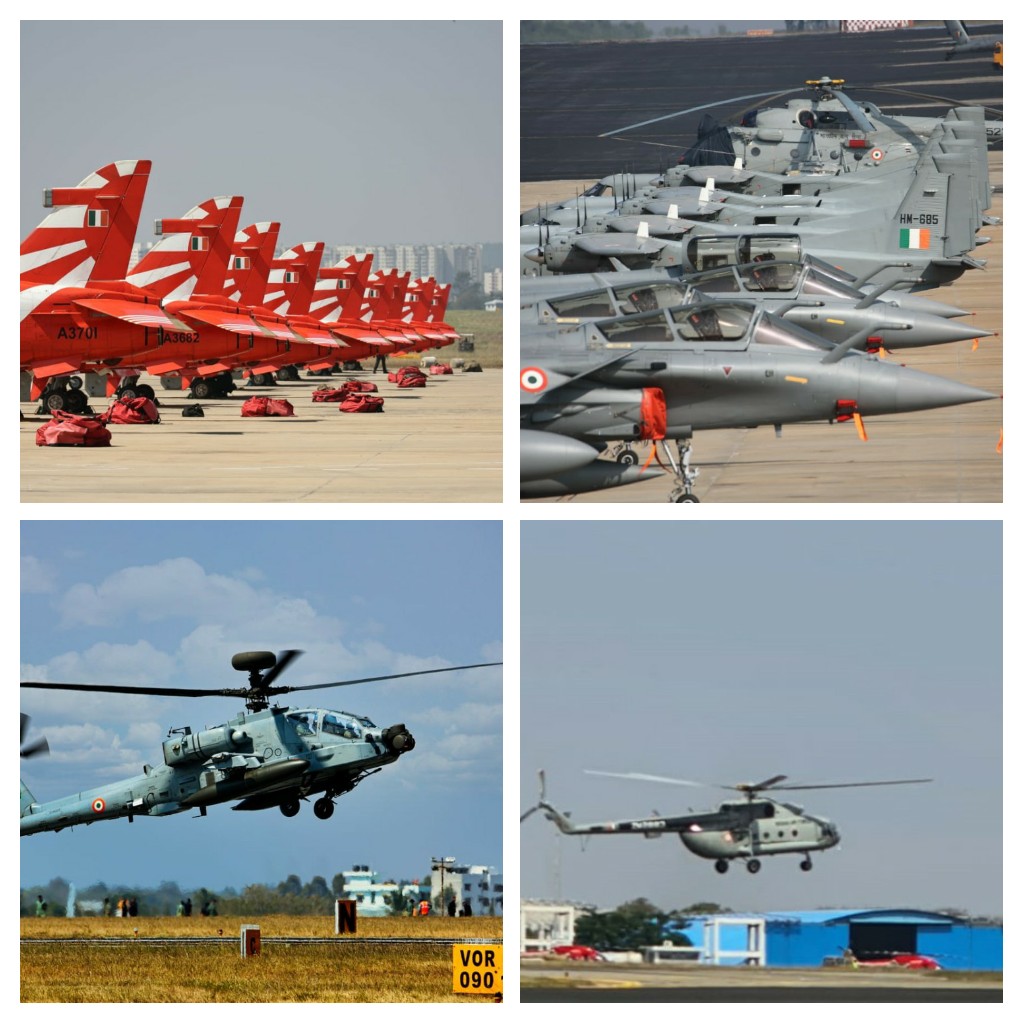 Aero India 2021 three-day mega event to showcase the prowess of Aviation Industry begin today at the Yelahanka Air Force Station in Bengaluru. The Curtain Raiser Press Conference on February 2nd was chaired by Defence Minister for Asia's premier air show.
Aero India-2021 was inaugurated by the Defence Minister with a flying display. The flying display featured formations showcasing India's cutting edge technology and capabilities in the aerospace sector. Aero India 2021 is being organized this year amidst the challenging circumstances created by the COVID-19 situation.
Rajnath Singh commended the organization of the biennial event amidst challenges. He hailed Prime Minister Narendra Modi's vision of Aatmanirbhar Bharat and said that the Ministry of Defence was relentlessly giving impetus to domestic manufacturing of defence equipment, not only to fulfil the demands of our armed forces, but also to make India a net exporter of defence equipment and platforms to friendly foreign countries. He appreciated the conducive ecosystem and climate for investors created in Karnataka through the entrepreneurial spirit of its people. He said that the award of a huge contract of Rs. 48,000 crores to HAL was because of this spirit.
He also spoke about the distinguishing takeaways of Aero India 2021. Technological base and presence of industry leaders associated with Aviation cement the bonds between Bengaluru and Aero India 2021. He said that set against the backdrop of Bengaluru, the event would offer opportunities for collaboration and cooperation between Indian and global industry leaders, academicians, visionaries, centre and state administrations.
It would also bring together the defence ministers of various countries, service chiefs, policymakers, foreign OEMs, industry, entrepreneurs and academia to showcase, connect and collaborate as well as highlight policy reforms driving India's new defence manufacturing revolution. He further said that Aero India would spark a renewed sense of pride in India's defence manufacturing and take defence cooperation to the next level.
A unique flying display of HAL's indigenous platforms (both fixed and rotary wing) aptly titled 'Aatmanirbhar Formation Flight' were part of the flying display today. The 'Aatmanirbhar Formation Flight' consisting HAL products such as LCA trainer (LIFT Trainer), HTT-40, IJT, Advanced Hawk Mk 132 and Civil Do-228 will fly in a special formation showcasing the spectrum of trainers and signifying self-sufficiency in the trainer segment. HTT-40, Advanced Hawk Mk 132 and Civil Do-228 will be available for customer demonstration flights.
Sukhoi 30 MKI, Advanced Light Helicopter (ALH) Dhruv, Light Combat Helicopter (LCH), Light Utility Helicopter (LUH) will also take part in the flying display. Static display will include Do 228, Hindustan Turbo Trainer (HTT)-40 and LUH and ALH Mk III.
The highlights of Aero India 2021 include India pavilion – based on the theme of Rotary wings, Conclave of Defence Ministers of Indian Ocean Region, Conclave of Chiefs of Air Staff of various countries, India – Russia Military Industrial Conference, Startup Manthan etc. More than 200 MoU partnership agreements are expected to be signed at the Bandhan event on 5th February.
The IOR Defence Ministers' Conclave would reinforce the relevance of the region and its continued importance for stakeholders from the perspective of trade, security and freedom of navigation. Chiefs of Air staff conclave will bring senior air force officers from across the world on a single platform enhancing cooperation and understanding of common threats and challenges.
Aero India exhibition is organized every alternate year. It is one of the major exhibition for aerospace and defence industries with a public air show. It enables industry professional to gain market insights, announce new developments and gain media coverage. Aero India offers a unique platform to international aviation sector to bolster business.
Aero India 2021 is the 13th edition of Aero India being organised at Bengaluru, Karnataka from 03 – 05 February 2021.
Aero India 2021 provides opportunity to demonstrate products to the potential customer and investors. In Aero India 2021 Exhibitors are likely to showcase their products using latest technologies to the potential customers. This is an important international event likely to be attended by thousands of business visitors and lakh general visitors.
Highlight of AERO INDIA 2019
403 Exhibitors
238 Indian Exhibitors
165 Foreign Exhibitors
61 Aircrafts Displayed
28386 sqm Exhibition spaces
44 Foreign Delegations