One must keep an open mind before choosing their hero and their words. The situation is serious as it includes forces from outside India as well as within who must be tackled with alacrity.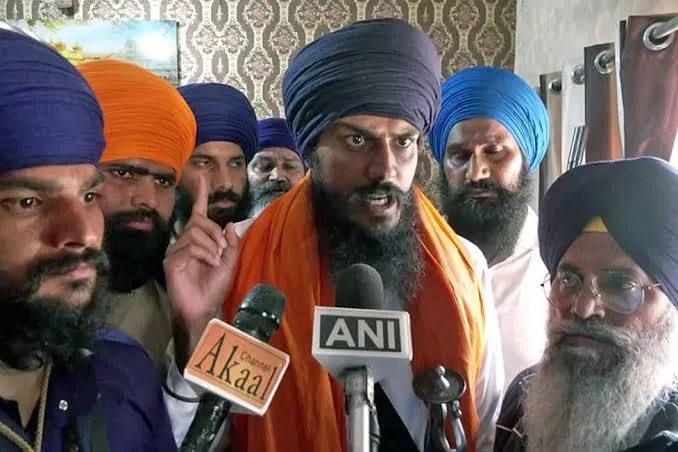 Waris Punjab De Chief Amritpal Singh was rumoured to be arrested in Punjab yesterday and been kept in a secret location while section 144 had been announced, in two districts of Punjab initially. He is most probably expected to be charged with the National Security Act along with 6 of his aides who were said to be in Moga. He had asked his supporters to come to the Moga district and protest. Security has been increased in jails while the internet is suspended in Amritsar. The internet was further suspended in more areas today.
It is possible that NIA will be involved which means it's possible that Amritpal Singh and his aides will be taken outside Punjab for further investigation. The Home Ministery had deployed CRPF and Paramilitary battalions for securing the G20 events and also help the police in both Amritpal's village and in other cities as well. This has been a very coordinated move between the centre and the stage. Mixed reactions have come as far as his arrest was concerned. Many felt his arrest at the same time, G20 events are happening in Punjab will push him further up the chain and bring more limelight on him. Others praised the arrest and stated it is excellent that he has been arrested after the mayhem he brought to Punjab.
These were the updates in the beginning when I decided to write this article and my analysis. A dramatic U-turn occurred after a few hours.
*AMRITPAL SINGH IS STILL ON THE RUN!* started flashing on TV screens.
At 9 PM, Punjab police released a statement saying Waris De Punjab Chief Amritpal Singh is still on the run as they gave further details.
Around 78 people have been arrested in this mega operation. Earlier they said Amritpal Singh and 6 of his associates were arrested. Now made a dramatic U-turn.
During the operation, 9 weapons, one rifle of 315 bore, 07 rifles of 12 bore, 01 revolver and 373 live cartridges of different calibres were recovered.
So why this sudden change? What really happened?
This sudden change can only mean that the Punjab Police never arrested him and made a false leak to the media, making a tizzy of things to happen. And the media fell for it badly. Many reported that he is kept in a secret location. In fact, his supporters still claim he is in the custody. The other crazy bit is they had arrested him but let him go or someone from the inside helped him and he is on the run.
Or he is kept in a secret location as reported earlier. This will again make him more infamous, his influence will grow and it will eclipse the previous Santh ji whose name is put on Amritpal Singh as 2.0. Intelligence confirms Amritpal Singh's treasurer Basant Singh got funds from Pakistan which wasn't a surprise at all. Section 144 was imposed in many places in Punjab, after reports of Amritapal Singh's arrest. Flag marches have been done in many places by the Paramilitary and the CRPF. 4 of his aides have been taken to Dibrugarh in Assam.
Paramilitary police have sealed Amritpal Singh's village Jallupur Khera in Punjab. It was earlier suspected that place is his hideout after he was on a run. One of his supporters, Bhai Daljeet Singh Kalsi was arrested from his residence and taken to an unknown location. Meanwhile, in support of Amritpal Singh, Nihangs in Mohali on Saturday blocked the airport road near Sohana Gurdwara. As well as the Barnala-Faridkot State Highway in Bhadaur town of Barnala district. The state machinery had some inkling and multiple teams of Police and RAF were already present at the location. It's my guess they were present around almost any large gathering. Yesterday, Punjab police declared Amritapal Singh as a "fugitive"/bhagoda from justice. His supporters meanwhile, are worried about his life; begging to approach the Supreme Court for the matter. They further state the opposite of the Police press release, saying he has already been arrested near Jalandhar, further claiming that Amritpal can be moved out of Punjab or encountered with impunity.
While this happened, news came that Khalistani groups are planning to organize protests at Indian consulates in Europe, the UK, Canada, the US & Australia tomorrow. In fact, in Brisbane, another referendum has been passed for Khalistan today. Punjab police have booked Amritpal Singh in the arms act, claiming that Amritpal provided weapons to his aides through multiple networks of gangsters. Illegal arms were given by his syndicate of criminals.
Now, these are the events for today. But one and in fact, many people have asked why now? What possibly motivated the state government under the AAP and the Centre in BJP to get their act together now?
Many aspects have been predated before this happened. The Ajnala police station incident in February was one such incident that showed how dangerous this situation was. Armed groups united by religious dogma in huge numbers led to the release of a man accused of a crime but bypassed from the justice system of the Indian criminal code. Much of the heat was on the Bhagwat Mann government for this is exactly the opposite of what they claimed to do when they were busy campaigning last year. Calls for resignations, the most common reaction to political events radiated in the news as well as the television debates across languages in India and other channels that show deep interest in Punjab. Amritpal was getting a lot of attention as he gave interviews to interviews to news channels, in Punjabi, English and Hindi. The stage to make him a successor to the famous Santh of the 1980s was set. But there is more to this. There is more to the events around the former Mona Sikh who was living in Dubai for five years until he came, baptized himself in the Khalsa front and took the reins of Waris Punjab De after the death of Deep Sidhu.
But is that the only reason for this particular saga?
Sidhu Moosewala was a famous singer. Captivating the minds of the youth in Punjab and elsewhere, his music was touted as Gangster Rap. Some of my own friends were blind fans of the man. His last song SYL, talks about the dam at Satluj-Yamuna Linkage project, the glorification of the terrorist that gunned down people around this project was a brainer. But exactly a year back, he was gunned down in cold blood by gangsters associated with both Lawrence Bishnoi and Goldy Brar who is based in Canada. The Congress party alleged that his security was downgraded by the Bhagwat Mann government despite the threat on his life and it is because of this move, he was murdered in broad daylight. A few people were arrested but some were still not taken up and the Congress, as well as Akali Dal, demanded the CM to resign and there was heat on him for one year.
But why am I talking about this? What has this got to do with Amritpal Singh?
In Mansa today, Sidhu Moosewala's father was supposed to hold a large event to recognize the anniversary of his son's death. The Poor father has been protesting outside the Punjab Assembly for months, demanding the Punjab government work efficiently in this case. Interestingly, Amritpal Singh was also hosting another event known as the 'Khalsa Varihar' event near Mansa where he was initiating a ceremony of baptism of many Sikhs back to the Khalsa order. Whether there is a unified way of this or not is a separate issue but he had planned multiple events but was scheduled to appear at this specific event near Mansa. After what happened yesterday, Sidhu Moosewala's father said that situation in Punjab is being intentionally worsened to stop the massive turnout in Mansa on the occasion of the death anniversary meeting for his son. There is some merit to this because section 144 was imposed alongside the snapping of the internet in Amritsar. Moreover, a huge turnout was imminent which was being used by Amritpal Singh to get attendance at his event as well. It was a tactical move by Waris Punjab De but the events yesterday spoilt everything in terms of this as that event was banned.
Another important and perhaps the biggest link that connects these events for me is the infamous controversial interview of ABP news with Jailed Gangster Lawrence Bishnoi. In fact, this was the single most talked about the issue two days before the mega operation was launched. The news Channel claimed that the Gangster managed to contact them from inside the jail and spoke in length about his beginnings, his rivalries and why he was or is seen as someone who killed Sidhu Moosewala. Interestingly this was released two days before the anniversary of his death. A huge political war of words started with critics accusing the AAP government of initiating such a gimmick that not only insults the singer's death but also shows the extent of culpability of Punjab police in allowing such an interview to take place. The Punjab Police instantly responded by saying this interview is not from Punjab as Lawrence Bishnoi has no beard currently as he had months ago. After Punjab Police proudly claimed that Lawrence Bishnoi doesn't have a beard and that his interview must've been recorded in Rajasthan Jail, ABP News releases another interview of Lawrence without a beard. His clothes were different and this put more pressure on the Bhagwat Mann government with more reinforced calls for his resignation.
The Congress, Akali and the BJP demanded explanations from AAP and the heat was on him. Even Simran Singh Mann made his thoughts known about this whole situation.
My understanding is when the CM met the Home Minister, he asked for help to help curtail this as there was an intelligence around these days that some events can turn into a potential security situation. Moreover, the G20 event was simultaneously happening in these days and the Centre government was focused on maintaining no controversy around these events. They had sent CRPF as well as Paramilitary to ensure protection around this as well as aid the Punjab government in their operation to nab the Khalistani elements. In this, a theory comes up that the centre and the state governments managed to avert a large problematic situation around these events that are been observed right now. The strategy was clear hence there hasn't been much violence except for the blocking of roads by his supporters. To me, this is a well-planned strategic move where political opposition between the BJP and the AAP was blurred and this is a testament to the fact that a 27-member team of Punjab police have taken 4 of Amritpal's aides to Assam and will further investigate it there.
Now comes the perception part. Does this increase the infamy of Amritpal Singh? His supporters claim he is in Punjab policy's custody and possibly flown outside of Punjab as well. His father was interviewed and even he claimed the same, going one step ahead by stating that he might be encountered as well. They all claim that Amritpal always said that he has nothing to fear and he will see if the authorities can arrest him after the Ajlana incident. An image of his boldness was being made while people were talking about the situation returning to the 80s and the 70s where there was an increase in radical elements and a rise in incidents like temple vandalism, police stations being targeted etc. Amritpal's people had attacked two Gurudwaras prior to this operation. Hence the situation was growing dangerously to that level. Hence, prompt steps were taken and he was arrested alongside prominent people from the organization Waris Punjab De. And hence, to dent a blow to his image, all of this narrative game is being played around his whereabouts. There were walkie-talkie sets, arms with his entourage as cars were changed around Salema village in Jalandhar. To reduce tensions, it is possible that Amritpal is in their custody and they have played this story that he is running away and has gone back to his word of facing authorities bravely.
Or what if he is still actually on the run?
That means the Punjab Police intentionally leaked a fake tip to derail people associated with him to come into a state of confusion. His aides were not lucky and neither was Amritpal Singh warned before this happened and managed to run away. It can tip the balance in his rise or against him and most people who are critical of the timing are stating why was laxity shown to him beforehand. It is important to ask such questions before one starts jumping the gun and glorifying anyone. Obviously, there has been some reason why he was not pursued before. And it's funny that the state and even the centre are yet to make up their minds and decide on him. It's laughable and tragic at the same time that he was allowed to rampage like this due to political compulsions and nothing was done earlier. Was this done to put an impression on the minds of the society in Punjab and outside? At the cost of increased dangers it posed? Was the CM saving his face after so much pressure due to the Lawrence Bishnoi interviews? Even his father hinted about the interviews. It's like a script.
Here is the link to his interview — https://youtu.be/h32G0cuhTgU
It is chaos as of now. One must keep an open mind before choosing their hero and their words. The situation is serious as it includes forces from outside India as well as within the country. The arrest saga has shaken Khalistani elements outside who have so far never had to face any counter-measures against them in foreign countries.
(Opinions expressed are the author's own. The article will be updated with new developments in the case)