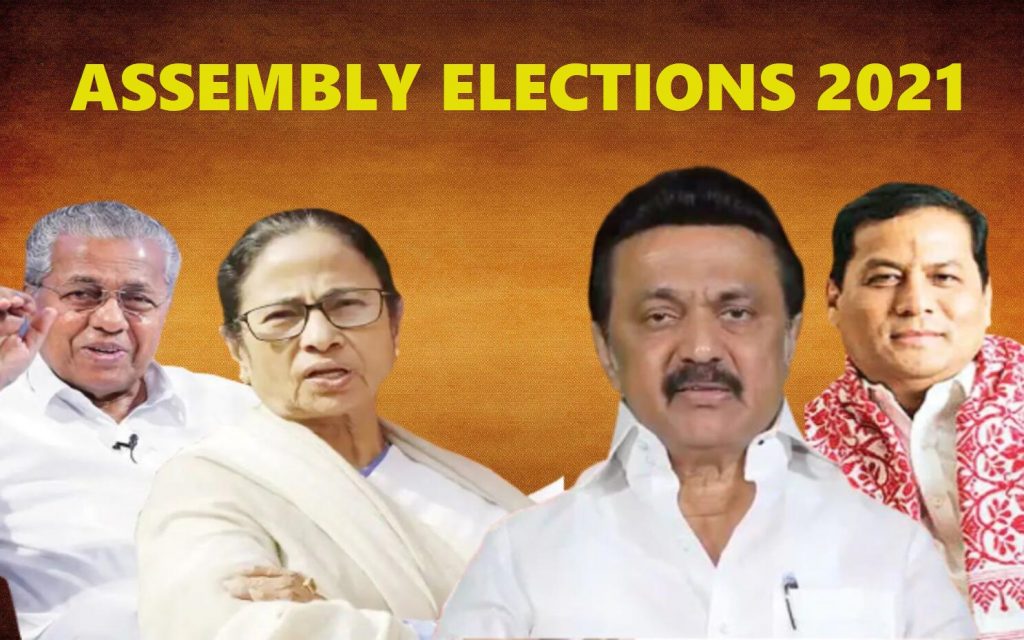 Kerala is the only state where the Communist Party has managed to stay politically relevant. BJP simply lacked the organization or political capital in the state
DMK has managed to win regardless of the margin of victory but it has taken a dangerous step towards a family-run enterprise. BJP got a much needed foothold in the state
BJP has managed to win in Assam comfortably thereby giving a strong footing to the party in the northeast
West Bengal promised to be a close fight but ended up in a one-sided victory. But BJP has managed to make great inroads in the state
Although PM Modi remains the most popular leader in India there seems to be a limited influence of his persona in assembly elections.
Congress has completely lost the plot and is in no position to be even an effective opposition party
The rise of regional parties has been the highlight of the recent elections
Elections are the bedrock of any democracy. The necessity of the rulers to go to the public to gain the mandate at regular intervals of time gives legitimacy and confidence to the people over the state and also prevents any autocratic tendencies of their leaders. Although an election is not the only mechanism in a democracy, it is by far the most important
Impact of COVID
These assembly elections have been peculiar in recent history due to the pandemic situation. Right from the announcement to the results, it has been a tough road to travel. Political rallies and meetings of the parties were affected to a great extent. It must be appreciated that the parties this time voluntarily decided to cut short their political meetings. But this in turn affects the rights of the political parties to go to the voters with their ideas and vision for their mandate.
Election Commission Persists
Questions were raised over the election commission for announcing election in the year of pandemic and some even questioning the necessity of election during these times. Although the questions hold some ground in a humanitarian sense, the alternatives like President rule or extension of terms of incumbent governments opens a whole new Pandora's box and only complicates the situation. It not only violates the opportunity for the opposition but also sets a dangerous precedent.
Another view is that a new government with a fresh mandate can bring much-needed enthusiasm and fresh ideas. But the assembly elections can also be a great lesson for the election commission to study and come up with new regulations and code of conduct to conduct free, fair, and safe elections in the future.
Kerala – Last Bastion of the Communist Party
Kerala has a behavioural history where the incumbent constantly failed to win a consecutive term and having an alternative government between two parties UDF and LDF. This time LDF has broken the streak and for the first time in 20 years, an incumbent government has managed to get a mandate for a second successive term. This is the only state where the Communist Party has managed to stay politically relevant. Many are of the opinion that mandate is more for the Chief Minister for his COVID management rather than the party itself.
UDF is the curious case in itself as Congress, being a principal opposition at the center and its main leader being a member of Parliament from Kerala, was expected to win the election and continuing that tradition of alternate government. There are many factors for its failure from infighting to the lack of intent. Congress didn't even use many of their old guards in election campaigning courtesy of their internal politics.
BJP on the other hand had announced E Sreedharan, popularly known as Metro man as their CM candidate. This step knowing fully well that they had no chance of winning and forming the Government. They simply lacked the organization or political capital in the state.
Tamil Nadu – Triumph of Dravidian Politics
This is the state where major national parties play second fiddle to the regional parties. BJP and Congress ally themselves with AIADMK and DMK respectively interestingly this is the first time both parties contesting in the state assembly elections without their supremos – Jayalalithaa and Karunanidhi. The tragic death of Jayalalithaa cost quite an uproar and instability but was stabilized later. Having 10 years of anti-incumbency and the absence of its tallest leader, made many predict a landslide win to the opposition. To his credit, K.Palaniswami managed to put a decent fight although for a losing cause.
DMK has managed to win regardless of the margin of victory. But it has taken a dangerous step towards a family-run party. The son of Karunanidhi, DK Stalin is set to become the Chief Minister of Tamil Nadu. Congress for whom South was an important part, is happy to be a minor ally without any signs of the resurrection.
BJP on its part attempting to get a foothold in the state, tried to rope in Tamil Nadu superstar Rajnikanth, who initially accepted but pulled out citing health issues. Another superstar Kamal Haasan started in a new party called NMN. He had a huge ambition of throwing away both regional parties but had to take solace with a single seat.
Assam- Politics of Identity
Assam was once a stronghold of the left and Congress. In the last election, BJP managed to capture power for the first time in its history through alliances and defections from Congress. Himanta Biswa Sarma who has become a crisis manager for BJP has managed to win in Assam comfortably thereby giving a strong footing to the BJP in the northeast.
Congress along with its virtually non-existent ally the Left tried to resurrect themselves in this state to no avail.
Bengal – Didi Again!
This election in the state was predicted to be neck to neck between TMC and BJP by many psephologists as predicted by many exit polls. But to their surprise, TMC managed to win a nearby 2/3 majority. Ironically Mamata Banerjee the incumbent CM who fought tooth and nail failed to win her seat, which she chose to fight against her former ally Suvendu Adhikari.
BJP to its credit tried all its might to win Bengal. From central ministers' to the Prime Minister himself, everyone campaigned and attended many rallies. What was promised to be a close fight ended up in a one-sided victory. But BJP has managed to make great inroads in Bengal becoming a major opposition increasing its tally from 3 in 2016 to 77 in 2021.
Important observation this election is the complete washout of Congress and Communist parties which ruled Bengal for 35 years till as recently as 2011. The Communist Party is completely out of the state along with its ally Congress.
Lessons for BJP
An observation is that BJP seems to be losing its vote share from general elections to the assembly election this time. This shows BJP cannot always bank and PM Modi's popularity. Although he remains the most popular leader in India there seems to be a limited influence of his persona in assembly elections. Lack of familiar face, a local leader has hurt its election prospects in the state despite having a reasonably good organization.
Without a CM candidate of its own against Mamata Banerjee, the BJP for all its efforts was in a disadvantageous position. It can be inferred that voters in India have matured to distinguish between local and general elections. The immediate step of BJP must be to produce local and regional leaders in every state rather than banking on defections from other parties.
Wither Family Politics of Congress
Congress has completely lost its plot and in no position to be even an effective opposition against BJP. Its excessive dependence and the stranglehold of one family over it, is degenerating it day by day. There seems to be a complete lack of vision in the party with little discipline and internal democracy.
The rise of regional parties has been the highlight of the recent elections. Along with its regional leaders, they promise to bring fresh blood with renewed perspective and localized solutions for local problems. This can bring hope to a country as diverse as India.
(Opinions expressed are author's own and do not necessarily reflect the views of SamvadaWorld)