The close relations between India and Afghanistan was proven again after India became the first country to donate COVID-19 vaccines to Afghanistan.

The first shipment containing 500,000 free doses of Covishield vaccine reached Kabul on Sunday. India has promised to provide more vaccines to Afghanistan in due course.

The Covishield vaccine produced by Indian pharma company Bharat Biotech, will be rolled out in Afghanistan from next week.

Mohammad Haneef Atmar, Foreign Minister of Afghanistan expressed the country's gratitude on Twitter. "My profound gratitude to my friend @DrSJaishankar, the government & people of India for assisting 500k dozes of "Made in India" vaccines to address #Covid spread in Afghanistan. A clear sign of generosity, commitment & strong partnership indeed", he tweeted.

Dr Abdullah Abdullah, Chairman of High Council for National Reconciliation, expressed his gratitude to the government and people of India for their generous & much needed support. "India always has stood by the people of Afghanistan, & offered their help. @DrSJaishankar @IndianEmbKabul", he tweeted.

Masooma Jafari, Spokesperson of the Afghanistan Health Ministry said that front-line healthcare workers would be prioritized for the vaccination drive, followed by school teachers, prisoners, security forces, and the elderly.

Tahir Qadery, minister-counsellor for Afghanistan (Charge d'Affaires) in India told Arab News, "The vaccines will enable us to be well prepared to move towards normalcy. Our Indian counterparts have assured us of more vaccines in the future. This is a great gesture of humanity, and we are deeply grateful".

Former President of Afghanistan Hamid Karzai too thanked India for the Covid-19 vaccines. "I thank the Government of India for providing 500K doses of the coronavirus vaccine to Afghanistan. Appreciating India's constant support to #Afghanistan", he tweeted.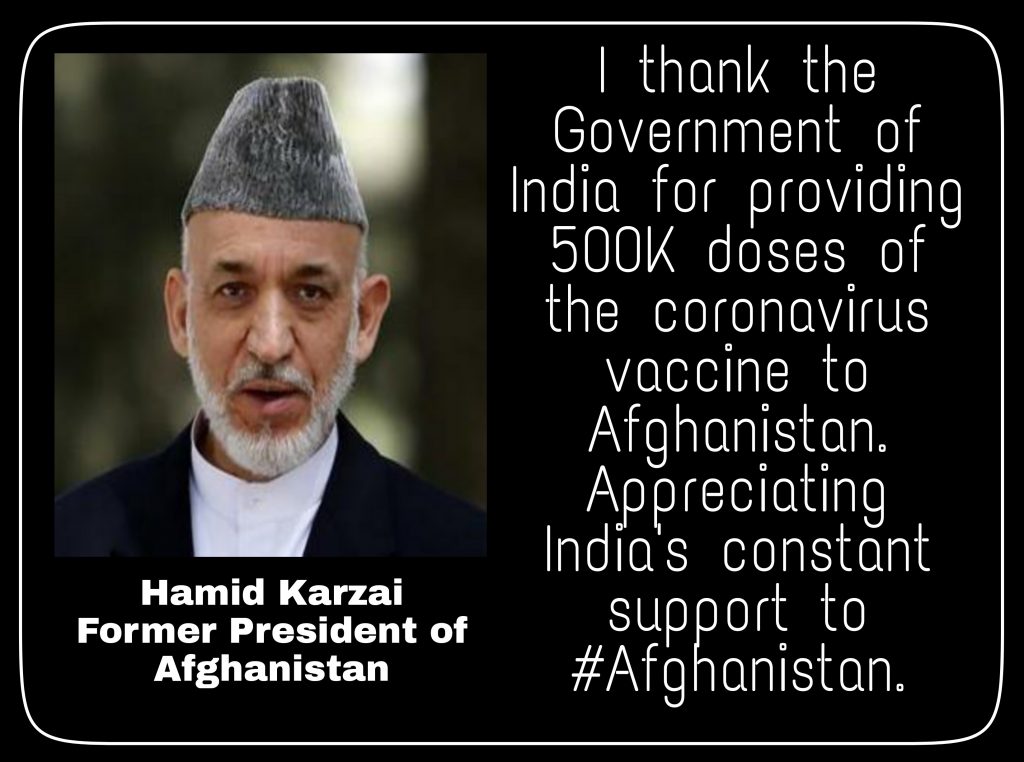 Afghanistan is reporting thousands of cases each day and government is finding it difficult to contain the spread due to non-cooperation from areas under the Taliban and other groups. There are reports of mismanagement and corruption in Covid-19 management by government departments and hospitals.