Prime Minister Narendra Modi's recent trips to the United States, as well as his trip to France, demonstrate India's ambition to establish itself as a vital player in the global military-industrial complex.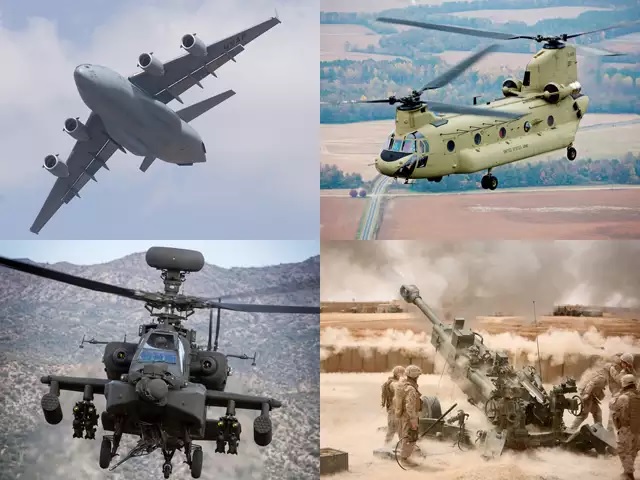 Deepening India-US Defence Partnership
Building on his successful visit to the United States, President Joe Biden reaffirmed the two countries close cooperation, upgrading the India-US Comprehensive Global and Strategic cooperation to a greater degree of trust and mutual understanding. The Initiative on Critical and Emerging Technology (iCET), cooperation in space exploration between NASA and ISRO, the signing of a Memorandum of Understanding on Semiconductor Supply Chain and Innovation Partnership, efforts to develop secure telecommunications and resilient supply chains, and the promotion of global digital inclusion all contributed to the strengthening of this partnership. Furthermore, the Memorandum of Understanding (MOU) between General Electric and Hindustan Aeronautics Limited for the production of GE F-414 jet engines in India represents a collaboration to strengthen indigenous defence manufacturing capabilities. The India-US Defense Acceleration Ecosystem (INDUS-X) was established to accelerate defence innovation and collaboration between the two countries. Furthermore, India's plans to procure 31 General Atomics MQ-9B High-Altitude Long-Endurance (HALE) UAVs indicate the country's emphasis on improving surveillance and reconnaissance capabilities.
India-France Strategic Partnership
On July 13-14, Indian Prime Minister Narendra Modi made his sixth visit to France. PM Modi was hailed with the same enthusiasm in Paris as he was in Washington. He was the Guest of Honor in the Bastille Day Parade (France's National Day) celebrations on July 14. This is noteworthy because it demonstrates France's resolve to take its ties with India to the next level, as foreign dignitaries are not invited to the Bastille Day Parade. This visit deepened the countries' Strategic Partnership by establishing ambitious goals in areas such as strategic collaboration, advances in science, cultural exchange, and economic cooperation. Large defence contracts, including the naval version of Dassault Aviation's Rafale fighter jets Rafale-M (Marine) to meet INS Vikrant's on-deck requirements, were signed. The French are willing to collaborate on the design, development, testing, and manufacturing of engines for advanced multi-role combat aircraft (AMCA) in order to boost 'Make in India'. Safran's 100% transfer of technology will enable India to diversify its defence requirements while simultaneously acknowledging significant political ties to the degree that France refrains from selling weapons or platforms to India's adversaries.
Strengthening Defense Ties with Germany, Israel and Russia
The Indian Defense Minister, Rajnath Singh, recently signed an agreement with his German counterpart, Boris Pistorius, to build six advanced submarines in India as part of a strategic partnership in which ThyssenKrupp Marine Systems (TKMS) will set up production facilities for the 43,000 crore project with Indian shipyard Mazagon Dock Shipbuilders Limited. Last year, the Defense Minister inked a similar agreement with Israel, purchasing Unmanned Aerial Vehicles, missiles, and radar systems for border monitoring and counter-terrorism. Despite the limits resulting from the Ukraine conflict, India's defence connections with Russia are time-tested, with Moscow maintaining the leading provider of defence supplies with a roughly 45% share. Currently, about 200 collaborative projects for joint manufacture are being executed under India-Russia military-technical cooperation, and this is projected to grow for future weapons as well. BrahMos Aerospace, which just celebrated 25 years of JV cooperation, created, developed, produced, and sold the supersonic Brahmos Missile.
Thrust for Make in India – Atmanirbhar Bharat Initiative
For a long time, India has been the leading importer of defence equipment, and the government intends to reduce imports by establishing and strengthening innovative defence production through the establishment of industrial corridors in Uttar Pradesh and Tamil Nadu. The defence corridors will aid India's goal of self-sufficiency by creating direct and indirect job opportunities and stimulating the expansion of private domestic manufacturers, Micro Small and Medium Enterprises (MSMEs), and Startups.
The involvement of the Indian private sector and the start-up ecosystem has been encouraging. The agreement signed in 2017 between Reliance Defence and Engineering Ltd (now Reliance Naval and Engineering Ltd) and the US Navy to maintain the Seventh Fleet in the Indian Ocean Region, followed by the US Navy awarding a contract to the L&T Shipyard to undertake maintenance of US Navy ships at Kattupalli, signifies India emerging as the natural preferred choice of Western democracies for maintenance, repairs, and allied services. Furthermore, several corporations such as Tata, Mahindra, Kalyani, Hindujas, Adani, and others are developing ammunition, small gadgets to huge bulletproof armoured carriages, and others to serve as the backbone of India's military sector.
Indian startups are demonstrating their worth by revolutionizing India's drone industry. The unmanned autonomous vehicle is being employed in a variety of industries, with the drone market in India expected to reach INR 120-150 billion (USD 1.63-2.04 billion) by 2026. As of 2023, the Top 10 Defence Tech Startups Making India Atmanirbhar include Tonbo Imaging, EyeROV, Optimized Electrotech, Big Bang Boom Solutions, IdeaForge, Cron Systems (Cron AI), Dimension NXG (AjnaLens), Sagar Defence Engineering, Vinveli, and Axio Biosolutions.
Defence exports increased from 1,940.64 crore in 2014-2015 to 12,814.54 crore in the most recent year. ASEAN and African nations are interested in the Brahmos Missile System, Tejas Light Combat Aircraft (LCA), Prachand Light Combat Helicopter, and Akash Missile System.
Forging Strategic Alliances Amidst The China Challenge
Given China's mounting problems in the Indo-Pacific region, the strategic cooperation between Western democracies and India is critical. China's actions endanger the Indo-Pacific's principles of freedom, openness, and prosperity, as well as the rules-based international order. Western countries are working together to build an alternate supply chain, lowering reliance on China and managing dangers. This collaboration also aims to boost India's position as a counterweight to China by reducing China's influence over key industries and developing technology. India aspires to become a net exporter of defence equipment, assisting the American fleet stationed in the Indian Ocean and Pacific through increased partnership with the US. This partnership will contribute to the growth of a thriving Military Industrial Complex in India for the foreseeable future.
(Views expressed are the author's own)