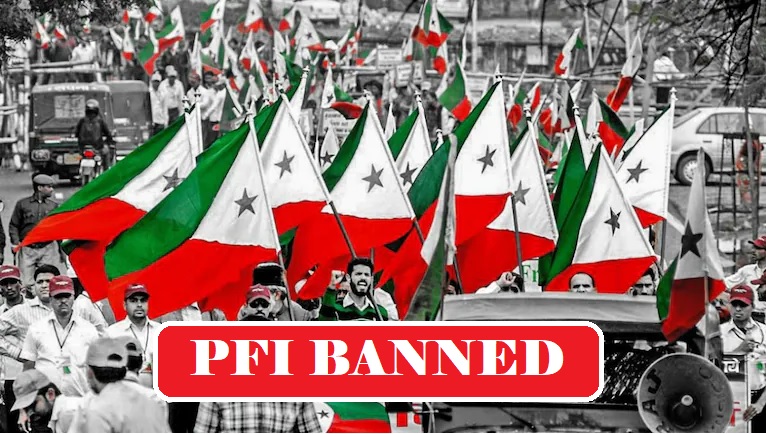 The Ministry of Home Affairs has banned The Popular Front of India (PFI) and its associates or affiliates or fronts for being involved in serious offences, including terrorism and its financing and targeted killings. The MHA release also says that the PFI disregarded the constitutional set-up of the country, disturbing public order while carrying out its activities which are prejudicial to the integrity, security and sovereignty of the country. The PFI and its affiliates have been banned for a period of five years, as per the gazette notifications issued by the GOI.
The MHA press release says that it was necessary to curb the nefarious activities of the organization and has hence declared the PFI along with its associates or affiliates or fronts including Rehab India Foundation (RIF), Campus Front of India (CFI), All India Imams Council (AIIC), National Confederation of Human Rights Organization (NCHRO), National Women's Front, Junior Front, Empower India Foundation and Rehab Foundation, Kerala as an "unlawful association" under the provisions of the Unlawful Activities (Prevention) Act, 1967.
The ban comes after several rounds of raids by the NIA on PFI offices and its leaders across the country. The NIA had found incriminating evidence of PFI's involvement in terror activities, terror financing from abroad and radicalization of Indian Muslims.
The GOI gazette notification says that there had been a number of instances of international linkages of PFI with Global Terrorist Groups and some activists of the PFI have joined the Islamic State of Iraq and Syria (ISIS) and participated in terror activities in Syria, Iraq and Afghanistan. Some of these PFI cadres linked to ISIS have been killed in these conflict theatres and some have been arrested by State Police and Central Agencies also the PFI has linkages with Jamat-ul-Mujahideen Bangladesh (JMB), a proscribed terrorist organization, says the notification.
The notification says that the Office bearers and cadres of the PFI along with others are conspiring and raising funds from within India and abroad through the banking channels, and the hawala, donations, etc. as part of a well-crafted criminal conspiracy, and then transferring, layering and integrating these funds
through multiple accounts to project them as legitimate and eventually using these funds to carry
out various criminal, unlawful and terrorist activities in India.