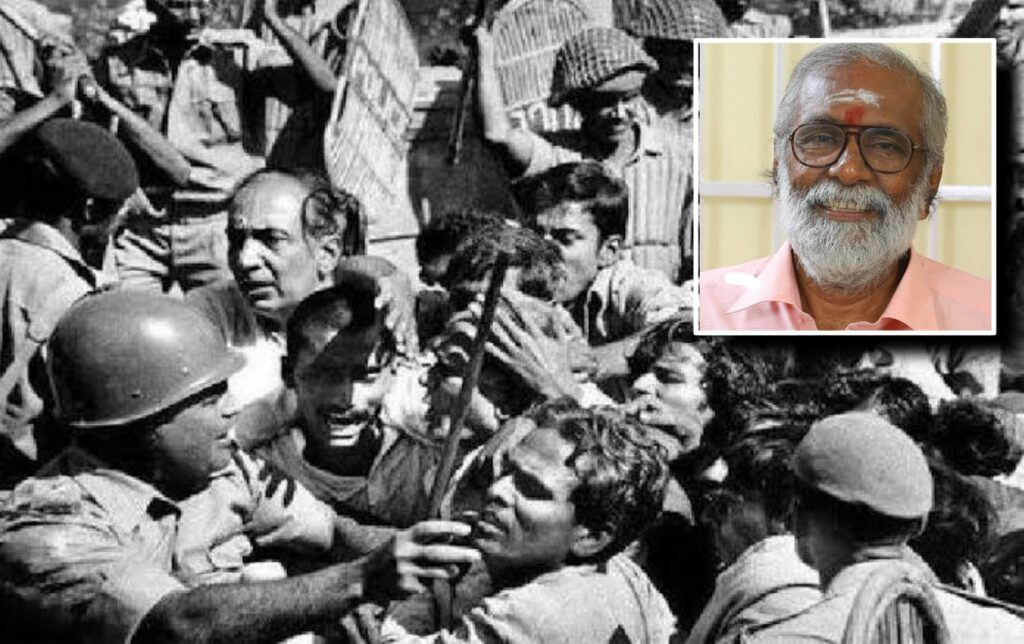 Right under the light of 1000 watt electric bulb, question came one after the other. "Where is Bhaskar Rao?" The time when Bhaskar Rao, ಈone of the main organizers of Rashtreeya Swayamsevak Sangh, traveling across the length and breadth of Kerala, anchoring sangh activities against the emergency declared by Mrs. Gandhi.. had reached Alappuzha as well. Gopinathan Nair, a police officer, popularly known as 'isperd', only needed to know the whereabouts of Bhaskar Rao. However, Gopakumar, the then RSS pracharak of Alappuzha, did not get nervous at this question. Sangh secret should be secure even at death was the thought in Gopakumar's mind at that time. The next question follows "Where is Kurukshetram printed?".
During the emergency period, while the strict rules of censoring were removing truths from news media, ignoring the censoring rules, Kurukshetram brought out the terrors of emergency to the people. They wanted to know the source of Kurukshetram which was printed and distributed secretly. The response to this question was also silence. from that moment onwards for the next sixteen long days, started the inhuman interrogation within the four walls of Kaustubham. A single storied old building beside the police station near Muppalam in Alappuzha city was chosen as the camp site to handle the RSS volunteers working against Emergency rule and the one in charge of the camp was a police officer named Gopinathan Nair. Others who were in charge included the then CI, Surendran and today's highly ranked police officer Jayaprakash. Youth congress workers well known to Gopakumar near Alappuzha bus stand helped the police in capturing him. Upon realizing that he was trapped by the police, Gopakumar left the bag containing secret details of RSS in bus he was in and seated in another bus. The police force introduced Gopakumar as a thief responsible for some theft to the crowd gathered there upon seeing the incidents.
He was taken directly to the police camp in Muppalam and the first person to interrogate him was Jayaprakash. "..he had asked a question and before finishing the question he hit me hard on my head with the sick in his hand. This broke my head covering my head and body with blood and I got fainted. As I came back to consciousness I was in a room with intense light that I could not open my eyes. You won't realize the difference between day and night in that room. Eating, defecation, urination all limited in that room alone. Gopakumar started to recollect and share his experience from those days. Gopakumar got arrested on August 1, 1976.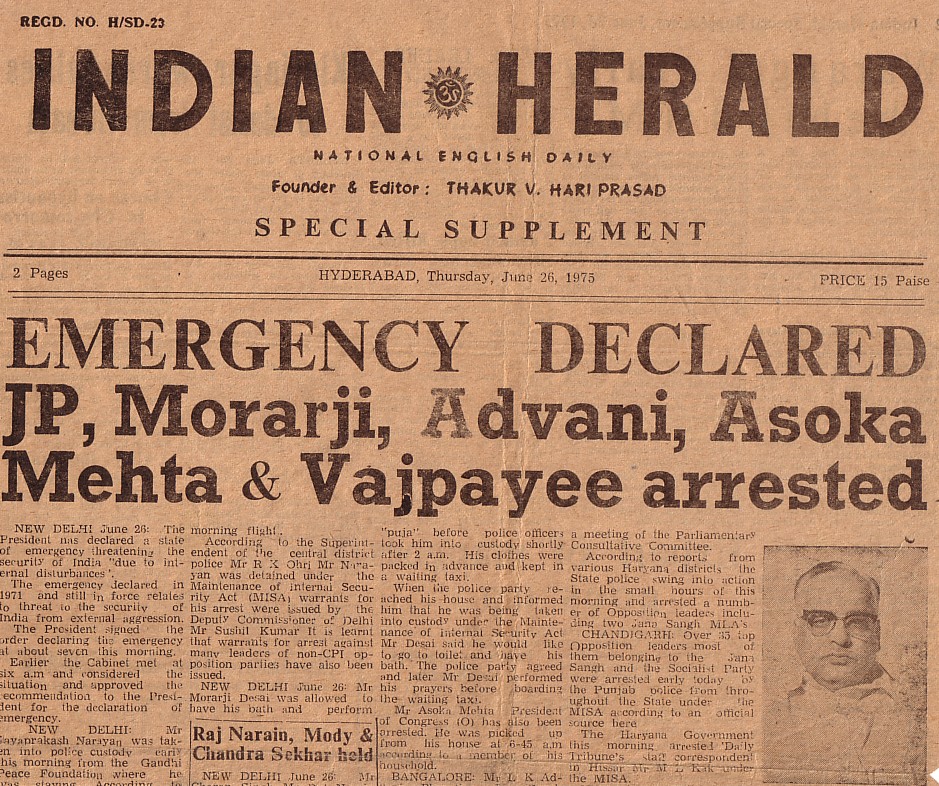 Though he was not a Keralite, Bhaskar Rao was a leader who had lived like a Keralite with a deep rooted relationship with RSS. Travelling incessantly in Kerala, he had coordinated the emergency activities of both RSS and Janasangh forming lokasangharsha samithi. During his travel he used to reach Alappuzha also. The authorities were keen to somehow lock him up because Rao was the most wanted person those days. Gopakumar was taken to the camp was only part of their plan to capture Rao. Fifty thousand copies of Kurukshetram was distributed secretly all across Kerala. It was their requirement to block Kurukshetram which was being printed in different districts in turn. Realizing Gopakumar as the best of source of information on this made them capture him and interrogate using the most cruel police officer of that time using all the techniques possible on him such as " uruttal, ulakka kayatti prayogam".
He withstood the interrogation in the beginning due to his participation in the RSS physical training obtained from the age of 10. After three phases he became weak but he never replied to any of their queries. Gopakumar mentioned about screaming from the severe pain of certain interrogation techniques they had used on him and many a times his screaming was heard out of the camp kaustubham. Gopinathan Nair had moved on to novel methods of interrogation as all of his went in vain without any reasonable details from Gopakumar and one of which were 'Kavadikkettu'.
In this method both hands will be raised above head and a stick will be squeezed in between the hands and neck, pain starts in that numbness which then ends in losing consciousness. During which he will be losing balance and police stand by to place him on spot.
Gopakumar hails from a family called Kottarathil in a historically important place near vaikom temple. During Vaikom hunger strike many of them including national leaders used to stay there. Gopakumar, who was attracted to RSS at a very young age, was the jilla (district) pracharak of Sangh during the emergency time. Later he became Kottayam Vibhag Karyavaah. He returned to family life and later became BJP national executive member.
After the emergency was declared Gopakumar had brought George Fernandez to Tiruvalla from Alappuzha. One time this was the topic of interrogation and at another time an investigation on a bomb case from Moozhiyar which he was unaware of. My eyes were swollen from the heat from the electric bulb which makes day and night look same was lighted always. I was in a state in which eyes could not be opened along with severe physical pains. At times Gopinathan and co might show up while coping with the pain. As they enter they start the procedure and one time they shook me for a while and in between some one kicked me on my spine which made a cracking noise in my spine. I fainted right at that moment, the crack from that day still revisits as a severe pain.
Another technique they used at times on Gopakumar was called 'double action' in which they crash my head on the wall quite unexpectedly. Within the 16 days, head was cracked multiple times with severe injuries. Repeated trial of a technique called 'uruttal' at multiple times caused severe injury on the left knee. Even today if not careful knee gets slipped with unbearable pain.
In order to recover from the physical injuries and bruises from the emergency interrogation, he had to go for a pancha karma treatment for five years. While the nation was celebrating the 25 anniversary of Emergency rule as a remembrance of safeguarding of democracy Gopakumar was undergoing a major surgery to remove his scrotum in a private hospital in Eranakulam. "While in the camp Gopinathan Nair had experimented a new interrogation technique in my body by which he would pull me holding together my penis and scrotum. This had caused a lot of physical difficulties post emergency. After trying ayurveda and hereditary medicine, it had to be removed and it was a rare coincidence that the surgery and 25 th anniversary celebration occurred at the same time." He was talking with a smile shadowing apathy on his face.
(This is a translation of an article that appeared in Malayalam weekly in November 2005.)