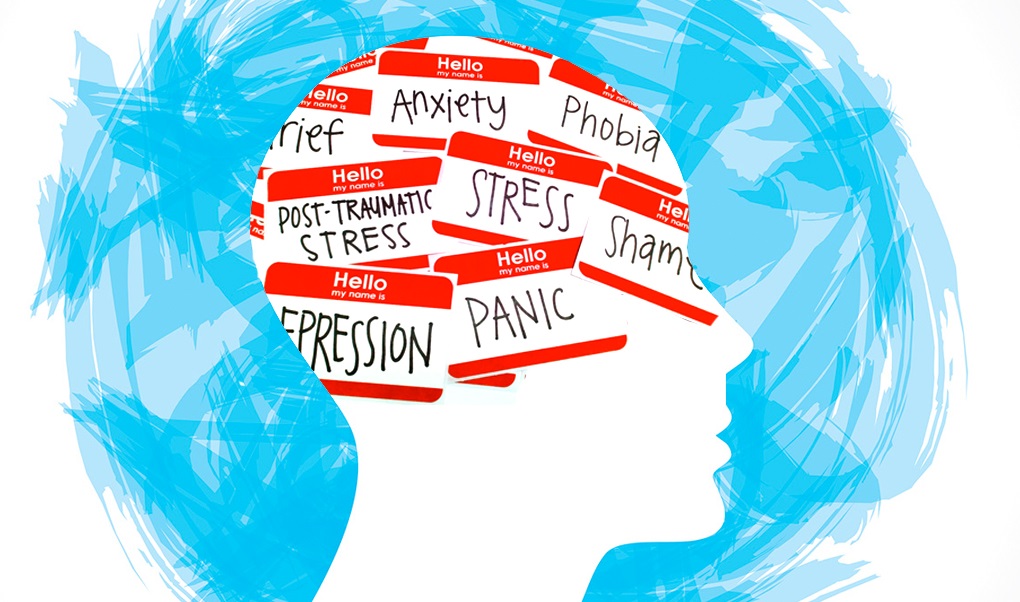 In an open letter, top psychiatrists of the country have urged the media to show restraint in their coverage of the pandemic in the country for the sake of overall mental health of the people.
In the letter signed by BN Gangadhar, President, Ethics and Medical Registration Board, National Medical Commission, New Delhi, Pratima Murthy, Professor and Head, Dept of Psychiatry, NIMHANS, Bangalore, Gautam Saha, President, Indian Psychiatric Society, and Rajesh Sagar, Professor of Psychiatry, AIIMS, New Delhi have deplored the media coverage for the sake of garnering more eyeballs at the cost of mental health of the viewers and readers.
"Images of bodies burning in cremation grounds, relatives of the deceased wailing inconsolably, emotional outbursts and hysterical reporters with cameramen swarming over the bereaved who are going through deeply emotional moments – these may help garner eyeballs. But there is a steep price to be paid for such coverage", the letter says.
Due to the pandemic-related restrictions and guidelines, people are unable to go out and live a normal, social life. This is already fostering a hidden mental health epidemic with people becoming depressed, lonely and anxious. Stuck at home, people turn to the televisions or social media even more than earlier. But when they see such disturbing and depressing visuals, they are pushed much deeper into the abyss, say the psychiatrists.
Highlighting the importance of positive coverage the doctors say that there are many people with mild or moderate COVID-19 who may be recovering at home. "Will a positive frame of mind help them recover better or will an atmosphere of hopelessness do so? This is a matter for our friends in the media to reflect upon", say the doctors in the letter.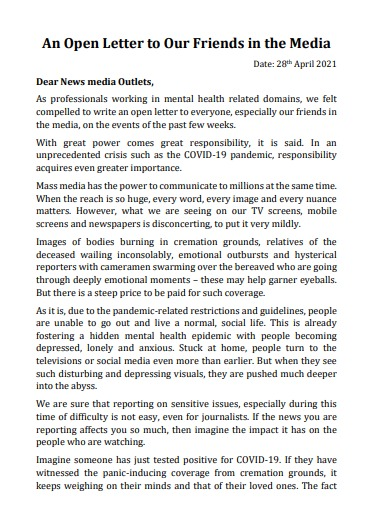 Touching upon exaggerated coverage affecting public morale, the doctors say that reporting a shortage of one particular commodity is the right thing to do but it also needs to be specified where exactly the shortage is, rather than make it look like a universal shortage.
"Because human psychology is such that, the more noise people hear about shortages, the more they will run after that commodity and try to hoard it. This creates a vicious cycle of more shortages or people panicking because they are unable to get things they may not even need!", warn the doctors.
Mentioning the kind of coverage that is needed during the pandemic, the doctors urge the media to provide specific information that empowers people and prepares them to face any challenge.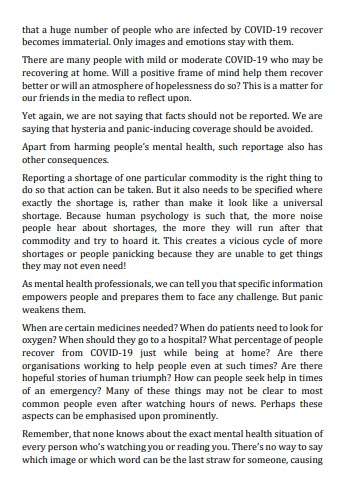 When are certain medicines needed? When do patients need to look for oxygen? When should they go to a hospital? What percentage of people recover from COVID-19 just while being at home? Are there organisations working to help people even at such times? Are there hopeful stories of human triumph? How can people seek help in times of an emergency? Many of these things may not be clear to most common people even after watching hours of news. Perhaps these aspects can be emphasised upon prominently, say the doctors.
The letter reiterates that the media has great power to inform, educate and most importantly, infuse hope in the people. This includes the sharing of authentic information and allaying of fears. These are extremely important weapons in this fight against the pandemic.
"Therefore, we request our friends in the media to show restraint in their coverage without compromising upon facts or public interest", urge the top psychiatrists in their open letter to the media.