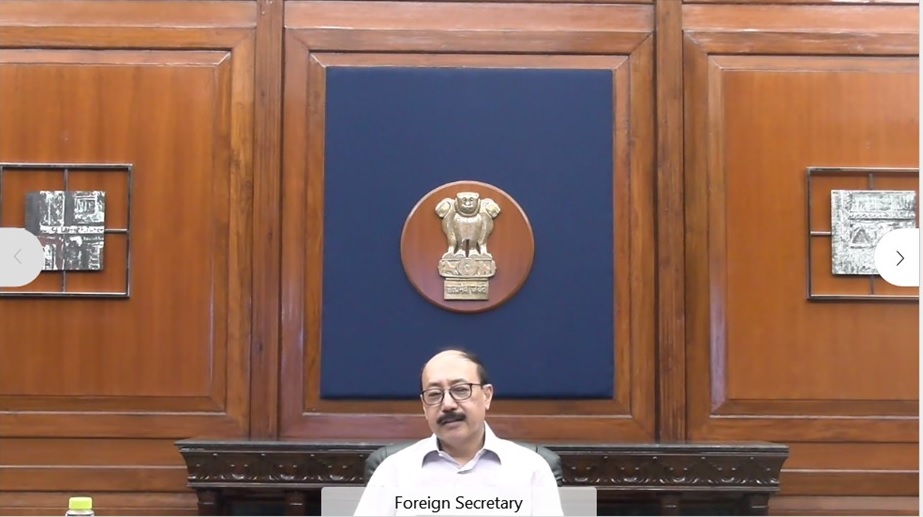 Delivering his lecture on "Global Rebalancing and India's Foreign Policy" at Vivekananda International Foundation's VIMARSH Talks, Foreign Secretary Harsh Shringla said that true to the tradition of the Middle Path that arises from the teachings of Buddhism, India tends to avoid extreme strategic and political behaviour and is a force for moderation. Hence, while "We place our Neighbourhood First, we Act East and we Think West", he said.
He said that India that operates in today's global environment in which rivalries and alliances are non-linear, is itself changing rapidly. India is today more populous, younger, more aspirational, more innovative, more diverse and economically more productive than ever before. It is an India that is more consequential. It is an India that is better resourced. It is an India that is on a growth trajectory. It is an India that has survived and will survive many challenges, he said.
International diplomatic systems are historically created to forestall crises and conflict. They last as long as they are able to contain and defuse destabilizing impulses. The ability of the current system to contain and prevent crises is evidently weak. Even when the will is there, the solutions that are available are often unsatisfactory, he said.
He spoke on the rise of Asian economies and the role of India and China. "The economic transformation of India and China in the past two decades has transformed the strategic landscape of both Asia and the world. Asia is fast emerging as a geopolitical and economic pivot. It is now widely believed that the 21st century will witness the consolidation of the economic, political and technological powers of Asian states." The rapid growth of Asia's share in global economic output, the business acumen of Asian companies and their growing revenues, and the growing salience of Asian technological prowess is driving a shift in the global economic center of gravity, he said.
Indian diplomacy for this era is based on five pillars. The first pillar is that it is Indian in thought. India is home to one of the world's greatest and most ancient philosophical traditions with its own unique characteristics.
We are also introspective people who study and assimilate. We admire what is good in the intellectual traditions of Western thinkers and the cultural roots that underlie the current global institutional framework. We are, however, increasingly guided by bearings that arise from our own thinking influenced over centuries by Kautilya's Arthshastra or ancient texts such as the Mahabharata and the Bhagvad Gita, he said.
The second pillar of Indian diplomacy is its multipolar focus. We place our Neighbourhood First, we Act East and we Think West and we have revitalized our approach to these policies.
The third pillar of India diplomacy is its actions as an international force multiplier for the Government.
The fourth pillar of Indian diplomacy is to be a force for global good. It is to be the Vasudaiva Kutumbakam in action.
The fifth pillar of Indian diplomacy looks to the future. Our efforts at rebalancing include our endeavor to participate in the search for solutions to common problems.
Climate change is one of the defining challenges of our time. India is amongst the front rank of nations with climate ambition. Despite our development needs, we have shown strong commitment to climate action, said the Foreign Secretary.
Speaking on the future of geopolitics with the rise of China, he said that India will certainly face turbulence but as and when it happens, India will be able to find its bearings from its values and aspirations and the desire to not only contribute to solving the problems of today but to build the world of tomorrow.