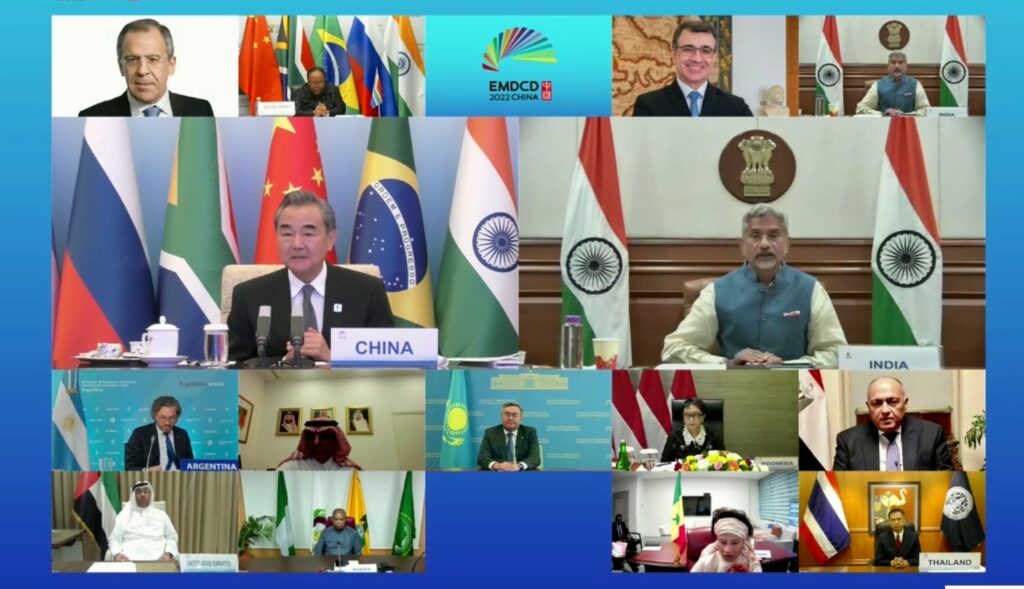 India's External Affairs Minister Dr. S.Jaishankar participated in the BRICS along with the Foreign Ministers of Russia, Brazil, South Africa and China through video conferencing. The meeting was chaired by Minister of Foreign Affairs of the People's Republic of China, Mr. Wang Yi under the BRICS rotating Presidency. The Minister of Foreign Affairs of the Federative Republic of Brazil, Amb. Carlos Alberto Franco França, Minister of Foreign Affairs of the Russian Federation, Amb. Sergey Lavrov and the Minister of International Relations and Cooperation of the Republic of South Africa, Ms. Grace Naledi Mandisa Pandor, led their respective delegations.
The Ministers exchanged views on furthering Intra-BRICS cooperation on the three pillars of political and security, economic and finance, and people-to-people and cultural exchanges. In this regard, they recalled the adoption in 2021 of the revised Terms of Reference for guiding BRICS engagement.
In his address, Dr Jaishankar said BRICS must live up to its commitments on "sovereign equality, territorial integrity and international law". The Ministers expressed strong condemnation of terrorism whenever, wherever, and by whom-so-ever and also expressed commitment to combat terrorism in all its forms and manifestations, including the cross-border movement of terrorists.
The Foreign Ministers meeting was proposed by Chinese President Xi Jinping during China's chairmanship of the five-member bloc in 2017. The Foreign Ministers' meetings have played an important role in strengthening political mutual trust and deepening security cooperation among the five countries, Minister of Foreign Affairs of China, Wang Yi stressed.
In a statement, India's Ministry of External Affairs (MEA) said the foreign ministers "discussed the situation in Ukraine and supported talks between Russia and Ukraine", adding they also expressed concern at the energy and food security implications of the conflict. But the meet did not condemn Russia for its actions or talk about respect for territorial integrity.
On the sidelines of this year's foreign minister's meeting, Wang said a BRICS-plus dialogue will be held where BRICS foreign ministers will exchange views with foreign ministers of some emerging markets and developing countries on global governance.
On the Covid-19 pandemic, Wang said that in the face of a once-in-a-century pandemi,"…the BRICS mechanism has special significance for deepening cooperation among emerging markets and developing countries and promoting post-covid world economic recovery."
As the BRICS Chair for 2022, China looks forward to enhancing communication and coordination with fellow BRICS partners on the new challenges in the international situation and major international and regional issues.
The "BRICS Plus" mechanism is seen as a way for the five countries to broaden their outreach with other developing countries, although the group is unlikely to include new members. The BRICS-backed New Development Bank has, however, already inducted new members, with Bangladesh and the UAE joining last year, and Egypt and Uruguay set to join the financial institution.
India handed over the BRICS Chairmanship to China in January 2022. The theme for BRICS 2022 is 'Foster High-Quality BRICS Partnership Usher in a New Era for Global Development'. A total of 25 events have been planned. India will host five events this year as part of BRICS Science Technology Innovation Steering Committee.