"If I could communicate one thing to the American people from this unique vantage point, it is that the People's Republic of China poses the greatest threat to America today, and the greatest threat to democracy and freedom world-wide since World War II", writes US National Intelligence Director John Ratcliffe  in Wall Street Journal.
In an opinion piece titled 'China Is National Security Threat No. 1' and published on 3rd Dec, Ratcliff writes " Beijing intends to dominate the U.S. and the rest of the planet economically, militarily and technologically." Highlighting that the Chinese government has ulterior motives to each of its moves, he writes " Many of China's major public initiatives and prominent companies offer only a layer of camouflage to the activities of the Chinese Communist Party."
"I call its approach of economic espionage "rob, replicate and replace." China robs U.S. companies of their intellectual property, replicates the technology, and then replaces the U.S. firms in the global marketplace."
Taking the example of Shinovel, he writes that the Chinese wind-turbine manufacturer was found guilty of stealing trade secrets from American Superconductor. Though penalties were imposed, the damage was done as the theft resulted in the U.S. company losing more than $1 billion in shareholder value and cutting 700 jobs, he notes.
He writes that the FBI frequently arrests Chinese nationals for stealing research-and-development secrets. As an example, he cites the arrest of the head of Harvard's Chemistry Department earlier this year. "China was allegedly paying him $50,000 a month as part of a plan to attract top scientists and reward them for stealing information", writes Ratcliff. Similarly, three scientists were ousted in 2019 from MD Anderson Cancer Center in Houston over concerns about China's theft of cancer research.
The U.S. government estimates that China's intellectual-property theft costs America as much as $500 billion a year, or between $4,000 and $6,000 per U.S. household, writes Ratcliff noting the extent of damage done by Chinese to American IP and economy.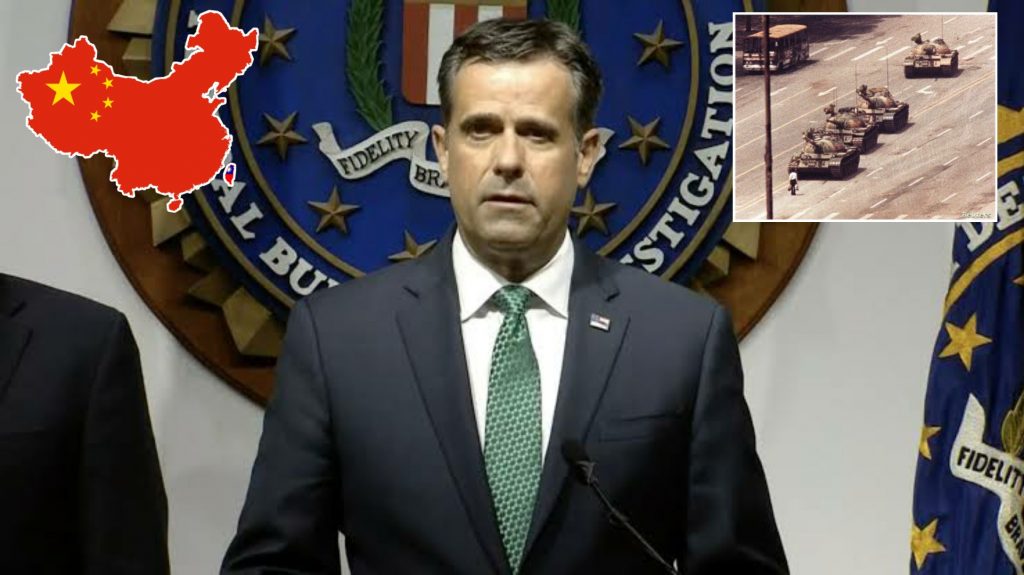 Ratcliffe also charges Chinese intelligence services for introducing vulnerabilities into technology offered by top Chinese tech firms such as Huawei and said allies using Chinese technology would not have US intelligence shared with them. He notes that US intelligence showed that China had carried out "human testing" on troops with the aim of developing soldiers with "biologically enhanced capabilities".
He further writes that China has engaged in a "massive influence campaign" targeting US members of Congress and their staff by encouraging unions at big firms to tell local politicians to take a softer line on China or face losing union members' votes."Beijing was targeting members of Congress with "six times the frequency of Russia and 12 times the frequency of Iran", Mr Ratcliffe said.
Writing on China's quest for global dominance, he writes "China believes that a global order without it at the top is a historical aberration. It aims to change that and reverse the spread of liberty around the world."
The Trump administration upped the ante against China resulting in a war of words and a trade-war with no end in sight. Research in the US shows that confrontation between the two have helped in increased job opportunities in the US but has not contributed much to the economy. The trade war which started in 2017 with imposition of tariffs by the Trump administration on Chinese goods, has gone on till date with tariffs being imposed on hundreds of billions of dollars worth of one another's goods. US has also imposed export controls on products in sensitive areas.
Earlier this week, US blacklisted four more Chinese firms – chipmaker SMIC, national oil firm CNOOC, China Construction Technology Co and China International Engineering Consulting Corp – which were linked to the Chinese military. These companies like the telecom giant Huawei are suspected to be working under the Chinese Communist Party. These companies are also suspected to be bound by the latest policy of the CCP government which mandates all Chinese Companies anywhere in the world to share information with them as and when demanded.
Earlier this year, the US ordered a Chinese consulate in Houston to close over economic espionage concerns. Beijing responded by ordering the US to close its consulate in the city of Chengdu. In tit-for-tat actions, both have also expelled each others' journalists. Relationships between the two deteriorated further this year after President Trump lambasted China for the way it mishandled the outbreak of Corona and termed it 'Chinese Virus'. US intervention and objections to the way China handled the Hong Kong pro-Democracy protests, accusation of human rights abuses in its treatment of its Muslim Uighur minority in Xinjiang further strained the relations.
The US under Trump has impressed upon many governments to block Chinese companies like Huawei and ZTE in 5G trials and using their equipment. Though the policies under Biden may not be as confrontational as under Trump, the US is expected to continue to keep a tab on China.