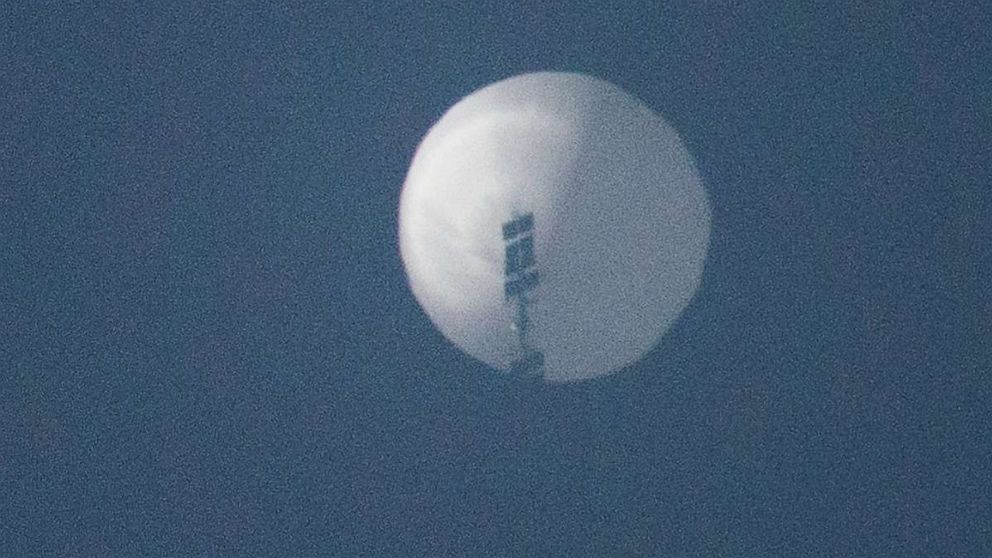 An interesting event unfolded between the USA and China on Friday as a suspected Chinese surveillance balloon was spotted drifting over the northern U.S. skies. While the floating object's current flight path is headed towards "a number of sensitive sites," Pentagon spokesman Brig. Gen. Patrick Ryder said the balloon does not present a significant risk to intelligence and that the military decided against shooting it down. "We are confident that this high-altitude surveillance balloon belongs to the [People's Republic of China]," a senior defence official said, per the report. This incident has also delayed the scheduled trip of secretory Blinken to Beijing.
The US President Biden has reportedly taken Chairman of the Joint Chiefs of Staff Gen. Mark Milley's advice "not to take kinetic action" due to the risk of possible debris harming people on the ground were the balloon to be shot down. He also added that the United States is "taking steps nonetheless to protect against foreign intelligence collection of sensitive information. We are also tracking what abilities it could have in gaining insights and will continue to monitor the balloon as it is over the continental United States."
What does Beijing say?
A spokesperson for the Chinese foreign ministry has accepted that the balloon belongs to China and has said it entered the United States 'accidentally'. He also said it is a civilian airship used for research purposes, mainly meteorological ones. Affected by the westerlies and with limited self-steering capability, the airship deviated far from its planned course. The Chinese side regrets the unintended entry of the airship into US airspace due to "force majeure." The Chinese Foreign Minister also said, "We are trying to understand the circumstances and verify the details of the situation." "I'd like to stress that before it becomes clear what happened, any deliberate speculation or hype would not help handle the matter," she said, adding that China is a responsible country. We act in accordance with international law. We have no intention of violating other countries' airspace. "We hope relevant parties will handle the matter in a cool-headed way."
What is a spy balloon and why is it used?
It is a piece of equipment where a camera is suspended beneath a balloon and is driven by wind currents. It may also have radar powered by solar energy. Experts say that lasers or kinetic weapons are being invented to target satellites, and there is a resurgence of interest in balloons. They don't offer the same level of persistent surveillance as satellites but are easier to retrieve and much cheaper to launch. To send a satellite into space, you need a space launcher—a piece of equipment that typically costs hundreds of millions of dollars.
Why did China do this?
China has been giving a clear signal to the USA of its rise, be it on the economic front or in the military; they have been diversifying their military and adapting to hybrid warfare, which the USA needs to be watchful of. Also, there may be 2 things that must have ignited this move by China:
To embarrass the United States – Its skies are well fortified and equipped with the best technologies, but despite that, Chinese incursions raise questions; moreover, they were done to humiliate the United States and add further pain to its already woeful domestic and international woes.
To gather surveillance – China is known to be involved in gathering secret information around the world, particularly from its competitors like the United States, and they have been doing this so as to get critical information and replicate the same into their technology or arsenal.
This incident is alarming to the USA and gives a hint to the Chinese ambition and goal to challenge US hegemony and add one more stumbling block to the already ongoing disputes between Beijing and Washington. It also poses a lot of questions about Biden's policy on China amid the protective measures his administration has taken regarding semiconductors or even Chinese technologies, as well as his son Hunter Biden's investment and businesses in China.
Update: US Fighter Jets Shoot Down Chinese 'spy' Balloon Over Atlantic Ocean early Sunday.