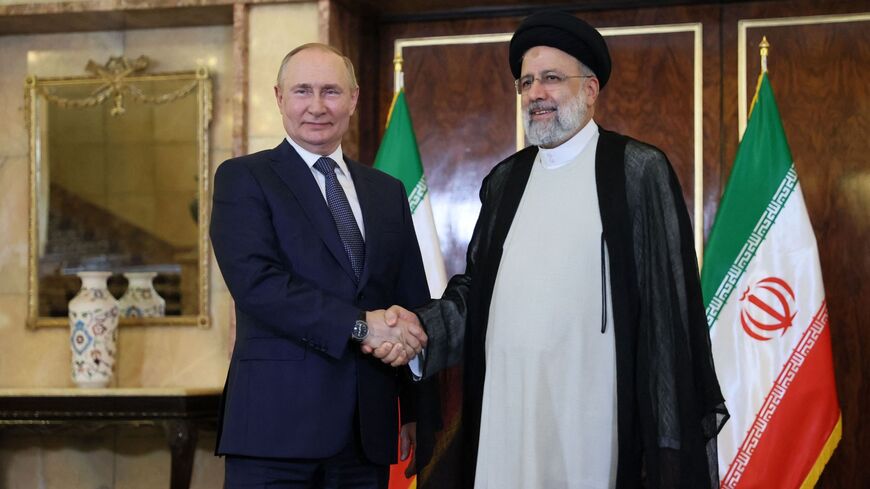 Russia often treats other countries as partners of convenience when things get tough with the West. The Putin-Khamenei meeting, which took place in July on the sidelines of a summit in Tehran, was significant for the relationship between the two countries. It was timed to send a signal to external players rather than to forge an even deeper alliance between Russia and Iran. Putin's visit to Iran was his first trip to a country other than a former Soviet state since he launched the full-scale invasion of Ukraine. It proved useful to Tehran at a time when Iran was under growing Western pressure to commit to restoring the JCPOA. By hosting the summit in Tehran and signing major energy agreements with Russia, Iran signalled that it had other options and that it was not desperate for a deal with the West. 
A few US media outlets allege that Iran has started supplying drones to Russia for use in Ukraine and that the Iranian satellite Russia launched last month will be involved in intelligence gathering in Ukraine. So far, the Iranian government has denied such reports. There is no evidence that Iran plans to become involved in Russia's war on Ukraine. In two speeches since February, Khamenei has carefully distanced Iran from the conflict – even if, in a mild shift from his neutral remarks that the war in Ukraine should end, he supported Russia by calling the invasion "preemptive".
Given their distrust of both Russia and the West, Iranian decision-makers have long viewed their country as a lonely strategic actor. They have advocated a balanced foreign policy strategy that maintains links to all sides. Some moderate and even conservative media and political figures have now voiced their discontent with Tehran's apparent effort to abandon its neutrality in the Ukraine war.
Like the Rouhani government, President Ebrahim Raisi's administration has developed its relationship with the Kremlin while keeping the door open to the West, particularly Europe. Indeed, Foreign Minister Hossein Amir-Abdollahian recently dismissed the idea that Iran's fate is bound up with Russia's, commenting that "Europe will have a place in the government's balanced foreign policy approach … We must pick the best in both the West and the East."
Indeed, the war in Ukraine has created new opportunities for Iran to advance its interests with both Russia and the West. Iran's attempts to develop its military partnerships with Moscow have allowed it to display its defence and aerospace technology – as one can see in the drone deal. Iran has also used the rift between Russia and the West to try to erode what it sees as US hegemony in the Middle East.
Meanwhile, rising global energy costs have made Iran more valuable to both Europe and Russia. Officials in Tehran have openly stated that they could reintroduce Iranian oil into international markets – and thereby reduce energy prices in Europe – in return for the removal of some US sanctions on Iran. Tehran is contemplating gas exports to Europe in the long term (although this would require careful coordination with Moscow). 
Before Western states intensified their sanctions on Russia, an increase in Iranian oil and gas exports would have heightened competition between Iran and Russia. But Tehran could now provide solutions to Moscow. They have floated ideas about how Russia could benefit from Iran's re-entry into international energy markets after a restoration of the JCPOA. Iran could either import Russian oil and gas to serve its domestic needs (allowing it to export more Iranian oil) or re-export Russian products to non-European buyers on Moscow's behalf. Following Putin's visit to Iran in July, the two countries reportedly accelerated their technical discussions on such arrangements. However, it remains unclear whether Iran is willing to go down this road, given that doing so could expose it to greater US and European pressure – a dangerous gamble at a time when the government in Tehran has expended a huge amount of political capital to restore the JCPOA.
Sanctions on Russia have increased Iran's economic prospects in Europe: Western sanctions on Russia have limited Russia's natural gas and oil supply to Europe, creating a gap in the market that Iran could fill. Further, Iran has taken notice of and become excited by this newfound need for Iranian oil. For the first time in recent history, Europe is intent on isolating Russia over isolating Iran, which has provided a slim potential opening for Iranian engagement with Europe. However, experts argued that Supreme Leader Ali Khamenei will refuse to replace the Russian role in Europe because he feels beholden to Russia and does not want to risk angering President Vladimir Putin.
Russia could use Iran to resist American sanctions: Moscow hopes Iran will continue to "play spoiler" with the United States in order to maintain Iran as its leverage point over sanctions. Moscow also hopes Iran will restrict aggression toward the Gulf states and Israel in order to preserve Russia's positive relationship with these countries, which have expressed limited support for Ukraine so far.
The Russian invasion of Ukraine has complicated the IRGC's foreign policy strategy: IRGC currently perceives Russia as a means to balance against American global hegemony. Thus, as Russia is progressively weakened by the war, Iran may look to China to fulfil this critical role. Additionally, Russia's footprint in the Middle East may shrink, particularly in Syria, so the IRGC will likely re-evaluate how it can emphasize its presence there.
The Russian invasion of Ukraine has not affected American considerations on the JCPOA negotiation process: Biden administration is treating JCPOA negotiations separately from the Russian invasion. He argued that the United States is oblivious to the impact of the invasion on the psychology of the Middle East. Iran perceives that the balance of power in negotiations has shifted in its favour because the United States does not have the capacity for military intervention in the Middle East, which could embolden it during the negotiations process. Iran would be mistaken to believe that circumstances are in its favour, especially considering the abysmal state of its economy and public opposition to the Islamic Republic's domestic and foreign policies.
Both Russia and Iran have a lot in common. The growing relationship between the two countries definitely raises strategic questions about President Biden's policies in the Middle East.
(The author is a post-graduate student in International Relations at Kalinga university, Raipur. The opinions expressed are the author's own)