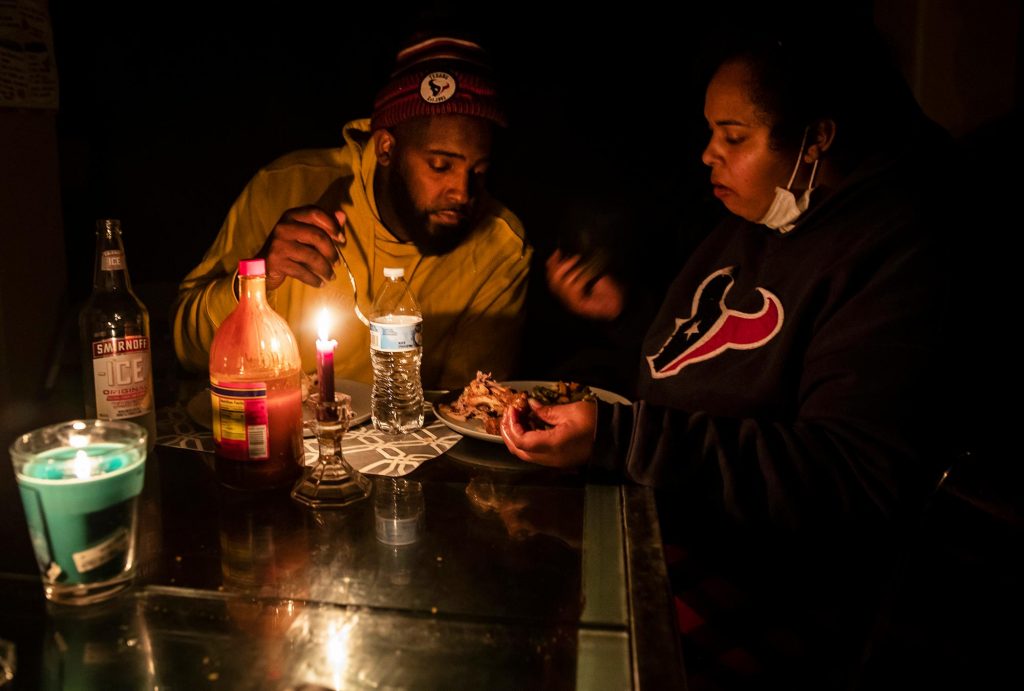 3 Million Texans and several thousands elsewhere are still in the dark following extreme cold weather that caused the state's worst blackouts in decades.
A confluence of factors has led to the historic blackouts, as the electricity company which supplies power has attributed the outage to freezing temperatures and unprecedented surge in demand for power
State officials have called for investigations into the chain of events as experts say there are a number of steps the state can take to avoid similar episodes in the future.
These measures include weatherizing equipment, increasing reserve margins, building more reliable infrastructure systems, moderate renewable energy systems and joining the national grid
Parts of the USA are currently experiencing untold suffering. No, not because of Covid-19, which has already killed and infected millions in the country, but due to the cold!
The freezing cold and ice have made life difficult in several parts of the US. Snow and freezing temperatures have caused power outages. People in big states like Texas have suffered more with around 27 Lakh houses badly hit due to power outages. More than 3 million Texans have lost electricity in a state which underscores the gravity of a problem.
Not just Texas, parts of Minnesota and Mississippi have imposed rolling blackouts to ease the strain on electrical grids buckling under high demand during the past few days. The latest episode of power outages in the US is indicative of the systematic failure, say experts.
While the deep cold weather has already jeopardized people's lives, there is no power to keep the homes warm which are surrounded with thick ice further bringing down the temperature. Families are suffering in the cold without being able to even turn on the room heaters.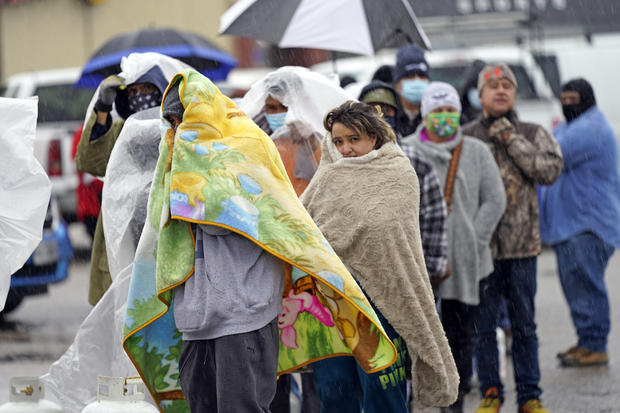 People are resorting to various ways to keep themselves warm. In some regions people are burning wood and in some other regions they are using car heaters, intermittently to keep themselves warm.
At least 20 people have died due to the severe cold and lack of Power in the last 3 days. The regional administration is making no promises of when power will be restored completely and reports suggest that given the climate the episode can be repeated in other corners of the country. Power outages have only increased in frequency in the recent years.
What led to the black out?
An article in Time says that power plants weren't fully weatherized, wiping out generation capacity. The ones that were still standing struggled to get enough fuel, with shale wells experiencing freeze-offs. Natural gas supply lines froze and many wind turbines stopped spinning due to accumulated ice. Texas, with a grid isolated from the rest of the U.S., was unable to call on neighboring states for help, says Time.
ERCOT, the Electric Reliability Council of Texas, which manages the flow of power to consumers has been blamed for the outage and mismanaging the situation. The company blames extremely cold weather for the outage which as per them made it hard to cater to the surge in requirement and also to keep their systems up and running. Arctic temperatures are exposing weaknesses in an electricity system designed when the weather's seasonal shifts were more consistent and predictable.
Plunging temperatures caused Texans to turn up their heaters which resulted in a demand spiked to levels normally seen only on the hottest summer days, when millions of air conditioners run at full capacity.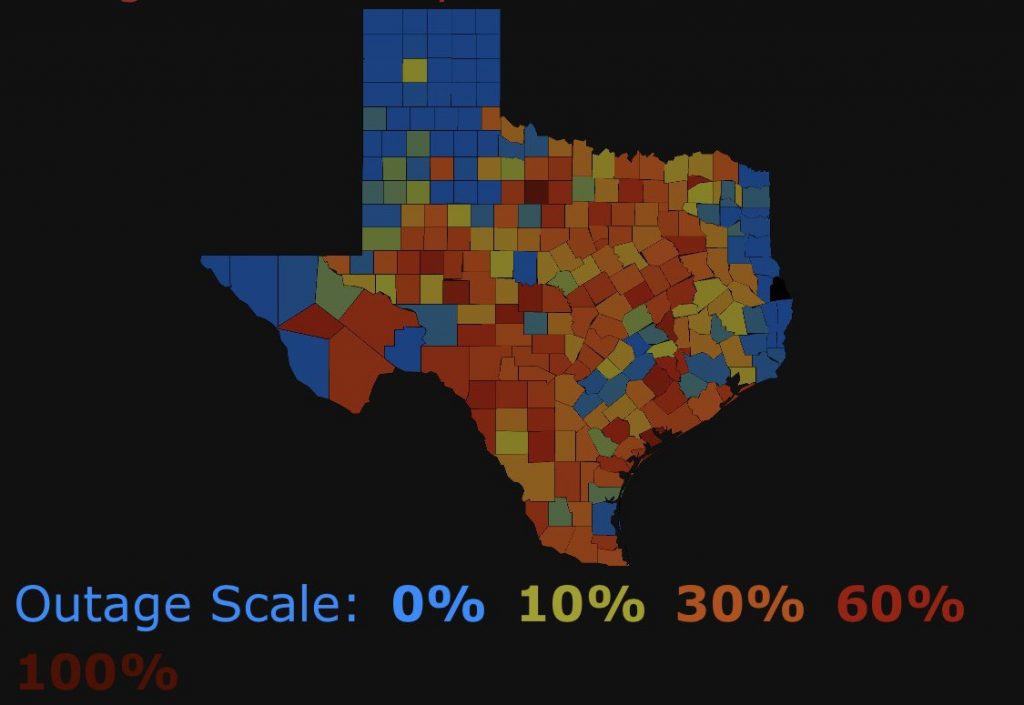 Texas has power generating capacity of about 67,000 megawatts in winter compared with a peak capacity of about 86,000 megawatts in the summer. The gap between the winter and summer supply reflects power plants going offline for maintenance during months when demand typically is less intense and there's not as much energy coming from wind and solar sources.
But the state electrical company did not plan for this winter surge and it did not imagine that it would witness temperatures cold enough to freeze natural gas supply lines and stop wind turbines from spinning. By Wednesday, 46,000 megawatts of power were offline statewide – 28,000 from natural gas, coal and nuclear plants and 18,000 from wind and solar, according to ERCOT.
The significant drop in power generated led to rolling blackouts across the state as ERCOT tried to keep a balance between the supply and demand in order to prevent a "catastrophic" blackout. This made the outage last much longer than ERCOT anticipated.
Further, gas-fired plants and wind turbines can be protected against winter weather as it is done routinely in colder, northern states. The issue arose in Texas after a 2011 freeze that also led to power-plant shutdowns and blackouts.
A national electric-industry group developed winterization guidelines for operators to follow, but they are strictly voluntary and also require expensive investments in equipment and other necessary measures.
ERCOT doesn't have a specific time when it will be operating at full power, but it says that it is working on restoring power. However, the restoration will not be as simple because as more electricity returns to homes, there could be continued rolling blackouts for days until warmer weather arrives which may take several days to a week.
Lessons from the blackouts
On Tuesday, Rep. Dan Crenshaw, a Republican from Texas, tweeted "The reason for blackouts is complex, but in summary: Texas took too many lessons from Cali, over-subsidized renewables, & pushed out baseload energy like natural gas,"
A similar sentiment came from fellow GOP Texas Rep. Ronny Jackson who said on Facebook, "Our reliance on renewable energy needs to be revisited IMMEDIATELY." But on Tuesday, Texas Gov. Greg Abbott, also a Republican, pointed to freezing natural gas as part of the problem.
"The reason why power is not available for your viewers is because the power generators froze up and their equipment was incapable of generating power. Then on top of that, the natural gas that flows into those power generators, that is frozen up also," Abbott told Houston's ABC-13.
Experts say that the onus is also on the people to avoid similar blackouts in the future. When power companies or grid operators warn about trouble coming, people are expected to turn down their thermostat and avoid using major appliances.
Experts also say more fundamental changes must be made. Generators must insulate pipelines and other equipment. Investments in electricity storage and distribution would help. Tougher building codes would make homes in places like Texas better insulated against the cold.
Texas, which has a grid largely disconnected from others to avoid federal regulation, may have to rethink the go-it-alone strategy and would do better to join the national grid they say. This would also insulate the states from extreme weather conditions – hot summers and freezing winters. For example, in California power outages had to be forced to stop the spread of wildfires to towns and cities. Now during extreme cold, states like Texas are forced to experience power outages. A synergy between the state and national grids can give the states a leeway to shift their electricity distribution strategy as per time and need opine experts.
Natural gas has played a major role in the disaster. Drilling liquids freeze inside pipes, forcing wells and gas processing plants shut. If the shipments to electricity companies were to deviate from their normally scheduled flows, they needed to let the operator know well in advance which did not happen in the latest episode. Proper communication strategy coupled with improved infrastructure and long-term planning processes which Texas lacks now, can provide a solution to its power woes say experts.