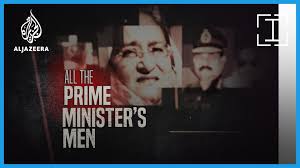 The Bangladesh High Court on Wednesday ordered the Bangladesh Telecommunication Regulatory Commission (BTRC) to remove the Al Jazeera documentary named 'All the Prime Minister's Men' from all the online platforms in the country.
The order was passed by a High Court Division bench of Justice Md. Mozibur Rahman Miah and Justice Md. Kamrul Hossain Mollah after hearing a writ petition filed by a Supreme Court lawyer in this regard on February 8. The court had heard the opinion of 6 legal persons appointed as Amicus Curiae on the matter.
Earlier the BTRC had approached YouTube and Facebook to remove the Al Jazeera content from the platform. But YouTube and Facebook refused saying that the content does not violate their Community Guideline. The documentary was telecast by Al Jazeera on February 1. The report of Qatar based Al Jazeera alleges that Chief of Staff of Bangladesh Army General Aziz Ahmed helped his fugitive brothers with passport fraud and abuse of power to profit from government contracts. It also claims that Prime Minister Sheikh Hasina provided protection to the fugitive brothers as they served her as 'bodyguards' when she was the opposition leader.
Further, Al Jazeera Investigations carried a series of articles on their investigation into a criminal gang colluding with Bangladesh's security forces to extract bribes for state contracts and job positions, all the while maintaining powerful links with the country's Prime Minister Sheikh Hasina.
The documentary and the articles have created a big controversy in Bangladesh. The government of Bangladesh including the Ministry of Foreign Affairs (MoFA) and Army called it false and defamatory. The MoFA called it a politically motivated smear campaign launched by individuals associated with Jamaat-i-Islami extremist group. There have been demands of banning Al-Jazeera from various leaders affiliated to the ruling Awami League.
The documentary can be watched here (External link)
(Source: DD News)