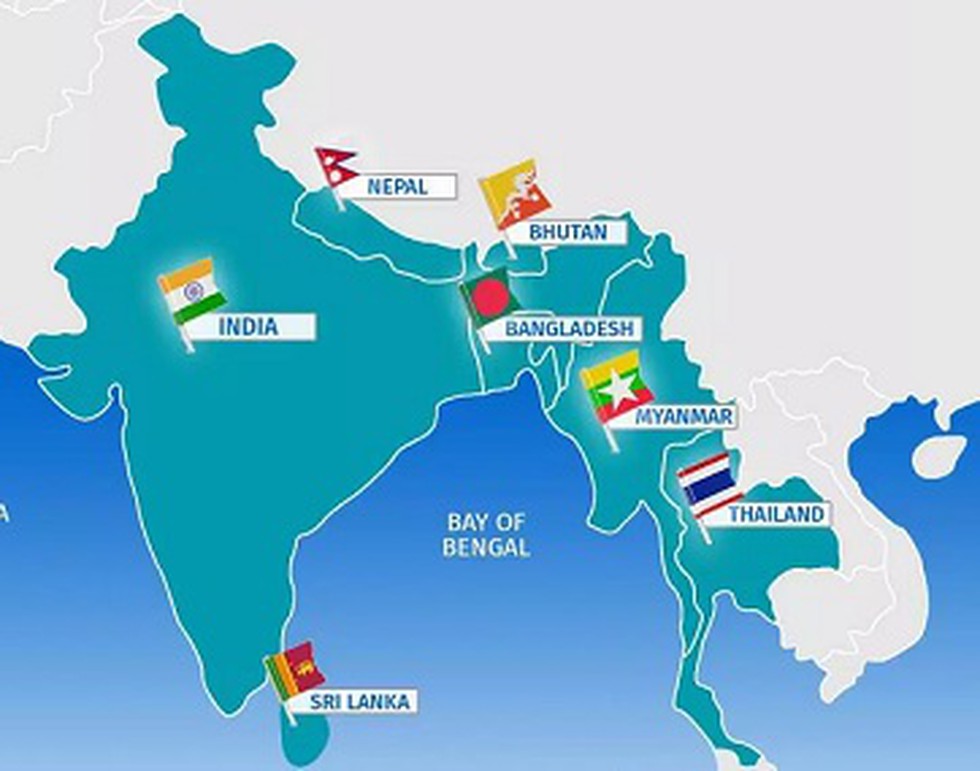 Headquartered in Dhaka, BIMSTEC is an inter-regional grouping that seeks to foster regional and economic cooperation among nations in the littoral and adjacent areas of the Bay of Bengal — India, Thailand, Myanmar, Nepal, Bangladesh, Sri Lanka and Bhutan.
This sub-regional group came into being on 6 June 1997 through the Bangkok Declaration. Initially, the bloc was formed with four countries with the acronym 'BIST-EC' (Bangladesh, India, Sri Lanka and Thailand Economic Cooperation). With the entrance of Myanmar in 1997, the grouping was renamed 'BIMST-EC' (Bangladesh, India, Myanmar, Sri Lanka and Thailand Economic Cooperation).Finally, with the entrance of Nepal and Bhutan at the 6th Ministerial Meeting in 2004, the grouping was named Bay of Bengal Initiative for Multi-Sectoral Technical and Economic Cooperation (BIMSTEC).
BIMSTEC aims to accelerate economic growth and social progress among members across multiple sectors — trade, technology, energy, transport, tourism and fisheries, agriculture, public health, poverty alleviation, counter-terrorism, environment, culture, people to people contact and climate change.  
Leadership of the group for its annual meeting is rotated in alphabetical order of country names. The permanent secretariat is in Dhaka, Bangladesh. Sri Lanka is the host nation this time.
Why BIMSTEC?
The Bay of Bengal region has grown in strategic significance within the Indo-Pacific, especially after China's expansionist moves in the South-China sea and Bay of Bengal.
The South Asian Association of Regional Cooperation (SAARC) has come under serious scrutiny in the last few years. Even after three decades of its existence, SAARC's performance has been less than satisfactory, and its role in strengthening regional cooperation is being questioned.
The increase in trade could not be achieved through SAARC, as the organization has fallen victim to the bilateral dispute between India and Pakistan. Herein lies the opportunity that BIMSTEC provides.
SAARC faced another setback after the 19th summit scheduled to be held in Pakistan in 2016 was suspended for an indefinite period, as member countries declined to participate, pointing to what they said was the absence of a conducive regional environment. Continuing support to cross-border terrorism from Pakistan, made it difficult for India to proceed with the SAARC initiative.
In 2016, India held a joint BRICS-BIMSTEC Summit in Goa for the latter's regional outreach. After this, the support for BIMSTEC gained further momentum.
In June 2019, shortly after he took charge as Foreign Minister S. Jaishankar remarked that SAARC has "issues" and therefore, India would look towards BIMSTEC as a priority over the next five years. Leaders from BIMSTEC member countries were invited to Prime Minister Narendra Modi's swearing-in ceremony in 2019.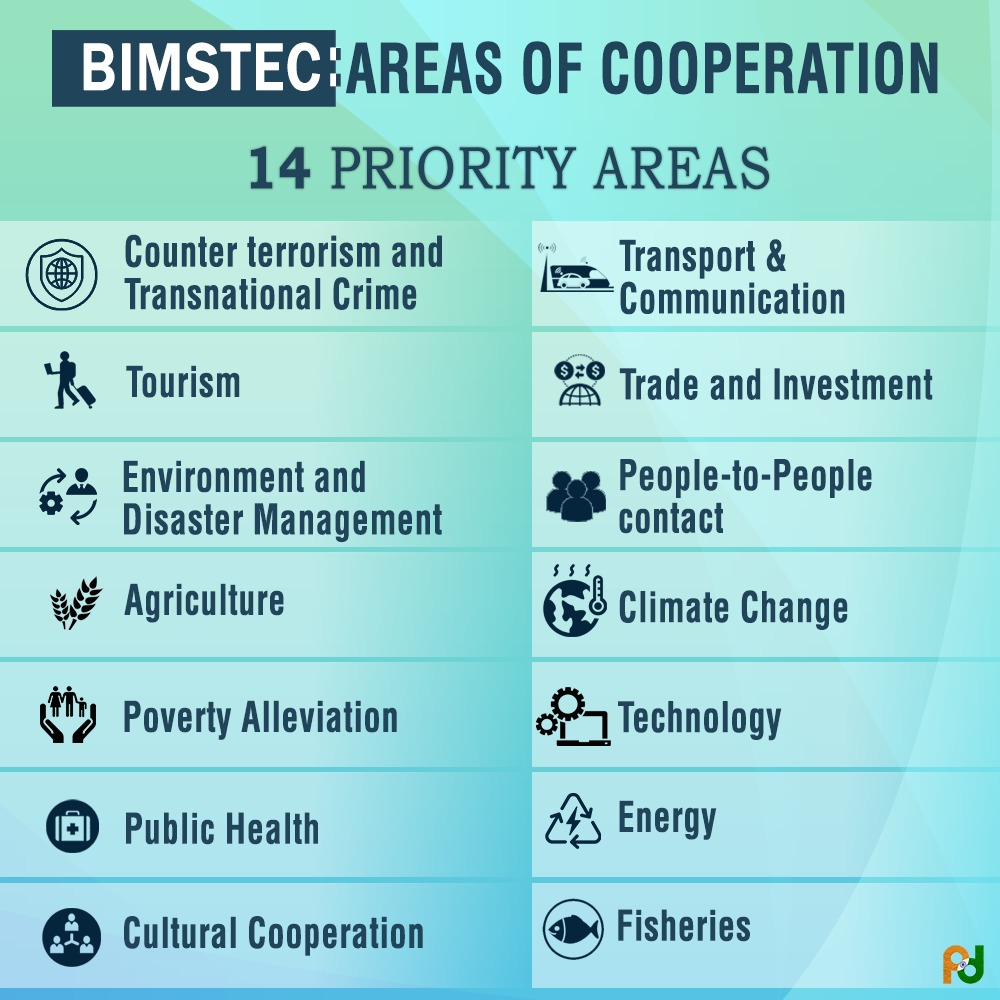 Impact of BIMSTEC
BIMSTEC's major strength comes from the fact that it includes two influential regional powers: Thailand and India. This adds to the comfort of smaller neighbours by reducing the fear of dominance by one big power.
The BIMSTEC region is home to around 1.5 billion people which constitute around 22% of the global population with a combined gross domestic product (GDP) of 2.7 trillion. In the last five years, BIMSTEC Member States have been able to sustain an average 6.5% economic growth trajectory despite global financial meltdown.
According to a recent World Bank report, South Asia is one of the most densely populated but poorly integrated regions in the world. Its intra-regional trade is less than 5% of the total trade of South Asian countries.
Some key agreements signed by BIMSTEC members include a convention for combating terrorism, transnational organised crime and illicit drug trafficking. However, this awaits ratification.
Another is the BIMSTEC Grid Interconnection, signed during the BIMSTEC Summit in Kathmandu, Nepal, in 2018, which aims to promote an optimal power transmission in the BIMSTEC region.
Further, BIMSTEC has become a bridge between SAARC AND ASEAN.
Challenges for BIMSTEC
BIMSTEC has come under scrutiny mainly due to dormancy in initial years and a stalled FTA process. The fact that other countries in the Bay of Bengal like Malaysia, Singapore and Indonesia have not been involved even as dialogue partners has also been a point of contention.
BIMSTEC has also come under scrutiny for failing to achieve milestones within 23 years of its inception. Experts have also criticised the body's inadequate response towards issues like the Rohingya crisis which involves three of its member countries — Myanmar, India and Bangladesh.
Despite the setbacks, recent developments under BIMSTEC have been encouraging. To maintain the momentum and to strengthen BIMSTEC as a sustainable platform for regional cooperation, the following steps must be considered:
The group must meet regularly and maintain consistency in organising summits
Decision-making must be quick and in clear terms to the members as well as to the outside world
The capacity of the secretariat, both in terms of manpower and funding, must be improved
Focussed projects in areas of tourism, digital connectivity, energy connectivity and humanitarian assistance in disaster relief should be taken up to ensure tangible results/benefits. This will boost the confidence in BIMSTEC and provide motivation to the members
Dispute resolution among member countries should be on the agenda of BIMSTEC in order to be a empowering and credible platform
Role of India
India has moved from Look East Policy to Act East Policy and Indo Pacific cooperation through its diaspora, culture and connectivity. This has led to India's goodwill in the region.
In 2018, India aggressively pushed for the conclusion of a long-pending FTA among BIMSTEC nations but differences between India and Thailand over market access for professionals, duty cuts on traded goods and policy relaxation stalled the process.
India has already invested in the India-Myanmar-Thailand Trilateral Highway, the Kaladan Multimodal Transit Transport Project and the BIMSTEC Motor Vehicle Agreement. India can focus on connectivity projects in and around the Bay of Bengal region which will help unleash the potential of the seven northeastern states in India.
The Sittwe port in Myanmar is closer to the northeast region than Kolkata. Better connectivity projects will help India leverage the untapped potential of BIMSTEC's possible trade linkages. Physical connectivity with BIMSTEC would also help India integrate itself with ASEAN's Master Plan of Connectivity 2025.