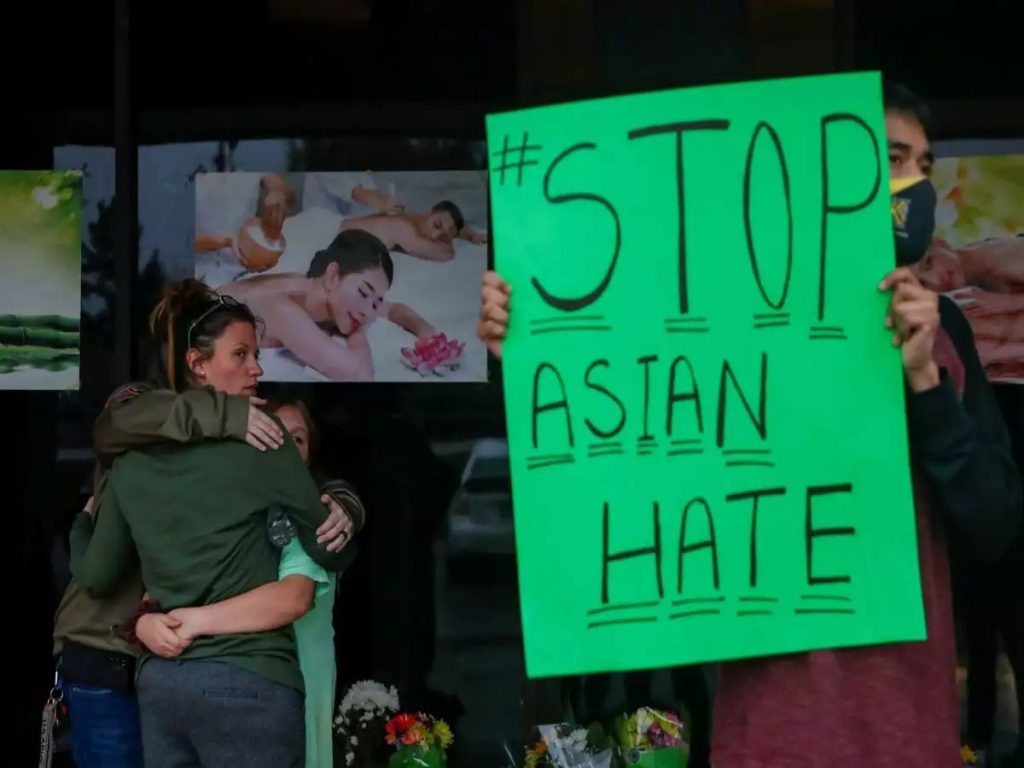 At least eight people, including six Asian women, were killed in shootings at three different Asian-owned spas in the US state of Georgia on Tuesday. The shootings have triggered fears that Asian-run businesses may have been deliberately singled out. The shooting spree came as reports of attacks against Asian Americans including Indians, primarily elders, have spiked in recent months which heightened during the COVID-19 pandemic.
Cherokee County Sheriff's office in a statement said that bloodshed began around 17:00 EDT (21:00 GMT) on Tuesday when four people were killed and another was wounded in a shooting at Young's Asian Massage in Cherokee County, about 64km (40 miles) north of Atlanta.
The Atlanta police department separately confirmed that four women were found dead at two business establishments in northeast Atlanta, identified as the Gold Massage Spa and AromaTherapy spa.
A 21-year-old white supremacist Robert Aaron Long is in custody on suspicion of staging all three attacks, police have said.
South Korea's foreign ministry said in a statement that its diplomats in Atlanta have confirmed from police that four of the victims who died were women of Korean descent.
US Secretary of State Antony Blinken, who is in South Korea said that they were horrified by the violence which has no place in America or anywhere.
Vice President Kamala Harris told reporters that she stands with the Asian-American community. "We are not yet clear about the motive. But I do want to say to our Asian-American community that we stand with you and understand how this has frightened and shocked and outraged all people, knowing the increasing level of hate crime against our Asian-American brothers and sisters", she said.
Congresswoman Nikema Williams, who is also the Chairwoman of the Democratic party in Georgia, called Tuesday's shooting as "horrifying".
Georgia is home to nearly 500,000 Asian residents, or just more than 4 percent of its population, according to the Asian American Advocacy Fund (AAAF).
Racial Violence against Asians in the USA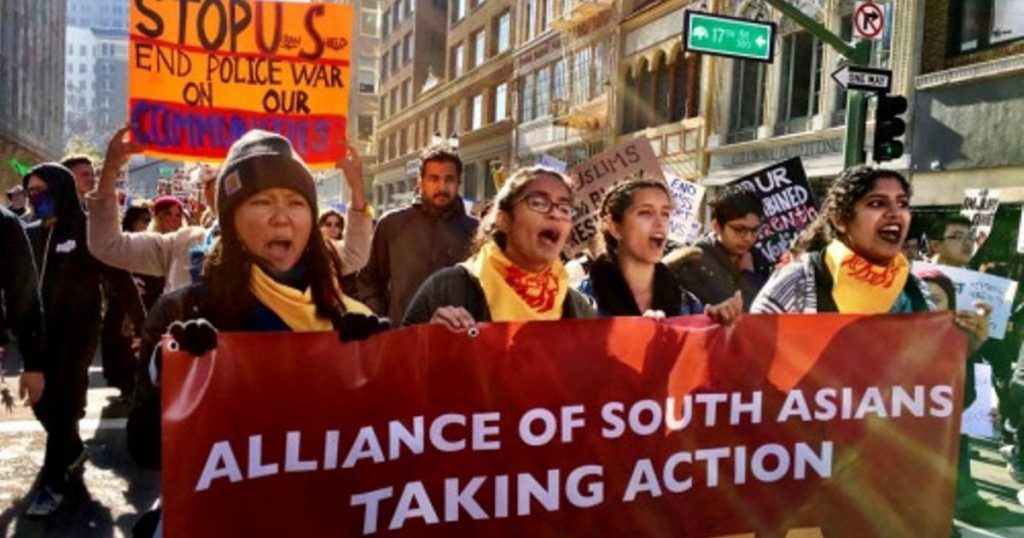 Hate-fueled attacks on Asian Americans spiked across major U.S. cities last year, police department statistics show. Residents of India origin, especially the Hindus have also been targeted by White Supremacists and Islamists in the US.
Many recent incidents reported in the media are among nearly 3,800 firsthand accounts of anti-Asian hate and abuse in the USA as per AAAF which recorded such crimes since the start of the COVID-19 pandemic a year ago. The COVID-19 disease originated in China.
There were 122 incidents of anti-Asian American hate crimes in 16 of the country's most populous cities in 2020, an increase of almost 150% over the previous year, according to data compiled by California State University's Center for the Study of Hate and Extremism.
The increase in anti-Asian hate crime was the highest in New York City, the country's largest city with a sizable Asian population, where police investigated a record 28 incidents involving Asian American victims, a more than ninefold increase over 2019.
Four other American cities also reported triple-digit percentage increases in anti-Asian hate crimes: Philadelphia and Cleveland each reported six incidents, up from two in 2019; San Jose had 10, up from 4, while Los Angeles reported 15, up from seven. Many of the victims are non-Chinese Asians who apparently were mistaken for having hailed from China.
On April 23, 2019 a US war veteran rammed his car into 13-year-old Dhriti Narayan and her family, thinking they were Muslim. Dhriti went into a coma after her brain was left swollen and bleeding. Her father Rajesh and younger brother Prakhar were also injured.
According to a 2015 FBI report, hate crimes have continued to rise, increasing 17% since 2014. Incidents targeting Hindus similarly increased, with 11 reported incidents and 15 victims in 2017. The number of Hindu victims has tripled since 2015.
In 2017, FBI documented 12 incidents of hate crime and 14 offenses against Hindus in the US. This was an increase from 11 reported incidents in 2017 and 10 incidents in 2016, marking the third straight year of increased violence targeting Hindu Americans.
In July 2019, a Hindu Priest who was dressed in his religious attire was physically beaten in Queens, New York, two blocks from Shiv Shakti Peeth Temple in Glen Oaks by Sergio Gouveia.
On February 14, 2020 a 16-year-old boy in San Fernando Valley in California was physically assaulted by other teenagers who accused him of having the coronavirus solely on account of his Asian American identity.
In April 2020, in the most shocking hate crime thus far, an Asian American family, including a two-year-old girl, was stabbed at a Sam's Club Store in Midland, Texas. The attacker admitted to police that he tried to kill them because he believed they were Chinese people infecting Americans with the coronavirus.
In May 2020, a 51-year-old Asian woman at a bus stop in the Bronx was verbally assaulted and hit in the head with an umbrella by three teenage girls as they allegedly shouted: "You caused the coronavirus, b***h."
In January this year, Vichar Ratanapakdee, an 84-year-old immigrant from Thailand, died after being knocked to the ground in his San Francisco neighborhood. A suspect was later arrested and charged with murder.
Anti-Sikh hate crimes too rose by 200 percent since 2017, making Sikhs the third most commonly targeted religious group in the US, noted the Sikh Coalition. Sikh Americans were targeted in 60 incidents, involving 69 victims and 49 offenders.
In 2016, the first year the FBI dis-aggregated data for various Indian American ethnicities, seven bias incidents against Sikh Americans were reported, with eight victims and 10 offenders.
Apart from racial attacks on people of Asian origin, their places of worship too has been targeted by White Supremacists in the US.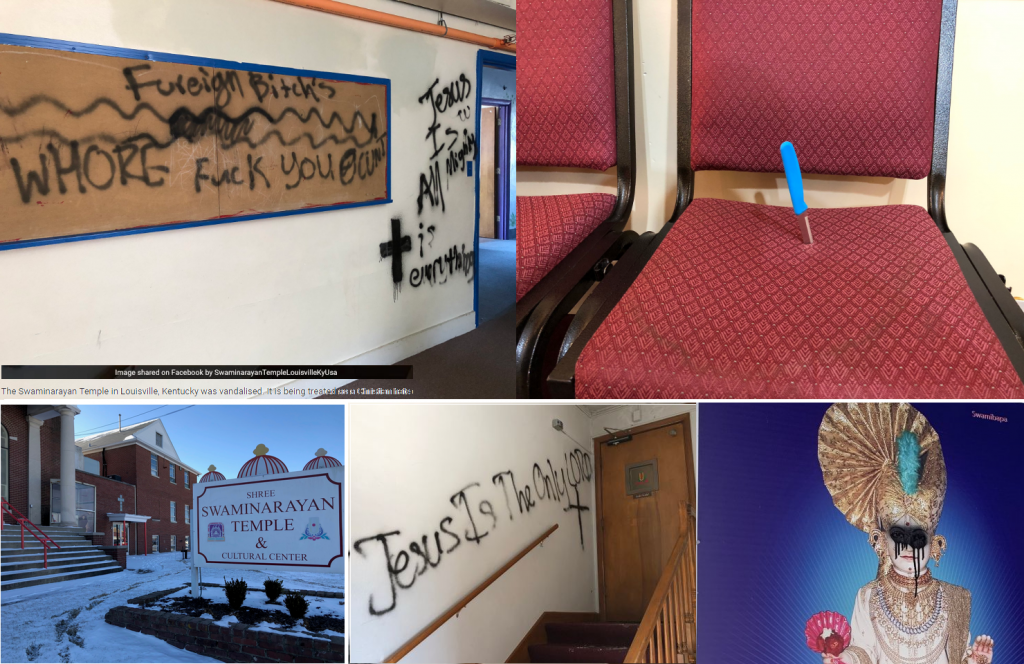 In 2019, Swaminarayan Temple in Kentucky was vandalised by miscreants. They sprayed black paint on the deity and sprayed 'Jesus is the only God' on the walls. The Christian cross was also spray painted on various walls.
In April 2015, a Hindu temple in north Texas was vandalised when nasty images were spray-painted on its walls. In February 2015, Hindu temples in Kent and the Seattle Metropolitan area were also vandalised.
By the end of March last year, xenophobic incidents had occurred across the country, according to a report by the Asian Pacific Policy and Planning Council. Of the 673 cases of anti-Asian discrimination reported on its website between March 19 and 25, 67 percent were in the form of verbal harassment, 23 percent were shunning, and 10 percent were physical assaults.
In a new report released Tuesday, Stop AAPI Hate said it recorded 3,795 anti-Asian hate incidents between March 19, 2020 – shortly after COVID-19 was declared a pandemic – and February 28, 2021. More than 500 of the incidents were recorded in 2021.
"The number of hate incidents reported to our center represent only a fraction of the number of hate incidents that actually occur, but it does show how vulnerable Asian Americans are to discrimination," the group said in a statement. Verbal harassment and shunning made up 68.1% and 20.5% of the incidents, respectively. Physical assaults constituted 11.1% of the total incidents.
Stop AAPI Hate was launched a year ago by a coalition of two Asian American advocacy groups and a university department to help Asian Americans report hate incidents during the pandemic.
The Hindu American Foundation (HAF) says that anti-Hindu hatred or Hinduphobia, the irrational fear of, hostility towards, or discrimination against Hindus and Hinduism have a tragically long history which continues to this day across the globe.
Both are fueled by a range of factors, including: religious intolerance, religious exclusivism, a lack of religious literacy, misrepresentation in the media, academic bias still rooted in colonial-era misportrayals, and, in the diaspora, generalized anti-immigrant xenophobia and hatred. Hindu Americans are hardly exempt from such attacks on their religion and culture, says HAF.
Unfortunately, the agencies that appoint themselves as the custodians of free speech and human rights across the world have hardly spoken about them or mention the crimes and incidents with the importance they deserve. While some such motivated agencies are busy granting 'democracy and human right scores' to other countries, such hate crimes against humanity in their own backyard seem to have missed their attention.