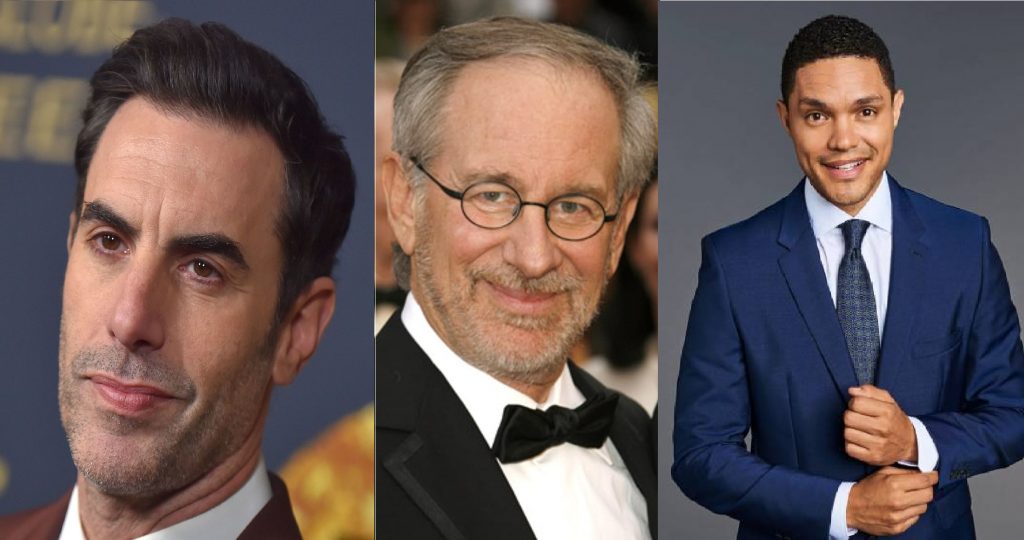 As Israel systematically targets Sunni Islamist terror group Hamas, the number of actors, directors, producers, and other people associated with the entertainment industry in America have not extended any support to Israel as it fights to protects its citizens.

An open letter written by the Creative Community for peace says, "We are deeply concerned by the escalating violence in Israel and the Palestinian Territories. The loss of life and violence is heart-breaking. We call on the leaders of all parties to end the violence, urge calm, and work toward de-escalation."

Some of the names of the people who wrote this letter and signed this open letter include Gene Simmons (Artist/KISS), Meghan McCain (Co-Host, The View), Haim Saban (Chairman & CEO, Saban Capital Group), Sherry Lansing (Former CEO of Paramount Pictures), Orly Agai Marley (President, Tuff Gong Worldwide), David Draiman (Frontman, Disturbed), Selma Blair (Actress), Michael Buble (Artist), Diane Warren (Songwriter, Producer), and Ben Silverman (Chairman and Co-Chief Executive Officer of Propagate Content) are among nearly 130 signers of the joint statement, which was made public Friday.

However, almost none of the famous American Jewish celebrities have signed it. Neither director Steven Spielberg nor Sacha Baron Cohen of Borat fame, who spends all his time attacking the right and the republicans in America, have signed the letter. The 'cancel culture' that has gripped America has perhaps forced many celebrities to remain quiet fearing any semblance of support for Israel could mean loss of acting, writing, and directing opportunities.
As Hamas fires rockets indiscriminately at Israel while using Palestinians as human shields, the terror group found support from a vast section of American liberal left. Professional models like Bella Hadid, Dua Lipa, Halsey, and the so-called progressive wing of the Democratic party Ilhan Omar, Cori Bush, Marc Lamont Hill, Rashida Tlaib, and Alexandra Ocasio-Cortez have supported it.

Bella Hadid whose father is Palestinian American businessmen said, "Future generations will look back in disbelief and wonder how we allowed the Palestinian suffering to continue for so long. A human tragedy unfolding right in front of our eyes. Politicians stutter neutral words in fear of being reprimanded, whilst the world remains silent to avoid offending the wrong people. History has taught us to speak up. You are on the right side or you are not. It's that simple."
Gigi Hadid and the father of her child British musician and former member of the boy band One Direction, Zayn Malik, also shared a UNICEF report with his 31 million followers, informing them of the Palestinian children who have been killed in the conflict.

Trevor Noah, who took over the Daily Show from Jon Stewart, a Jew, said, "I just want to ask an honest question here. If you are in a fight where the other person cannot beat you, how much should you retaliate when they try to hurt you?"
By this logic when a terrorist group launches hundreds of rockets full of explosives and shrapnel at the civilian population, Israel should not respond. Should a country not have the right to defend its citizens and allow an Islamist terror group that has sworn to kill all Jews just getaway?
Former New York Times journalist Bari Weiss in an article titled "The Bad Optics of Fighting for Your Life" wrote, "How many dead Israelis are necessary for a response to be OK? Did anyone have the temerity to tell America that we shouldn't go after the Taliban or hunt Osama bin Laden after 9/11 because they had no realistic chance of destroying America?"
The situation in America is so bad it is like the 1950s when many actors, writers, and film producers were targeted for being Communists by the House for their 'un-American activities'. The only difference now is it is the left-liberal cabal that thinks it only has the moral platform to declare who is right. It is they who are terrorizing everyone who speaks against them and brand them as fascist or Islamophobic.
No Human Rights for Israelis?
Nobel peace prize winner Malala Yousafzai who is always quiet when Hindu and Muslim girls are kidnapped in Pakistan and are forcibly converted to Islam and married off, tweeted a video expressing her 'solidarity' with Palestinian people. "A Palestinian child should be sitting in a classroom, not in rubble," Yousafzai, 23, wrote in a message accompanying her video. "World leaders must act immediately to protect the human rights of Palestinians."
In her video, Malala laments that Isreal is killing Palestinian people, willfully forgetting that Hamas has fired hundreds of rockets at Israeli civilians and lest we forget one of the dead civilians was also an Indian medical caregiver.

It is also very interesting to note that Malala has never spoken on the genocide China is committing against the Uyghur Muslims or spoken out against the deadly blasphemy law in Pakistan. She has also never talked about the forced disappearance of thousands of Baloch people.
(Author is a freelance writer and blogger. He is also the host of Bharat Vichar on youtube. He tweets @LaxmanShriram78. The opinions expressed are author's own and does not necessarily reflect the views of SamvadaWorld)