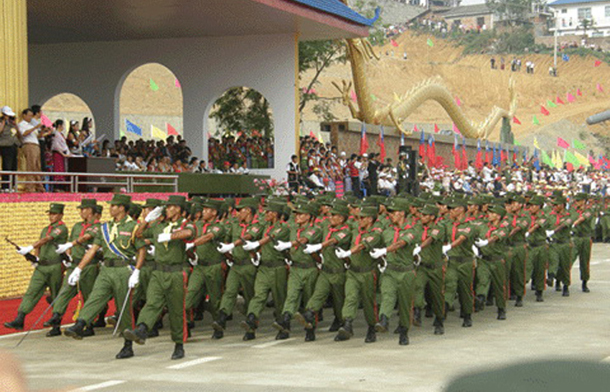 An advocacy group called "Justice For Myanmar" has accused Chinese state-owned companies of being the biggest arms supplier to the Burmese military, a claim China has denied. The group has listed 122 top business partners of the military government, which staged a coup on Feb. 1, ousting the democratically elected government of Aung San Suu Kyi and her National League for Democracy (NLD).
Citing research by Justice For Myanmar, Radio Free Asia (RFA) reported that the five biggest suppliers of arms and military equipment to Burma's military are China North Industries Group (NORINCO), the Aviation Industry Corp. of China (AVIC), the China Aerospace Science and Technology Corp. (CASC), the China Aerospace Science & Industry Corp. (CASIC), and the China National Aero-Technology Import & Export Corporation (CATIC).
More than a dozen other suppliers were funded from China or Hong Kong. As per the RFA report, a spokesperson from Justice for Myanmar said weapons supplied by NORINCO to the Tatmadaw were being used on unarmed civilians amid mass protests that have followed the coup.
Norinco also runs two copper mines in the country, which have been accused of evicting local residents and polluting the environment, the spokesperson told RFA. Other Chinese investors include Wanbao Mining (Hong Kong) Copper Ltd., Yang Tse Mining Limited, and busmaker Yutong, as well as several textile companies.
A "Dirty List" published by Burma Campaign UK listed 12 Chinese companies as having ties to the Myanmar military, including most of those already mentioned in this article.
Arms Supply An open secret
Zhang Shengqi, chairman of the Myanmar-Burma Assistance Association, spoke to RFA and said that it is an open secret among Chinese in Myanmar that Chinese companies have been selling weapons to the regime for a long time.
"It is no secret that China supplies arms to the Myanmar military," Zhang said to RFA. "Ten years ago, the Chinese government moved its security defense line south from Yunnan province and into northern Myanmar."
"It sees the whole of Myanmar as a security zone," he said. "The stability of Myanmar directly impacts China's national interest and its security. If Myanmar had gotten closer to the U.S. [under a democratically elected government], then it would have fallen back into an endless civil war", claimed Zhang.
China's international infrastructure investment project, the Belt and Road initiative, currently includes the flagship China-Myanmar Economic Corridor (CMEC). Chinese foreign minister Wang Yi has indicated that Beijing is willing to speed up the construction of the western, northern, and eastern ends of the CMEC.
Pro-democracy Protesters blame China
Thousands of protesters gathered outside the Chinese embassy in Yangon on Feb. 17, holding up banners and posters accusing Beijing for the coup. One Reuters photo showed a group of protesters holding up posters of Xi being depicted as a puppet master and manipulating army chief Min Aung Hlaing. The poster read, "Please stop helping the military!"
Since the coup, the Burmese people's dissatisfaction with the Chinese regime has deepened, according to Chinese media outlets. Internet rumors began circulating on social media about China helping the military, such as allegations that Chinese aircraft have been transporting technicians to Burma, China has helped Burma build an internet firewall, and Chinese soldiers have appeared on the streets of Burma.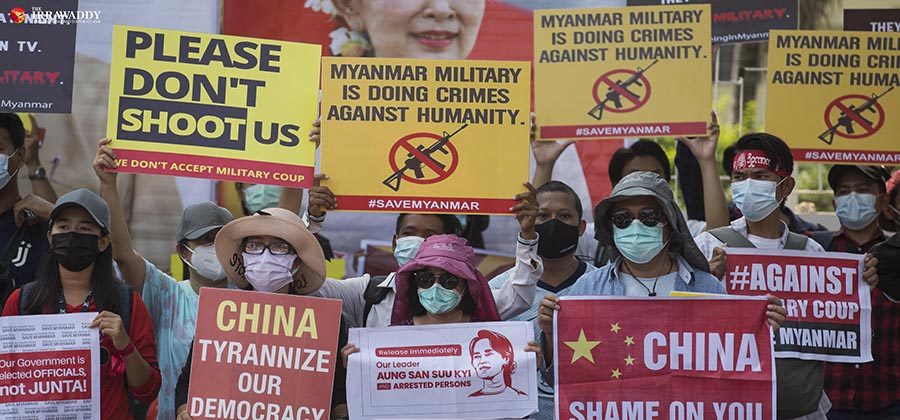 On Feb. 10, the Chinese Embassy in Burma issued a statement on Facebook, stating that the many planes that China flew to Burma recently did not carry technical personnel, but carried import and export goods such as seafood. However, the Burmese people were not convinced and the statement became a target of mockery. Some have interpreted the "seafood" as an acronym for "Software Engineering Approach for Offshore and Outsourced Development," RFA reported.
On Feb. 15, the Chinese ambassador to Burma officially denied these claims in an interview with Burma's national media.
On the other hand China has warned the West over any 'Interference' in Myanmar. Beijing mouthpiece Global Times warned Western countries and other US allies in the region, including Washington's "Quad" partners India, Australia and Japan, not to treat Myanmar as their "pawn" in a geopolitical rivalry, saying it would not do the country good, but risked dragging it further down into the abyss.
The paper said that "some hostile forces—both in and outside of Myanmar—are deliberately making use of this opportunity to spread rumours against China and stoke hatred to distance Myanmar from China, Myanmar's largest trading partner and close neighbour."