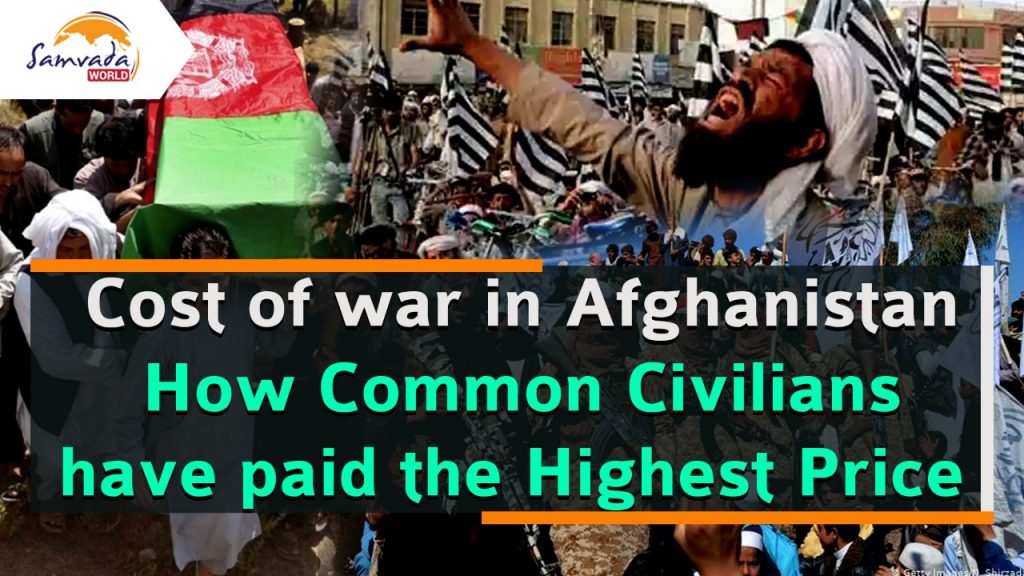 War in Afghanistan has destroyed lives in a circle of violence. Continuous war for decades has resulted in breakdown of public health, security, and infrastructure.
Civilians have been killed by crossfire, IEDs, assassinations, bombings and raids. Statistics show that out of the 241,000 killed since 2001 in Afghanistan, more than 71,000 have been civilians. Unexploded ordnance, US cluster bombs continue to kill innocent civilians even to this day.
Afghanistan citizens also further suffer due to diseases from lack of clean drinking water. Children and women suffer from malnutrition. Lack of Health care has worsened the lives of common citizens. Poverty, Malnutrition, Poor Sanitation, lack of access to Health care is rampant across the war torn country.
Continues war has had huge impact on the mental health of Afghan citizens. Invisible wounds which are psychological in nature have long term impact. Two-thirds of Afghans suffer from mental health problems.
After nearly 20 years, the US is ending its presence in Afghanistan and leaving the country to the ill-equipped Afghan army and security forces. A US-allied government in the country must fend off advancing Taliban insurgents with whatever they have at hand. But peace talks must ensure development and infrastructure for the common man of Afghanistan.
Rise of Taliban shows a Bleak Future
Even as the U.S. general leading the war in Afghanistan, Austin Miller has relinquished command and left Afghanistan, the fighting between the Taliban and the govt forces has been raging in many parts of the nation.
More Afghans are likely to flee their homes due to escalating violence. The exodus within the nation and outside has forced the landlocked nation on the brink of a humanitarian crisis while efforts to initiate talks are on, the govt forces continue to stage a spirited fightback and inflict heavy casualties to the Taliban.
The real impact of the Afghan war as it engulfs more and more areas is clearly evident in these visuals…..in many areas the main sufferers are the Afghan people, families, women and children.
U.N. High Commissioner for Refugees has said that an estimated 270,000 Afghans had been newly displaced inside the country since January, bringing the total population forced from their homes to more than 3.5 million.
More than 12,000 Afghan families have fled their homes in Kunduz province as Taliban insurgents and government forces battled for control of the southern fringes of the capital city. Displaced families living in tents in Kunduz city said they are in dire need of food and other relief.
Meanwhile, Former Afghan President Hamid Karzai said on Tuesday that serious peace talks will begin soon in the country and urged the government not to waste opportunities for peace.