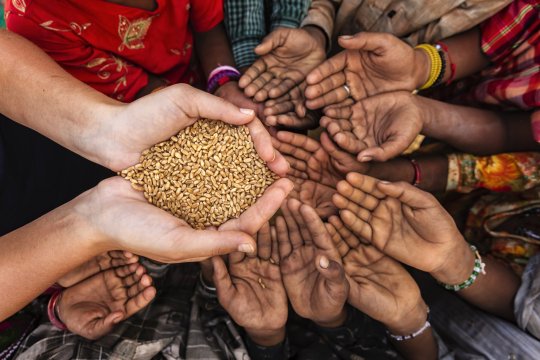 G7 leaders on Sunday were joined by Ukrainian president Volodymyr Zelensky where the members condemned Russian President Putin for shaming Russia and its people. The statement comes a day ahead of Russia's Victory Day Parade where it will celebrate its victory over Nazi Germany in the second world war. The G7 member-states committed to help Ukraine by 'macroeconomic stability in the face of the challenges posed by the full-scaled Russian invasion, massive destruction of critical infrastructure and disruption of traditional shipping routes for Ukrainian exports'.
The leaders opined that Putin's struggle is inflicting world financial disruptions, impacting the safety of world vitality provide, fertiliser and meals provision, and the functioning of world provide chains typically. Probably the weakest international locations are affected most severely," the assertion mentioned.
The G7 leaders in their statement also targeted Russia over the food crisis facing the world. The G7 statement accused Russia of stopping global efforts to end hunger and escalating the food crisis. They alleged that Putin's war is causing global economic disruption, affecting the security of global energy supplies, fertilizer and food provision, and the functioning of global supply chains in general. The statement said that the most vulnerable countries are the most affected. 
The G7 statement said that in order to mitigate the crisis the member-states are ensuring that sanctions packages are carefully targeted so that delivery of humanitarian assistance or the trade of agricultural products is not affected. The members also reaffirmed their commitment to avoid food export restrictions. 
Russia – Ukraine war affecting oil Imports of countries
The G7 club of wealthy nations are committed to phasing out its dependency on Russian oil. A Russian oil embargo would be a  major escalation in the response to the invasion of Ukraine and would potentially have a major impact on the global economy. However, some European countries are reluctant given their dependence on Russian energy supplies.
"While the US might just push through a ban on Russian oil imports, Europe can ill-afford to do the same. More worryingly, Putin, with his back to the wall, could turn off gas supplies to Europe, cutting off the continent's energy lifeline," said Vandana Hari at oil markets analysis firm Vanda Insights. UK PM Boris Johnson said Europe could not simply shut down the use of oil and gas overnight, but that countries should move together quickly to look beyond Russia for its oil and gas supplies.
Likewise, in the US, if the administration wanted to lower gas prices, there are some mechanisms to unlock in the short term. These include decreasing or suspending federal taxes on gasoline and diesel that are 18.4 and 24.4 percent per gallon, respectively. It could also work with state governments to do the same. State taxes average 30.63 and 32.29 cents per gallon, hence combined gains could amount to $0.5 per gallon. Petrol prices have hit another record high as oil and gas costs soar amid fears of a global economic shock from Russia's invasion of Ukraine. Oil jumped to $139 a barrel at one point, the highest level for almost 14 years.
The war in Ukraine could affect India too. India's latest Economic Survey has projected 8-8.5 per cent growth for the financial year 2022-23, assuming that oil prices would remain between $70 and $75 a barrel. The Indian crude oil basket price averaged $114.6 a barrel in March, a sharp 22.9 percent spike from $93.3 a barrel in February. The crude oil price may even surpass its record high of $147.50 a barrel. In fact, Russia has warned that the crude oil price may soar to $300 a barrel if the US and European countries completely ban imports of Russian oil, affecting prices world over including India.