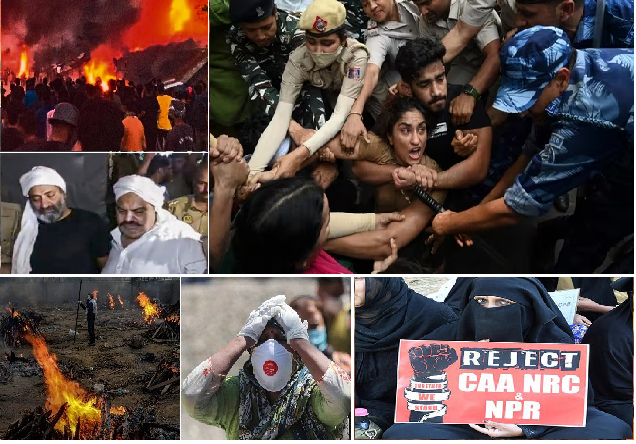 There is a clear attempt being made by both International media as well as influential global agencies to interfere in India's domestic issues.
Foreign agencies with nefarious agenda have meddled in Indian media and politics to show India in a poor light.
When India aspires to rise again, certain global agencies have always tried and undermine its rise.
As the 2024 election comes closer, many observers and analysts expect more attempts will be made to undermine India's global position.
Introduction
The analysis is coming at a time when India holds an important position in many International organizations as well as putting important positions in various global events and issues. India doesn't mince its word when it pushes back at Pakistan's attempts to undermine it and raise Kashmir and the so-called attacks on minorities which is a mere exaggeration and not a government policy. Moreover, the kind of policy China follows is not at all replicated here and no country from the Islamic world ever questioned the basis of that but Pakistan and the Organization of the Islamic Council have repeatedly targeted the Modi government and pushed their agenda based on false narratives.
Spreading Fake Narratives about India
There are three incidents that I wish to introspect and show not only Pakistan-based supporters like to spell fake narratives but news agencies and certain organizations also commented inappropriately without taking the pulse of the situation around the event. Each event will show the kind of approach made by foreign agencies. Both news and mass media as well as government agencies. As the 2024 election comes closer, many observers and analysts expect more attempts will be made to undermine India's global position while India strategizes to enhance its position in the emerging world order.
It's no surprise that when a country like India aspires with its long-lost ambition to rise again, certain agencies have wished to try and undermine its rise. Whether it is statements or so-called 'religious freedom' reports made by many nations, it is no surprise that there are many powers that wish to undermine India's rise in terms of global power in the world. Their existence is also triggered by the support India enjoys not just in South Asia but in other geopolitical areas as well. The statements made by the head of state of Papua New Guinea recently were no mistake at all. India is viewed favourably because of its unflinching position in maintaining strategic autonomy to conduct their diplomacy today.
What is fascinating is to see some sense of understanding that has started entering into the mind of the Indian public to question whenever foreign agencies make it a point to target and use multiple ways of subtle and direct attacks on India. The age of social media has made it complicated for people to ascertain the truth from everything. At times, some activities on social media turn into a huge crisis that has moments of international patronage from questionable agencies that try to be a force of morality. But unfortunately, it is nothing but a tool to control the narratives and opinions of people who then act like sheep to make a point and act on their impulsive urge to feel relevant at times.
Two examples in short detail explain this phenomenon. The Covid crisis and the Farmer protests.
Global Agencies Tarnishing India's Image
A few representative images were shared widely to depict as if the whole of India was lighting the funeral pyres. Such was the mischief that many portals shared[1] without verifying the details of such images. Later it was found that India had the lowest death rate while the same portals refused to apply the same yardstick on the Covid of deaths in the US, China, Europe and other nations as well as their journalistic credibility plummeted.
The second incident was around farmer protests that hit after the BJP government introduced the Farmer's Bill. This protest was huge, with consequences as well as coverage from social and religious communities. Khalistani groups outside started protesting and supporting the movement as well as some celebrities like Rihanna and others. Eventually, the government backed down. However, the celebrations gave the impression that protests had managed to defeat the BJP in elections. This is strange because something similar happened in the Netherlands and the party[2] made by those farmers actually won the elections. When trucker protests happened, the Canadian government under Justin Trudeau took draconian measures[3] against them but the tone and tenor of the same channels which targeted the Modi government were very favorable to the former.
The reason I have quoted these two examples is that those who could relate to what I am writing would have seen these two incidents occur. But such biased coverage continues even today. I will be highlighting three incidents and the kind of coverage that followed with some statements made by some foreign elements too.
The Murder of Dreaded Mafia-don
On 15th April 2023, former politician and gangster Atiq Ahmed and his brother Ashraf Ahmed who had murder charges of killing another politician were murdered in broad daylight by shooters posing as journalists. They had Turkish-made pistols which could fire multiple rounds in one go. Almost 36 shells were emptied with one ANI journalist injured as well. Everything happened so fast that the cops could not react instantly and shoot as there was a danger of injuring innocent people around that area. There were, however, instant steps taken by the Yogi government as well as an SIT investigation opened.
But the response on the international stage was not surprising. Bahrain's Parliament[4] had various statements thrown about how India was becoming a hub of anti-Muslim activity and Muslims were targeted by the rise of Hindu extremism. They even condemned the murder in this regard only. The video also showed how they said that the Hindu community is protected here and in West Asia while Muslims are targeted by the Indian government.
Even a prominent news outlet in America, "The Washington Post" stressed[5] the tag lawmaker and only mentioned the kidnapping of Umesh Pal, a BSP MLA who had defeated Atiq in his constituency. They swiftly attacked the UP government before paying any attention to the kind of steps and investigation that will occur. Such a way of reportage smells less around journalistic ethics and more so to tactics around sensationalism.
I have yet to see anyone report the revelations made by UP police about his wife's association as well as the role of ISI and other networks in Pakistan that were linked to Atiq. And given the kind of approach they have, I have less hope from them to report these things as well.
Manipur Violence
On the 3rd of May, an ethnic clash erupted between two specific communities in Manipur, the Meitei people that are in majority in the Imphal Valley and the hill communities like Kuki and Zo. Clashes erupted where both sides attacked each other, resulting in 70 plus deaths and thousands left homeless. But this ethnic clash, which is between misunderstandings of both communities has been given a perception of religious touch by a prominent Christian organization called[6] the 'Global Christian Relief'.
Their CEO, David Curry who also serves in the United States Department of Religious Freedom made this statement to an American news Channel recently. "I think the attacks have really been driven by the central government. The BJP party has made being a Christian something that is not considered part of India. It seems as though their message is 'If you are not a Hindu, you are not an Indian' and this has allowed this escalation of violence against Christians and Christian churches. They're literally on the run. Regardless of how they frame it, whether it's ethnic violence or anarchism, it seems to always be that the Indian government is overlooking and even in some cases encouraging violence against Christians in India. The Muslims, Christians & other religious minorities since Modi's BJP government came to power have been attacked and oppressed." Here is the link to the video – https://youtu.be/HGe1mARw5xE
When you have people who also consult the US on religious freedom make such statements, it shows that there is no regard to truth and all everyone wants is sensationalism in events that are deeply raw and sensitive. This violence continues even now and the Home Minister is presently trying to bring peace while visiting camps made to help those who were attacked by the armed men from both ethnic groups. The army itself is running operations of flushing out the terrorists as well as saving those stranded by the violence. But, that doesn't deter people who claim to be the voice of moral principles, make their own stories up.
The Wrestler's Protest
A group of wrestlers have been protesting, accusing the chief of the wrestling federation of sexually assaulting female wrestlers. This has led to a major face-off where the government promised an impartial probe in this matter. However, Wikipedia shows this as a civil conflict, pitting the BJP and the government of India against all major opposition parties present. This is an issue that strictly depends upon the investigation and the rule of law. But portals like the Gulf News[7], show only one side of a complicated issue, further trying to spin a narrative that states that the government has done nothing on its own.
In this digital age, one must keep an open mind before jumping to conclusions based on any clickbait headline.
On 28th May, the Indian government was inaugurating the new Parliament. The wrestlers decided to March there with unions from neighbouring states and thus, were detained by the CRPF and the Delhi police. Many images as well as pictures were shared on social media, making a storm of sorts. The United World Wrestling (UWW ) jumped in and condemned the detention, threatening to suspend the WFI if they don't investigate this case. The UWW further stated[8] it will give a 45-day window for the elections to happen in that organisation. This is nothing but a classic example of interference in a matter already under investigation by an international forum. One can even say it's been pushed by vested interests as well.
Conclusion
These three cases reflect something that is not considered until it's too late at times. There is a clear attempt being made by both media as well as influential agencies to interfere in India's domestic issues. Whether it is a protest or a case of violence or even a dreaded Mafia boss being shot dead, there is always an attempt by foreign agencies in media and politics to try and show India in a poor light. I am not against reportage or finding details but there will be questions asked from these agencies over their intentions in showcasing India in a negative light perpetually.
India cannot do much but endure as it is not unlike China where media reports are outright banned and made sure that their applications or technology works within their nation. A democracy like India has to maintain itself and face such active forces while growing in stature. These issues can be raised in diplomatic meetings but other than that, India shouldn't be hopeful that the host nation of many such agencies mentioned above would be interested to accommodate India's concerns.
These are small pressure tactics that apply in geopolitics from time to time. But for those who don't understand, they should keep an open mind and always refer to the truth and only the truth. India's growth does harm a potential number of groups and they won't stop trying to defame us, regardless of whether the BJP is in power or anyone else. They attack the BJP more because of its political ideology and misinform their audience about it.
Lastly, as people engross themselves in this digital age, one must keep an open mind before jumping to conclusions based on any clickbait headline. These headlines are not the story. It is the research written that is the real deal. One must read the research pieces before judging and forming an opinion. The true test of time lies in these steps only.
(Anhad Jakhmola is a postgraduate scholar in international relations. He has his undergraduate degree in history and is pursuing his PhD in Defence and Strategic Studies. He is a columnist for many portals and is a keen public speaker in debates and discussions. Views expressed are author's own)
---
[1] Richa Dwivedi, "Spreading Misinformation And Fear- A Look at this American Magazine's SOP to Malign India" ( India, Swarajya, Aug 2022 )
[2] Bart H. Meijer, " Dutch farmer's protest party scores big election win, shaking up Senate " ( Amsterdam, Reuters, March 2023 )
[3] Nick Taylor- Vaisey and Zi -Ann Lum, "Trudeau's ' Freedom convoy' shutdown was justified, inquiry rules" ( Ottawa, Politico, Feb 2023 )
[4] Web Desk, "Bahrain Parliament equates Mafia Atiq Ahmed's murder as bloodshed of Muslims; labelling Indian govt. as Hindu extremists" ( India, Organiser, April 2023 )
[5] Sammy Westfall, "Killing of jailed lawmakers on live TV puts a spotlight on India's extrajudicial violence" ( Washington, The Washington Post, April 2023 )
[6] Tim Dustin, "Riots in India won't stop the worship of persecuted Christians" ( Santa Ana, Global Christian Relief, May 2023 )
[7] Vaaudha Sabharwal, "Here's what the International media is saying about the ongoing Indian wrestler's protest" ( India, Scoopwhoop, May 2023 )
[8] Staff Report, "International wrestling body UWW voices support for Sakshi Malik, Vines Phogat; threatens to suspend WFI" ( India, Mint, May 2023 )