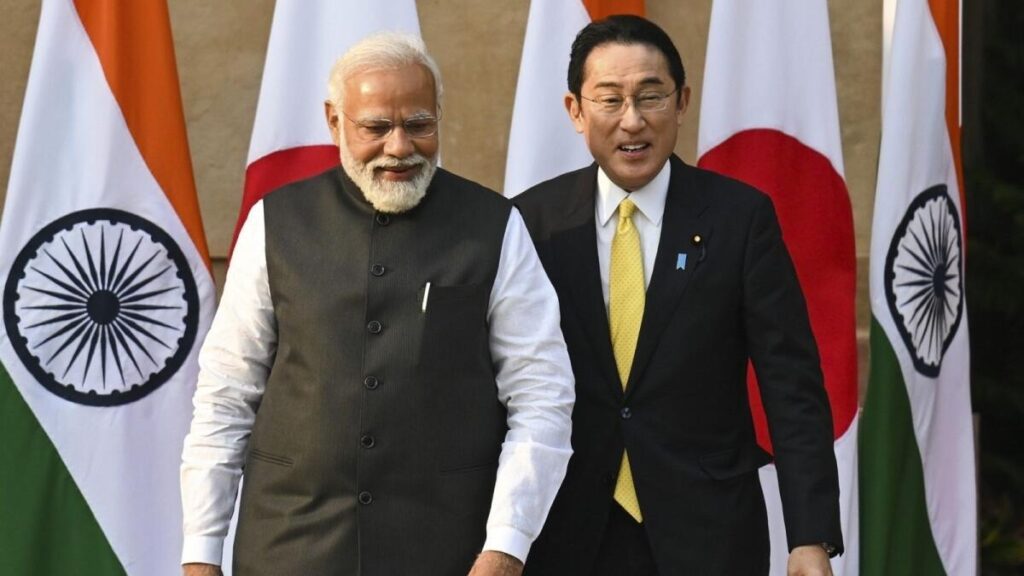 The relationship between India and Japan currently is perhaps the best it has ever been, largely because both countries have Prime Ministers who view the region and the world in very similar terms.
The trade ties have remained underdeveloped when compared to India's trade ties with China.
A challenge for the government is to correct the lopsided trade and calibrate China's market access and allow other players like Japan.
Though New Delhi has not joined the BRI, it is a member of the AIIB. So India has to do a balancing act between Quad and BRICS.
Relations between India and Japan have a long history rooted in spiritual affinity and strong cultural and civilizational ties. In contemporary times, prominent Indians such as Swami Vivekananda, Gurudev Rabindranath Tagore, JRD Tata, and Netaji Subhash Chandra Bose were associated with Japan. The Japan-India Association set up in 1903, is to date the oldest international friendship body in Japan. Owing to this historical connection the two countries have never been adversaries.
Bilateral ties have been singularly free of any kind of dispute – ideological, cultural or territorial. The modern nation-states have carried on the positive legacy of the old association.
Areas of Cooperation
Political: Summit-level visits from both sides started as early as 1957, which took relations to a new level. An important development in the ties was the path-breaking investment of the Suzuki Motor Corporation in the early 1980s that revolutionized the automobile sector, bringing advanced technology and management ethics to India. This was a transformational development in the economic history of India. Japan was considered as a reliable friend in 1991 when it was among the few countries that unconditionally bailed India out of the balance of payment crisis.
In 2000, the Japan-India Global Partnership in the 21st century was launched.
In 2006, the relationship was upgraded to a 'Global and Strategic Partnership' with the provision of annual Prime Ministerial Summits.
A Comprehensive Economic Partnership Agreement (CEPA) between Japan and India was concluded in 2011.
In 2014, the two sides upgraded the relationship to a 'Special Strategic and Global Partnership'.
In 2015, India announced a 'visa on arrival' scheme for all Japanese travellers, including for business purposes.
A 'Japan-India Make in India Special Finance Facility' of JPY 1.3 trillion was also established.
In 2016, MoUs were signed in a wide range of areas, including cooperation in the peaceful uses of nuclear energy, manufacturing skill transfer programme, outer space marine, earth and atmospheric science and technology, agriculture and food-related industry, transport and urban development, textiles, cultural exchange and sports.
During the 13th annual summit held in Japan, a vision statement was released. They also entered into a $75 billion currency swap arrangement which would aid in bringing greater stability to foreign exchange & capital markets in India.
AAGC: The idea of the Asia-Africa Growth Corridor (AAGC) emerged in the joint declaration issued by Prime Minister Narendra Modi and Prime Minister Shinzo Abe in November 2016. The AAGC envisages a people-centric sustainable growth strategy, engaging various stakeholders. The AAGC will be raised on four pillars of Development and Cooperation Projects, Quality Infrastructure and Institutional Connectivity, Enhancing Capacities, and Skills and People-to-People partnership.
Economic and Commercial: The India-Japan Comprehensive Economic Partnership Agreement (CEPA) that came into force in August 2011 covers not only trade in goods but also services, movement of natural persons, investments, intellectual property rights, customs procedures and other trade-related issues.
Japan extends bilateral loans and grant assistance to India since 1958 and is the largest bilateral donor for India. Japanese ODA (Official Development Assistance) supports India's efforts for development in areas like power, transportation, and environmental projects.
There is active Japanese involvement in the Ahmedabad-Mumbai High-Speed Rail, the Western Dedicated Freight Corridor (DFC), the Delhi Mumbai Industrial Corridor, the Chennai-Bengaluru Industrial Corridor (CBIC), and Delhi Metro Project.
In 2016-17, India-Japan trade reached US$ 15.7 billion. India's export to Japan for 2017-18 was US$ 4.73 billion; whereas India's import from Japan for 2017-18 was US$ 10.97 billion. Japan was the 12th largest trading partner for India in 2020.
India's primary exports to Japan are petroleum products, chemicals, elements, compounds, nonmetallic mineral ware, fish and fish preparations, metalliferous ores & scrap, clothing & accessories, iron & steel products, textile yarn, fabrics and machinery, etc. India's primary imports from Japan are machinery, transport equipment, iron and steel, electronic goods, organic chemicals, machine tools, etc.
Japanese FDI in India in the fiscal year 2016-17 was US $ 4.7 billion. Direct investment from Japan to India has increased, and Japan was the 4th largest investor in India in FY2020. Japanese FDI into India is mainly in the automobile, electrical telecommunications, chemical and pharmaceutical sectors. Japan and India have agreed to cooperate on human resource development in the manufacturing sector in India through the "Manufacturing Skill Transfer Promotion Programme." The programme will help train 30000 Indian youth.
The visit of the Indian Prime Minister in 2014 resulted in Japan's commitment to invest $35 billion in India over the next five years, including investments in some flagship initiatives such as smart cities, Delhi Mumbai Industrial Corridor and Shinkansen Bullet Train. The presence of Japanese companies in India is increasing steadily. As of October 2016, there were 1,305 Japanese companies that are registered in India. Discussions have begun for establishing the "Platform for Japan-India Business Cooperation in Asia Africa Region" to further enhance the exchanges between Japanese and Indian businesses toward developing industrial corridors and industrial networks in the region.
Defence: Defence cooperation between India and Japan is based on an "India-Japan strategic partnership". There are also various frameworks of security and defence dialogue between Japan and India including the "2+2" meeting, annual Defence Ministerial Dialogue and Coast Guard-to-Coast Guard dialogue.
Joint Exercises: India and Japan's defence forces organise a series of bilateral exercises namely, JIMEX, SHINYUU Maitra, and Dharma Guardian. Both countries also participate in the Malabar exercise with the USA.
Quad alliance: Quad is an informal strategic dialogue between India, the USA, Japan and Australia with a shared objective to ensure and support a "free, open and prosperous" Indo-Pacific region. India is in discussion to buy the Japanese ShinMaywa US-2i amphibious aircraft in a deal worth $1.65 billion for the Indian Navy with the objective of carrying out patrols in the larger Indian Ocean Region (IOR).
India-Japan Civil Nuclear Deal
Against the backdrop of China's reluctance to support India's candidacy for membership of the NSG, the Indo-Japanese nuclear cooperation assumes great salience.
Japan made an exception to its rule of not conducting nuclear commerce with any state that is not a signatory to the Nuclear Non-Proliferation Treaty (NPT). This pact was the subject of intense negotiations between the two countries for the last six years. This is a remarkable turnaround, especially compared to Japan's reaction after India conducted the nuclear tests.
The deal is critical to India's renewable energy plans. Japanese companies that produce cutting-edge reactor technology were previously not allowed to supply parts to India, as the current Japanese law allows nuclear exports only to states that are either party to the NPT or allow the International Atomic Energy Agency (IAEA) to safeguard all their nuclear facilities.
In addition, Japanese companies have significant holdings in their U.S. and French partners negotiating for nuclear reactors now, and that would have held up the deals.
Significance of Japan to India
Strategic Reasons: Japan is a cornerstone of India's Act East Policy. India needs Japan's help in shaping the evolving security architecture in the Indo-Pacific. Under the US-Japan-India trilateral frame work Securing critical maritime space and ensuring freedom of navigation and overflight have been a priority for the three countries in the region.
Economic: Japan has expressed support for India's efforts to accelerate economic development through innovative initiatives such as "Make in India," "Digital India," "Skill India," "Smart City," "Swachh Bharat" and "Start-Up India."
Bullet Train: The 508 km long Mumbai to Ahmedabad High-Speed Rail (MAHSR) is an ambitious Rs 1,10,000 crore project, of which a loan of Rs 88,000 crore will be taken from Japan. The Japan International Cooperation Agency (JICA) will fund it at a low rate of interest of 0.1% per annum. The project will improve the transport system, employment and manufacturing in India.
Significance of India for Japan
It is a known fact that Japan, which does not have a full-fledged military and has legal restrictions on the use of force by its Self Defence Forces, has long been dependent on the US for its security.
Democratic Security Diamond: Japan in 2012 envisaged a strategy whereby "Australia, India, Japan, and the US state of Hawaii form a security diamond to safeguard maritime commons stretching from the Indian Ocean to the Western Pacific.
Indian Ocean Region: 90% of Japan's oil requirements come from the Persian Gulf. The Constitutional limitations restrict Japan's naval role to tackle issues of piracy and maritime terrorism and securing the SLOC. Japan, therefore, sees India as a strategic asset for naval cooperation. India's role is considered crucial in securing the IOR which is critical to the US and Japanese interests.
Indo-Pacific Regional Architecture: Moreover, India is increasingly being perceived as a potential net security provider in the region by the US, Japan and several other regional stakeholders. India's support of the US Japan's position on the South China Sea undoubtedly puts pressure on China.
Economic: Japan has been plagued by low growth for a long time. Japan looks to boost its investment and has cutting-edge technology to share, while India needs both. With the improvement in the Ease of Doing Business in India and the opening of the Japan Desk, the investment procedures have been made smooth.
Significance for the Region
The U.S.-India-Japan trilateral engagement, which is gaining momentum will help Indo-Pacific countries to counter the increasing hegemony of a single power.
The convergence of India's Act East Policy, Japan's growing focus on the freedom of navigation in the South China sea, and the US's "strategic rebalance" towards the Indo-Pacific is aimed at regional peace and security
QUAD – Quadrilateral formation that includes Japan, India, United States and Australia will help uphold the rules-based order in the Indo-Pacific and respect for international law, freedom of navigation and overflight; increase connectivity; challenges of countering terrorism, piracy and upholding maritime security in the Indo-Pacific.
India-Japan welcome the U.S.-North Korea Summit in Singapore in June 2018 and three inter-Korean Summits in the year 2018. They also called for North Korea's complete, verifiable, and irreversible dismantlement of all weapons of mass destruction and ballistic missiles of all ranges in accordance with the relevant United Nations Security Council resolutions (UNSCRs).
Challenges to the bilateral relations
The trade ties have remained underdeveloped when compared to India's trade ties with China. Both countries have border and hegemonic issues with China. So, their policy stance hinges generally on China, rather than growing comprehensively. Both had diverging interests with respect to economic issues like E-commerce rules (Osaka track), and Regional Comprehensive Economic Partnership. A challenge for the government is to correct the lopsided trade and calibrate China's market access to progress on bilateral political, territorial and water disputes, or else Beijing will fortify its leverage against India.
Balancing between QUAD and BRICS: India is a member of groups like the BRICS, which brings together Brazil, Russia, India, China, and South Africa. In addition, though New Delhi has not joined the China-led Belt and Road Initiative (BRI), it is a member of the AIIB (Asian Infrastructure Investment Bank). So India has to do a balancing act between Quad and BRICS.
Asia-Africa Growth Corridor (AAGC) project: There is a great deal of scepticism on the feasibility of the AAGC itself as well as the nature of the projects embedded in it
The relationship between India and Japan currently is perhaps the best it has ever been, largely because both countries have Prime Ministers who view the region and the world in very similar terms. This concurrence of world views was witnessed in the release of a joint statement. Further, a similar outlook can also unlock the vast potential for growth, given the complementarities that exist between the two Asian economies.