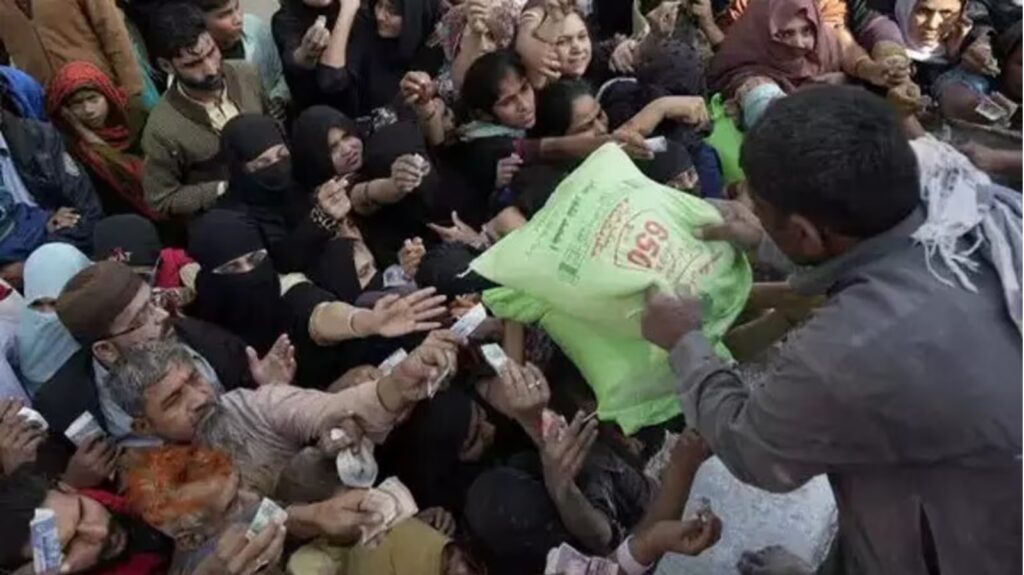 China is already influencing Pakistan against India and if this crisis goes deeper then, it is speculated that China can increase its clout on Pakistan.
If Pakistan collapses, terror organisations will increase their network which can directly hurt India's interests.
If the army takes over the government, there can be a possibility that it will proliferate nuclear weapons to rogue nations and terrorist organisations to earn money.
Pakistan's Quaid-I-Azam (great leader) Muhammad Ali Jinnah once said, "Pakistan has no aggressive aspirations and will work for peace and prosperity in the world." With this dream of peace and prosperity for the world, Pakistan separated from India 76 years ago and now is in a state of mess dreaming of peace and prosperity for itself.
Analysing the current situation in Pakistan, it will not be an exaggeration to say that Pakistan is in a state of mess, the economy is in ICU, the politicians are at war and the people are crying for help. It is not the first time when Pakistan's economy is unstable, so the question that arises here is why this time it becomes a more talkative thing. The simple answer to this question is that it is not just unstable but nearing collapse. But what led to this situation in Pakistan? Let's dig deeper to find out the answer.
Factors that led to the Present Economic Crisis
Pakistan's economy is in a very grim situation as the country's central bank is left with an all-time low forex reserve of only $3.2 billion. This amount is not sufficient for the imports of one month. Therefore, to manage and control the outflow of the forex reserve government has put a check on the imports. According to reports, thousands of containers of goods were stranded in the ports due to this import curtailment. This resulted in a shortfall of supplies to industries and the shutting down of many workplaces for an indefinite period. Reports are hinting that Lakhs have lost their jobs and more than one million are on the verge of losing.
The current inflation rate in Pakistan jumped to 31.5%, which is the highest since 1974. Due to such a high rate of inflation and shortfall of supplies, prices of goods are skyrocketing and people are struggling to buy food and essential items. Increased inflation rates generally cause the devaluation of the nation's currency and it further decreases people's purchasing capacity. The current exchange rate is 1 USD is equal to 277 Pakistani rupees. These conditions are hurting the people of Pakistan, especially the poor, and creating a chaos-like situation in the country. The situation is so grim that the country is facing medicine shortages and people are struggling to find basic medicines like Disprin, Brufen, Calpol etc. According to some reports, people have seen grain and flour stampedes in many areas of provinces like Sindh, Balochistan and Khyber Pakhtunkhwa.
There are many factors which are responsible for Pakistan's economic crises, but the most debated one is debt of Pakistan. The World Bank reported that the external debt in Pakistan is increasing as it was $115.695 billion by the end of 2020 which was increased to $130.433 billion by the end of 2021. CEIC data revealed that the country's external debt reached $126.9 billion in September 2022. Currently, Pakistan's debt-to-GDP ratio is around 70%, which is dangerously high. We can understand the darkness of the situation by the point that 40-50% of this year's government revenue is going to be spent on interest payments. Its bilateral debt is about $27 billion, and an interesting point is that out of this $27 billion, $23 billion is from only one country and that is China.
This cash-strapped nation is facing not only problems of economic mismanagement but also facing a significant shortage of power and energy, a decrease in FDI inflow, a political crisis which has the potential to turn into a civil war, increased terror attacks (58 attacks in February 2023 alone) and devastating floods.
Possible impact on India
After studying Pakistan's economic crisis, the first question that should come to our mind is, does India need to worry? The government in New Delhi needs to be prepared for every possible impact on India.
People in Pakistan are facing a harsh situation and struggling for their basic necessities, livelihood and to find food to survive. Whereas, on this side of the border, in India, the condition is different. Here in India people are living normal and peaceful life. Given these conditions, there can be an influx of refugees from Pakistan to India. Recently, an activist told ANI that people in POK are protesting and ready to join India. If it happens, then it can be a law-and-order issue in India.
China is already influencing Pakistan against India and if this crisis goes deeper then, it is speculated that China can increase its clout on Pakistan. This can be an immediate impact on India as India is at odds with China along the Line of Actual Control (LAC). However, it is to be noted that China wants Pakistan to be stable if peace is not possible because China has invested heavily in Pakistan therefore it is in China's interest that Pakistan does not collapse.
Pakistan is a terror haven and many terrorist organisations are there whose sole purpose is to target India. If this state collapses, then these terror organisations will increase their network which can directly hurt India's interests. The most important point that we should not forget is that Pakistan has nuclear weapons and its safety is not only India's concern but of the world too. In case Pakistan's economy defaults, there could emerge a scenario where the Pakistan army takes over the government. In such a case, there can be a possibility that the army proliferates and sell nuclear weapons to rogue nations and terrorist organisations to earn money and repay the debt.
Given the instability in Pakistan, we cannot rule out the possibility of acquiring nuclear weapons from the terrorist organisation. Rafael Mariano Grossi, director general of the IAEA, with other high-level officials of the IAEA recently visited Pakistan amid the ongoing economic crisis. However, the visit was mostly focused on further enhancement of cooperation between Pakistan and the IAEA in the areas of peaceful application of nuclear technology, but the discussion on nuclear security was also the agenda of the visit.
Yet another impact of Pakistan's economic crisis on India, though minor, can be in the trade between them. Due to the crisis, export from India might also get affected. Whatever the impact India should be prepared to deal with any situation.
(Ashish Keserwani has an MA in Political Science from Indra Gandhi National Open University. He is currently a Research Scholar Pursuing PhD from Amity University, Noida)