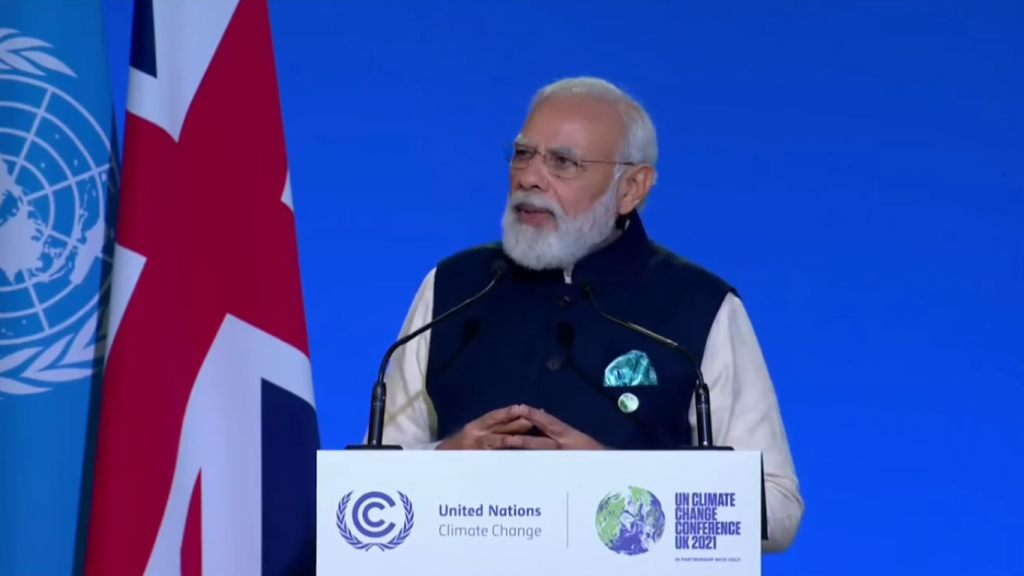 Despite having 17 percent of the world's population and whose emissions has been only 5 percent, still India has left no stone unturned to show that it has fulfilled its obligation, said PM Narendra Modi in his opening address at COP26 Glasgow Summit. Mentioning India's track record, Modi said India is at number four in the world in installed renewable energy capacity and its non-fossil fuel energy has increased by more than 25% in the last 7 years and has reached 40 percent of our energy mix now.
Proposing the word – LIFE (Lifestyle For Environment), PM Modi said there is a need for all of us to come together, together with collective participation, to take LIFE forward as a campaign. "What is needed today is MindFul and Deliberate Utilization, instead of Mindless and Destructive Consumption. These movements together can set goals that can revolutionize many sectors such and diverse areas such as fishing, agriculture, wellness, Dietary Choices, Packaging, Housing, Hospatility, Tourism, Clothing, Fashion, Water management and Energy", he said.
PM Modi then presented the five nectar elements, Panchamrit, to deal with climate change challenge.
First– India will reach its non-fossil energy capacity to 500 GW by 2030.
Second– India will meet 50 percent of its energy requirements from renewable energy by 2030.
Third– India will reduce the total projected carbon emissions by one billion tonnes from now onwards till 2030.
Fourth– By 2030, India will reduce the carbon intensity of its economy by less than 45 percent.
And fifth- by the year 2070, India will achieve the target of Net Zero. These panchamrits will be an unprecedented contribution of India to climate action.
Adding that the promises made till date regarding climate finance have proved to be hollow, PM Modi said that India expects developed countries to provide climate finance of $1 trillion at the earliest as it is necessary to make progress on climate mitigation and to track climate finance. "The proper justice would be that the countries which do not live up to their promises made on climate finance, must be pressured too", he said.
Speaking on behalf of developing countries, PM Modi said India also understands the suffering of all other developing countries, shares them, and will continue to express their expectations as fFor many developing countries, climate change is looming large over their existence.