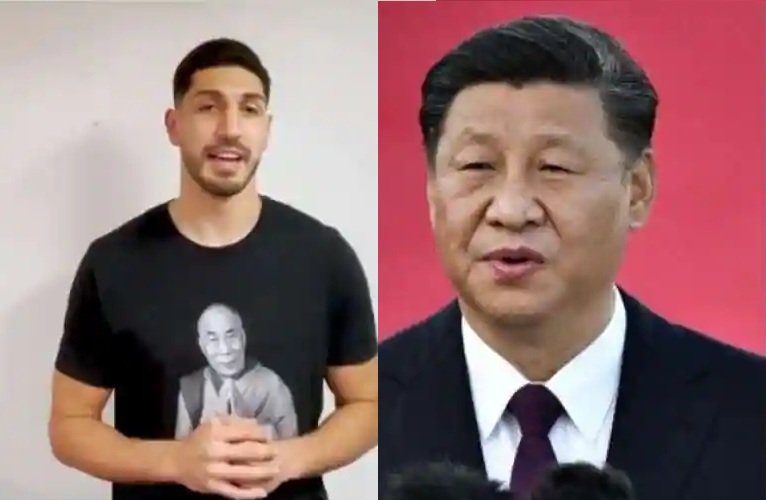 The National Basketball Association (NBA) which has significant monitary stake in China got embroiled in contraversy when Enes Kanter, who plays for the Boston Celtics was not seen on the floor for season opener on Wednesday night because Kanter had posted a video on social media earlier in the day in which he called Chinese President Xi Jinping a "brutal dictator" and voiced support for Tibet's independence.
Within moments, Beijing again threatened a fresh backlash against the league after Houston Rockets General Manager Daryl in 2019, had extended his support to the pro-democracy activists in Hong Kong.
For the NBA, China is a very lucrative market where it has millions of fans and Tencent, which as the NBA's digital streaming partner in China attracts half a billion viewers a season decided to not to broadcast of the Celtics' game against the New York Knicks.
Alsoany searches for Kanter's name on China's Twitter-like social media platform Weibo was totally blocked and the page's administrator wrote, "Any behavior that undermines the harmony of the nation and the dignity of the motherland, we resolutely resist!" .
Chinese Foreign Ministry spokesman Wang Wenbin said that Kanter was "trying to get attention" and that his remarks "were not worth refuting. "We will never accept those attacks to discredit Tibet's development and progress," he said.
Kenter wore a T-shirt depicting Tibet's exiled spiritual leader, the Dalai Lama, and posted a two-minute video to social media on Wednesday addressed to "Brutal dictator Xi Jinping and the Chinese government."
"I'm here to add my voice and speak out about what is happening in Tibet. Under the Chinese government's brutal rule, Tibetan people's basic rights and freedoms are nonexistent," he said, ending the video by repeating, "Free Tibet" three times.
However, such is the power of the Chinese market, Americans have many times had to bow down to thier demands because of the fear of losing hundreds of millions of dollars in broadcast rights and other merchendising.
As far as Kanter, whose parents are Turkish has been vocal critic of Turkish President Recep Tayyip Erdoğan and the Turkish government revoked Kanter's passport and issued warrants for his arrest on charges including defamation and terrorism.
However, Kenter is not one-off athlete who had to brave being attacked by China, because soccer star Mesut Ozil who plays for Germany and for Arsenal in the English Premier League, got in trouble when he expressed support for the Muslim Uyghur minority in the Chinese region of Xinjiang and said they are victims of genocide.
The result was Ozil soon found himself erased from the Chinese version of a popular soccer video game, and his team's next fixture was removed from CCTV's broadcast schedule.
(The report was first published in The Commune Mag. Republished with permission)