India's consistent Independent foreign policy has troubled the west but also proved that India focuses on its interests. NSA's meeting with Central Asian countries and the Russian President is the latest illustration of the same.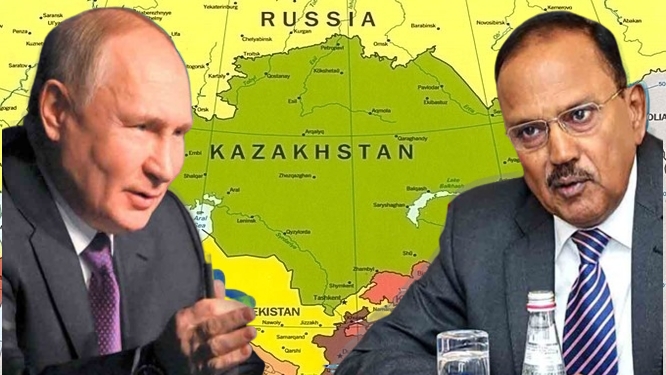 National Security Advisor Ajit Doval on Thursday called on Russian President Vladimir Putin in Moscow and held wide-ranging discussions on bilateral and regional issues.NSA Doval also met delegates from Central Asia. The MEA said, "NSA Ajit Doval called on HE President Putin. Wide-ranging discussion on bilateral and regional issues. Agreed to continue work towards implementing the India-Russia strategic partnership".Wide-ranging discussions and talks were also held on the present situation along India's extended neighbours Afghanistan and Central Asia.
On  February 8, NSA Doval attended the fifth multilateral meeting of Secretaries of Security Councils/NSAs on Afghanistan which was hosted by Russia. Apart from the host country, India, Iran, Kazakhstan, Kyrgyzstan, China, Tajikistan, Turkmenistan, and Uzbekistan were represented at the meeting. Speaking at the meeting, Doval said that India would never abandon Afghans in their time of need. "Afghanistan is passing through a difficult phase. India has a historical and special relationship with Afghanistan. The well-being and humanitarian needs of the people of Afghanistan are India's foremost priorities. This will continue to guide our approach," said Doval at the meeting.
Doval said that focusing on food security and medical supplies, India has so far delivered 40,000 MT of wheat, 60 tonnes of medicines, 500,000 Covid vaccines, winter clothes, and 28 tonnes of disaster relief to Afghanistan. "India's technical team is overseeing our humanitarian assistance program. Standing with Aghans, India has granted fresh scholarships to 2,260 Afghan students including 300 Afghan girls during the past two years," said Doval.
Speaking on Afghanistan and terrorism, Russian President Putin said that Russia is also worried about attempts to use the situation in Afghanistan to allow extra-regional forces to expand or build their infrastructure. "These countries will create this under the pretext of countering international terrorism, but they are not doing anything that is really necessary for the real counterterrorism struggle," he said. "Obviously, the situation in the country is not improving and we see this. The humanitarian situation is worsening," Putin said.
During his Moscow visit, Doval emphasised the need for intensified intelligence and security cooperation to deal with Daesh and terror outfits like LeT and JeM. "An inclusive and representative dispensation is in the larger interest of Afghan society. Terrorism has become a major threat in the region," he said.
India reaffirmed the importance of UNSCR 2593 (2021) which calls for terror outfits including those designated by UNSCR 1267 to be denied sanctuary in the region."No country should be allowed to use Afghan territory to export terrorism and radicalisation. Natural resources of Afghanistan should be utilised first for the welfare of the people of Afghanistan. India is and will remain an important stakeholder in Afghanistan. We always stood by the people of Afghanistan and will always support collective efforts to help Afghan people build a prosperous and vibrant nation once again," Doval said.
In the context of India hosting the G-20 meet this year, Doval's visit to Moscow was crucial as it took place ahead of the G-20 foreign ministers' meeting in Delhi. Russian Foreign Minister Sergey Lavrov is expected to travel to India to attend the meeting on March 1 and 2.
Central Asia crucial for India 
With NSA Doval meeting with Central Asian counterparts, the importance of this region is huge as all these states are rich in minerals and well-endowed with hydroelectric resources. Kazakhstan has the world's second-largest reserves of uranium and is the world's largest producer; Uzbekistan has large reserves of gas, uranium and gold; Turkmenistan has the fourth-largest reserves of natural gas; Tajikistan has huge hydroelectric potential; Kyrgyzstan is rich in gold and hydroelectric power. Kazakhstan is more progressive than others; Kyrgyzstan and Tajikistan have lagged; Uzbekistan and Turkmenistan remain closed and controlled societies. Uzbekistan is a potential leader but has difficult relations with neighbours Tajikistan and Kyrgyzstan on water issues, and Kazakhstan, in the race to become a pre-eminent power in the region. 
Religious extremism, fundamentalism, and drug trafficking pose challenges to these societies and to regional stability. Issues relating to water, security, environment, and migration have become acute. The region faces newer threats of narco-terrorism emanating from Afghanistan. The region is said to be an 'arena of the great game' being played out between Russia, China, the US, Turkey, Iran, Europe, EU, Japan, Pakistan, India, and Afghanistan, all of whom have substantial security and economic stakes in the region.
India's Connect Central Asia (CAA) policy of 2012 is a broad-based framework involving political, economic, security and cultural connections. Following the announcement of the Connect Asia policy in 2012, the Indian PM visited all five countries. India uses its considerable soft power through dance, music, Bollywood films, yoga, literature etc. India's international Technical and Economic Cooperation (ITEC) programme attracts young professionals for capacity building. There is considerable scope for participation in trade fairs, and in building infrastructure projects, such as rail, road, highways, power transmission lines, nuclear power, etc. In addition to oil and gas, IT, pharma and textiles, higher education, space, SME, power generation, food processing and agriculture present rich potential for deeper engagement. SCO may serve as a guarantor for the projects. At the Third Dialogue India urged focus on the 4Cs: Commerce, Capacity Development, Connectivity and Contacts. 
Greater engagement is expected to help improve mutual security and regional economic prosperity. Economically, Central Asia provides a 'near abroad' market for India's industry, overland routes to rich resources of Russia and the Middle East, and significant energy supplies at relatively short distances. The INSTC corridor route is shorter than Suez and the Mediterranean Sea. As competition for resources with China intensifies, this region is likely to assume greater significance. 
NSA Doval's visit to Russia comes at an interesting time when Russia's engagement in Ukraine has fumed the west and they are also not happy with India's neutrality in the war. India's consistent Independent foreign policy has troubled the west but also proved that India focuses on its interests. NSA's meeting with Central Asian countries and the Russian President is the latest illustration of the same.