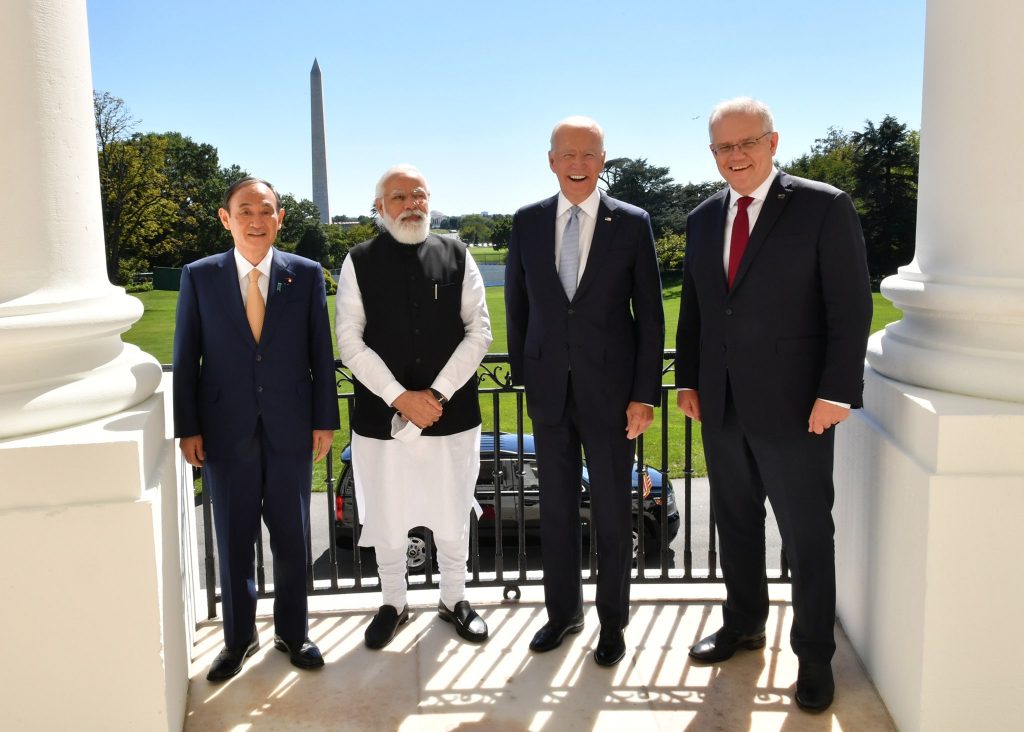 The Quad leaders held the first in-person summit in Washington DC on September 24. President Biden hosted Prime Minister Scott Morrison of Australia, Prime Minister Narendra Modi of India, and Prime Minister Yoshihide Suga of Japan at the White House.
The leaders put forth ambitious initiatives that deepen ties and advance practical cooperation on 21st-century challenges such as ending the COVID-19 pandemic by increasing production and access to safe and effective vaccines; promoting high-standards infrastructure; combatting the climate crisis; partnering on emerging technologies, space, and cybersecurity; and cultivating next-generation talent in all of our countries.
COVID and Global Health
Quad leaders recognized that the most immediate threat to lives and livelihoods in our four countries and the world is the COVID-19 pandemic. And so in March, Quad leaders launched the Quad Vaccine Partnership, to help enhance equitable access to safe and effective vaccines in the Indo-Pacific and the world.
Since March, the Quad has taken bold actions to expand safe and effective COVID-19 vaccine manufacturing capacity, donated vaccines from our own supply, and worked together to assist the Indo-Pacific in responding to the pandemic. The Quad Vaccine Experts Group remains the heart of the cooperation, meeting regularly to brief on the latest pandemic trends and coordinate our collective COVID-19 response across the Indo-Pacific, including by piloting the Quad Partnership COVID-19 Dashboard.
Infrastructure
Building on the G7's announcement of Build Back Better World (B3W)—an infrastructure partnership focused on digital connectivity, climate, health and health security, and gender equality infrastructure—the Quad will rally expertise, capacity, and influence to strengthen ongoing infrastructure initiatives in the region and identify new opportunities to meet the needs there.
Climate
Quad countries share serious concern with the August Intergovernmental Panel on Climate Change's report findings on the latest climate science, which has significant implications for climate action. To address the climate crisis with the urgency it demands, Quad countries will focus their efforts on the themes of climate ambition, including working on 2030 targets for national emissions and renewable energy, clean-energy innovation and deployment, as well as adaptation, resilience, and preparedness.
Quad countries committed to pursue enhanced actions in the 2020s to meet anticipated energy demand and decarbonize at pace and scale to keep our climate goals within reach in the Indo-Pacific. Additional efforts include working together on methane abatement in the natural-gas sector and on establishing responsible and resilient clean-energy supply chains.
People-to-People Exchange and Education
The students of today will be the leaders, innovators, and pioneers of tomorrow. To build ties among the next generation of scientists and technologists, Quad partners are proud to announce the Quad Fellowship: a first-of-its-kind scholarship program, operated and administered by a philanthropic initiative and in consultation with a non-governmental task force comprised of leaders from each Quad country. This program will bring together exceptional American, Japanese, Australian, and Indian masters and doctoral students in science, technology, engineering, and mathematics to study in the United States. This new fellowship will develop a network of science and technology experts committed to advancing innovation and collaboration in the private, public, and academic sectors, in their own nations and among Quad countries. The program will build a foundational understanding among Quad Scholars of one another's societies and cultures through cohort-wide trips to each Quad country and robust programming with each country's top scientists, technologists, and politicians.
Cybersecurity
Building on longstanding collaboration among our four countries on cybersecurity, the Quad will launch new efforts to bolster critical-infrastructure resilience against cyber threats by bringing together the expertise of our nations to drive domestic and international best practices.
Space
Quad countries are among the world's scientific leaders, including in space. Today, the Quad will begin space cooperation for the first time with a new working group. In particular, our partnership will exchange satellite data, focused on monitoring and adapting to climate change, disaster preparedness, and responding to challenges in shared domains.