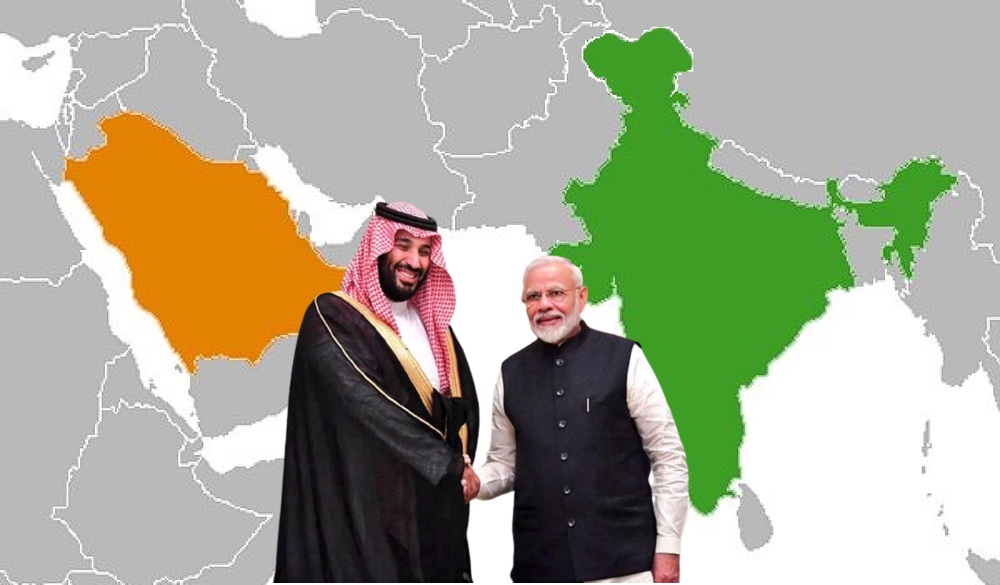 Saudi Arabia has removed the police clearance certificate for Indians seeking Saudi visas.
Need to look into its implications, growing ties and potential, and reasons for facilitating this move between Riyadh and New Delhi.
Saudi Arabia is interested in joining BRICS, as Riyadh sees it as an alternative to its dependence on the west.
The growing bilateral economic ties between the two countries will transform into a multi-sphere platform covering many sectors.
Saudi Arabia has historically been an energy partner of India as New Delhi imports more than 18% of crude oil. The ties between the two countries saw a massive development on November 17, 2022, when Saudi Arabia exempted Indian nationals from getting a police clearance certificate to obtain a Saudi Visa. This is a massive boost to already-developing and growing economic ties as this would mean the easy facilitation of Indians seeking Saudi visas which would benefit the working-class Indians the most who would further help India by remitting their earnings back to India. It is not just the annual trade between the two which is close to $30 billion, but also the initiatives like the ones mentioned below that highlight the growing partnership between the two countries.
Rupee-Riyal Deal
The news of a possible currency deal comes soon after Trade Minister Piyush Goyal's visit to Riyadh in September, where the two sides have shown interest in trading in their national currencies. This indicates Riyadh's intention to bypass the Dollar. It may be noted that they have also made an agreement with Beijing to provide oil in Yuan. Additionally, Saudis have promised to work on diversifying the economic ties and reducing trade barriers with Riyadh promising an investment of $100 billion in India. This not only showcases the growing economic ties but also promises a long-lasting relationship between the two nations.
Free Trade Agreement
Riyadh leads the 6-member Gulf Council and is interested in signing an FTA with India. The negotiations over that FTA are to happen on November 24. This is a remarkable attempt by both parties to take their relationship to the next level. As India and the Gulf World are heavily engaged in a trade involving multiple sectors, including agriculture products, precious stones, spices, etc., lifting the trade barriers would further increase the potential of both parties, leading to more volumes of trade help in the diversification and growth of the economy. It is said that primarily there are two parameters important in maintaining and penetrating ties: among countries in the 21st century, one being the economic one and the other being the military and strategic ties. Riyadh has checked all boxes and not just the economic part.
Recently, the growing military ties between the two countries were showcased when India's defence firm, Kalyani Strategic, won a $155.5 million deal with Riyadh for artillery guns in a non-conflict zone. Further, it can be understood that the largest defence importer is looking towards the East, and with India's growing and evolving ambition of becoming the defence export hub, this makes for a very strategically important combination.
Not just bilateral, the two sides are also interested in joining multilateral platforms and Russian Foreign Minister Lavrov's recent comments on the sidelines of the G20 in Bali have said that Saudi Arabia is interested in joining BRICS, as Riyadh sees it as an alternative to its dependence on the west and lower its dependence on the latter. Moreover, Saudi is tilting towards countries like Russia and China to further its energy and defence ties as it has shown interest in procuring weapons from Moscow. The recent meeting of OPEC+ suggested a cut of 2 million barrels of oil output in a day which was the major statement directed at Washington and an indicator of its growing ties with the East. It may be noted that all this was happening after Biden's visit to Riyadh earlier this year. There was a sense that Riyadh wanted to take it forward and mend its ties with partners like Russia, China, and India.
Moreover, this would help India further boost its bilateral economic ties and transform into a multi-sphere platform where the spheres of agriculture and energy are discussed on the same terms and provisions as envisaged in BRICS. There can be certain possible reasons for Riyadh joining BRICs.
1) Rise of the Houthis: Saudi Governmental Forces are Engaged in Yemen's Long-lasting Civil War, which started in 2013, and fighting against Houthis But the war has taken a bitter turn as the Houthi presence is not just limited to Sana but also in the oil depots of Riyadh and Abu Dhabi. which has massive criticism for the United States from Saudi Arabia, as they blamed Washington for not protecting their territory amid the attack, which was even accepted and apologized for it in Washington. But this has made Riyadh vigilant, and they wanted to reduce their dependence and further diversify their relations with the East.
2) JCPOA talks: Riyadh is also distancing itself from the West in the ongoing JCPOA talks as it feels lifting of sanctions by Tehran would further intensify The hegemonic race in west Asia and would challenge its oil supremacy, which has been questioned recently as the permanent oil partner like India has been going for Russian oil, and Moscow oil has already replaced Riyadh oil for New Delhi predominantly after February 24 Riyadh's lead bloc is also worried that its land should not be used as a competitive ground for Washington and Beijing, as well as the UAE, a prominent ally of Riyadh, disapproved of the F-series fighter jet deal with the USA as it didn't want to turn into a competitive ground.
Growing Stature of India in the Gulf
The above moves cement India's position in the Gulf as a major trading partner. New Delhi is also interested in accessing east Europe through the Gulf and growing Saudi ties would only help its cause. The possible access to Eastern Europe through Saudi Arabia would only catalyse the growing bilateral ties with India and a presence in the resourceful region of the Gulf, as India is already engaged with partners and associations like the I2U2 (West Asian QUAD), CEPA with the UAE, the Chabhahar Port project and the international north-south trade corridor with Tehran. India is also in talks for an FTA with the Gulf Council. All these associations are non-military alliances with a focus on important sectors like economic development, strengthening the supply chain, and inclusive growth. These alliances keep India in a very balanced position without interfering with or provoking the differences in the region.
This is an interesting time for New Delhi and Riyadh relations as it gives both parties a free and fair opportunity to not only further mutual development but also lead a multipolar world.
(The author is a post-graduate student in International Relations at Kalinga university, Raipur. The opinions expressed are the author's own)