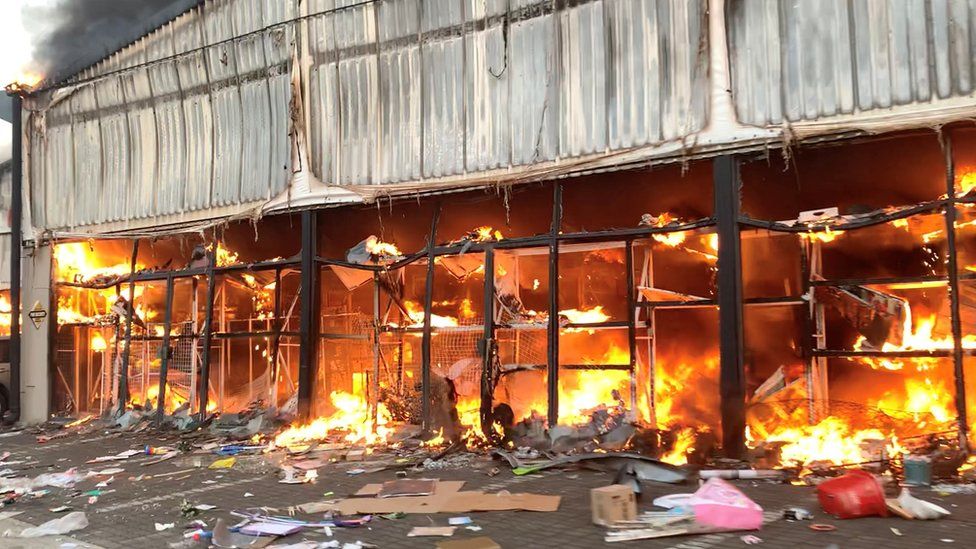 Reasons for Unrest
There are two clear and opposing forces in the African National Congress. One is headed by President Cyril Ramaphosa (2018- Present), other, known as the RET faction, they are sympathetic and fiercely loyal to the Former president Jacob Zuma (2009-18). Jacob Zuma was the spymaster of the ANC for years after leaving office, and is believed to have maintained staunch allies in the intelligence services. The RET faction feels cornered by the momentum gained by the present President Ramaphosa faction. They wanted a change of guard urgently and hence stand to benefit if the current president is weakened.
The situation worsened when violence broke out after Former President Jacob Zuma began serving a 15-month sentence for contempt of court. He had refused to comply with a court order to testify at a state-backed inquiry investigating allegations of corruption while he was president from 2009 to 2018. The other charge was corruption in a $2 billion dollar arms deal. When President Zuma was in power, an Indian corporate house (now in exile in Dubai) allegedly close to them was charged with corruption and undue influence over the functioning of his government.
In February 2018, the opposition brought a no-confidence motion against Jacob Zuma. The ANC deemed it as humiliation to the party and forced Jacob Zuma to step down as South Africa's president. The owners of the Indian corporate house fled South Africa after Jacob Zuma stepped down in 2018. Both have denied any wrongdoing. But supporters of President Zuma and a few native people think it is due to the Indian connection that their former President is going to Jail which are said to be the reasons for targeting the Indians. After Zuma's arrest the crowd has been insane and there has been panic in streets with shootings, looting in shopping malls, warehouses, factories, target minorities, blocking highways, roads and more.
Indians on Target!
The worry is the unrest has peaked in areas where Indians stay in places like Gauteng and KwaZulu-Natal provinces. Nearly 250 people were killed, 70 of Indian Origin and 1,234 or more have been arrested. The numbers are increasing. Although unrest has not spread to South Africa's other seven provinces, where police are on alert. South African President Cyril Ramaphosa said that he had sent his police minister and the premier of KwaZulu Natal province to a township in Durban in order to tackle the escalating tensions between Indian and black communities in the area.
India's external affairs minister S Jaishankar spoke to his South African counterpart Naledi Pandor to express his concern over the widespread violence and rioting in South Africa at present. Pandor had assured Jaishankar that the South African government was doing everything possible to enforce law and order.
The tensions between Black community and the Indian community in South Africa has further worsened by the socio-economic disparity and the racist rhetoric promoted by various groups and parties using the charges of corruption and influence as the reasons. Social media platforms also witnessed a wave of hateful posts against Indians in South Africa. The posts also incited violence against them, asking the rioters to specifically locate Indians and their properties and possessions. The association of Zuma with the Gupta brothers and their role in the corruption cases is being used as an excuse to target Indians.
President Cyril Ramaphosa has said that the violence was pre-planned, but has not said who he suspects to be behind it. Ferial Haffajee, associate editor of the Daily Maverick, has written about a coordinated strategy of chaos, masterminded by a dozen close associates of the former president.
"The Indian nation here in KZN is the second largest outside of India," the new Zulu king, Misizulu Zulu, said in an appeal to his community on Wednesday. "We have lived in peace for many years alongside them. Therefore I ask: Let us be understanding and thoughtful towards each other."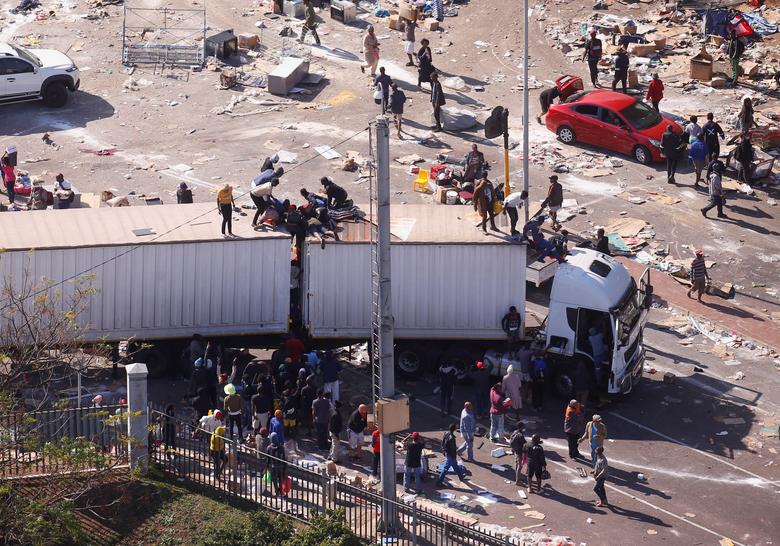 Demography of South Africa
South Africa or Republic of South Africa is a multiethnic society with a variety of cultures, languages, and religions. It has a population of 5.9 crore with an area of 1,221,037 square kilometres (471,445 square miles). It is the second-largest economy in Africa, and the 32nd-largest in the world. The country is one of the few in Africa never to have had a coup d'état, and regular elections have been held for almost a century. South Africa is a former British colony and full member states of the Commonwealth of Nations as Commonwealth republics. It is also a member of BRICS.
The Ethnic Composition of South Africa is 80.7% Black African divided among a variety of ethnic groups speaking different African languages. European (White South Africans) 7.9%, Asian (Indian South Africans and others) 2.6%, and Multiracial (Coloured South Africans) 7.9% and others. According to the 2011 census, the two most spoken first languages are Zulu (22.7%) and Xhosa (16.0%). English (9.6%) reflects the legacy of British colonialism, and is commonly used in public and commercial life.
Impact on India's relations with South Africa
India's relations with South Africa is natural and real as many Indians contributed to the African National Congress's struggle against the Apartheid regime. Who can forget Mahatma Gandhi Satyagraha movement in South Africa over a century ago. The Indian government was an outspoken critic of the apartheid-era South African government, refusing to maintain diplomatic relations. India's support evoked goodwill in South Africa and other African countries. That is the reason South African Minister for Human Settlement Lindiwe Sisulu during a visit to Delhi had said "India is our closest ally in the Asian continent."
Both countries established diplomatic relations after the end of apartheid in 1994. South African leader Nelson Mandela was awarded the Mahatma Gandhi Peace Prize and Bharat Ratna by the Indian government.
The South African Indian origin community numbers around 1.6 million and constitutes about 3% of South Africa's total population. About 80% of the Indian community lives in the province of KwaZulu Natal, about 15% in the Gauteng (previously Transvaal) area and the remaining 5% in Cape Town. South Africans of Indian origin are well-represented in Government, business, media, legal and other professions. The year 2010 marked the 150th anniversary of the first arrival of Indians in South Africa. 2014 marked 100 years of Gandhiji's final departure to India from South Africa; he reached India on 9th Jan 1915; this date is now commemorated annually as Pravasi Bhartiya Divas.
Though one can say that whatever is happening is the domestic issue of South Africa but targeting people of Indian Origin and their areas in pitched battles, looting, rioting, killings, target shopping malls, warehouses, factories and the area is worrisome. So the External Affairs Minister of India has spoken with South African Authorities to look into the matter and give adequate security and protection to vulnerable minority people there. As President Cyril Ramphosa said, if it was pre-planned and xenophobic the culprits have to be brought to justice. In the African continent, South Africa is a shining star for Indian's to fulfill their dreams and contribute to its development. The South African Government should give maximum protection and safety to them and only then a multi-ethnic, multi-religious, multilingual society like South Africa's will become powerful.
(Author is a Political Analyst, Columnist, International Affairs and Korea Expert. The opinion expressed are author's own and do not necessarily reflect the views of SamvadaWorld)