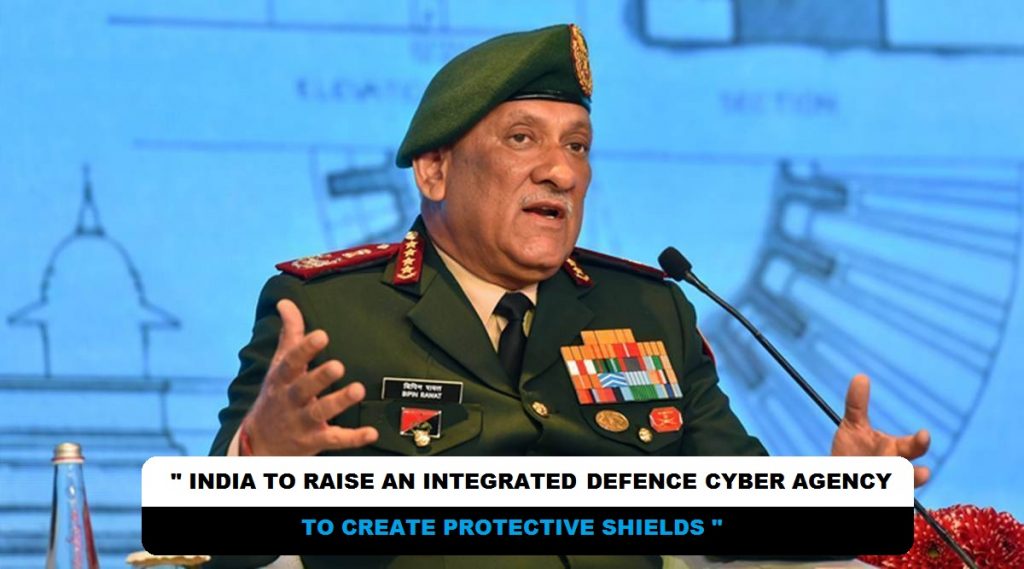 Chief of Defence Staff General Bipin Rawat on Wednesday said that Indian defence forces are focusing on cyber defence, and working on offensive cyber capabilities as well to counter cyber threats emanating from across the border. The CDS was speaking on "Shaping the Armed Forces to meet likely Current and Future Challenges" at the Vivekananda International Foundation's Vimarsh on 7 April.
Speaking about new forms of warfare, the CDS spoke about cyberattacks, and as they may not have "signatures," it will be more difficult to work out where the attack was coming from as there can be "deniability." Such attacks would not attack the border regions but targets in the "depth areas." Similarly, in the wake of the battle between Armenia and Azerbaijan, the importance of drones as a weapon and also, for surveillance will be looked at.
Though China is ahead of India in the domain of Cyber Offensive capability, India too is reducing the gap by raising an integrated Defence Cyber Agency he said. "India Cyber agencies can create protective digital shields, but it is important to see how quickly they can react after such an attack", he said.
Speaking about the need for new technology, he said that if the armed forces did not embrace new technology, which would be as useful that "boots on the ground," for warfighting, intelligence gathering and logistical work, it could be too late. Asked about Artificial Intelligence and Quantum computing, he said that AI is being used for predictive maintenance and by the Navy for the "underwater domain," but clearly "we have lagged behind." When it comes to Quantum computing, the situation is the same, he said. "We have not made satisfactory progress, but a beginning has been made," he added.
Chief of Defence Staff Rawat earlier said that the CDS system in the country is "evolutionary". "CDS system in India is evolutionary and will progressively adopt more means of integration and joint functioning for an integrated system to finally emerge for our armed forces," General Rawat said. The CDS also said, "To ensure security, there needs to be an institutionalised approach wherein properly designed institutions of national security with defined roles and responsibilities and a robust mechanism to bring institutions together who'll be able to work in sync with each other."
"The Cabinet Committee on Security is a key panel that deals with issues related to national security. Headed by the Prime Minister, it has the defence, home, external and finance ministers as its members. Therefore integrated structure for highest direction on the legislation of national interest and issues impinging on national security exists in the country," Rawat added.
Speaking on the need to fight independently during a conflict, he said "We are a very unique nation, with two neighbours on our north and the west which are belligerent, with a vast Indian Ocean which is also to be defended by us. Along with support that we may get from other nations, but during the times of conflict I think, we will have to learn to stand on our own two feet. Therefore, we have to ensure that we integrate all our resources so that the combined strength of our services adds up to greater than the sum of the whole. And this can only happen if we carry on integrated in a compact manner," he said.
Regarding the integration of the resources of the three services, the Chief of Defence Staff said, "A series of initiatives are being undertaken that will change the way we fight, the way we develop capability, whose aggregate effect would begin to build momentum shortly."
General Bipin Rawat's address can be watched here: