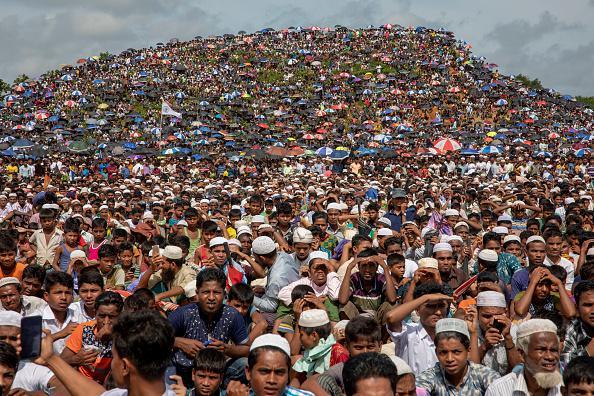 The Supreme Court on Thursday refused to grant relief in a petition challenging the detention of Rohingya refugees in Jammu and the move to deport them back to their parent country Myanmar, reports Live Law.
Ruling in favor of the government's move, the SC said "It is not possible to grant the interim relief. However it is made clear that the Rohingyas in Jammu on whose behalf the application has been moved shall not be deported unless the procedure prescribed for such deportation is followed".
The Court refused to order the release of nearly 150 Rohingyas detained in the holding centres in Jammu and allowed their deportation to their parent country as per the procedure of law.
A bench comprising Chief Justice SA Bobde, Justices AS Bopanna and V Ramasubramanian passed the order in an application moved by Mohammad Salimullah in the Public Interest Litigation petition filed by him on behalf of the Rohingyas.
Solicitor General Tushar Mehta had opposed the application on behalf of the Union Government. The SG said that a similar application concerning Rohingyas in Assam was dismissed in 2018, and that the petitioner had suppressed that fact in the present application.
The SG also disputed that Rohingya detainees were refugees and called them "illegal migrants". "India cannot be a capital for all illegal migrants of the world", the SG added.
Senior Advocate Harish Salve, intervening on behalf of the J&K administration, argued that the principle of non-refoulement was not binding on the India Government as it has not signed the international treaties propounding the said principle.
Last month, the Central government through Solicitor General Tushar Mehta opposed the plea filed by Mohammad Salimullah contesting the claim of the petitioner that they are refugees. "They are not refugees at all. This is the second round of litigation. This petitioner had filed an application (before) and it was dismissed," Mehta had said.
During the same hearing, the Supreme Court had refused to hear UN Special Rapporteur on the matter after Jammu & Kashmir objected through Senior Counsel Harish Salve who said that UN is not subject to the jurisdiction of the Court and the J&K govt has issues with the UN Special Rapporteur. The United Nations through its Special Rapporteur, E Tendayi Achiume sought to assist the court in the case.