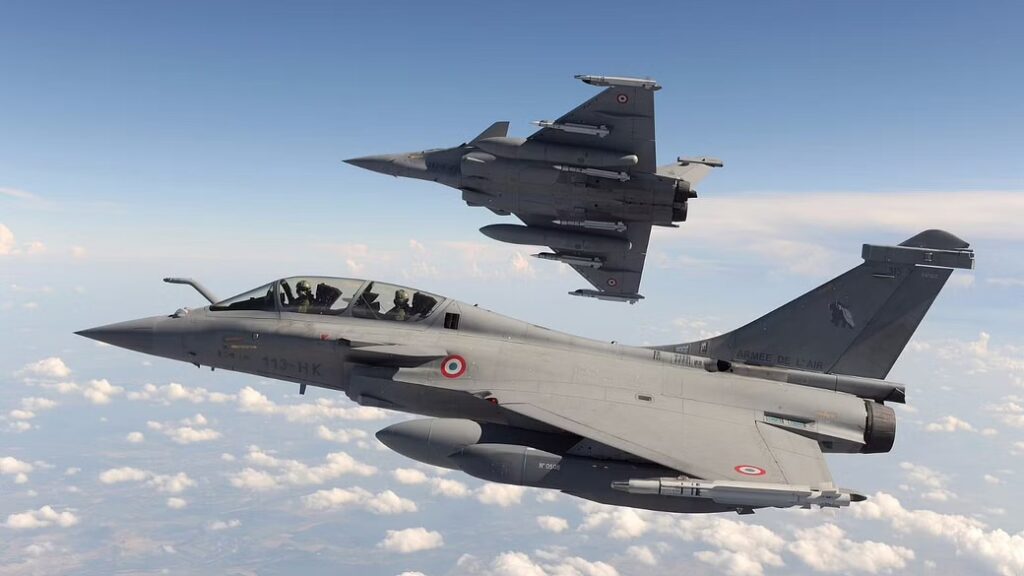 The Indian Air Force has been ranked higher than the People's Liberation Army Air Force, the Israeli Air Force, the Japan Air Self Defence Force, the Royal Air Force of the United Kingdom and many more developed nations, according to a report published by the World Directory of Modern Military Aircraft (WDMMA).
The Global Air Powers Ranking (2022) report has given the highest TvR score of 242.9 to the United States Air Force (USAF). The USAF which has 5,091 aircrafts comprises a broad mix of aircraft types and several products are locally sourced from the massive industrial base of the US. It also maintains dedicated strategic-level bombers, CAS aircraft, a sizable helo and fighter force (of which many are multi-role types), and hundreds of transport aircraft and the USAF is going to be reinforced in the coming days with hundreds of units still on order.
In contrast, the United States Navy with 2,626 comes 2nd with a TvR score of 142.4. The Russian Air Force with 3,829 aircrafts is rated 3rd best with a score of 114.2. The United States Army Aviation (4,328 aircrafts and TvR of 112.6) and United States Marine Corps (1,211 aircrafts and TvR of 85.3) are ranked 4th and 5th. The Indian Air Force with 1,645 aircrafts is ranked 6th with a TvR of 69.4. The People's Liberation Army Air Force of China with 2,040 aircrafts comes after the IAF at 7th position with a score of 63.8. The Japan Air Self-Defense Force (779 aircrafts and TvR of 58.1) comes 8th, the Israeli Air Force (581 aircrafts and TvR of 58.0) at 9th and the French Air and Space Force (658 aircrafts and TvR of 56.3) at the 10th position complete the top 10 in the WDMMA Air Power rankings.
As per WDMMA statistics, the Indian Air Force (IAF) in 2022 counts 1,645 total units in its active aircraft inventory. As per the report, the IAF has 632 Fighters which include 242 Su-30MKIs (Multirole), 132 MiG-21bis (Interceptor), and 130 Jaguars M/S (Attack). It has 438 Helicopters which include 223 Mi-17/171 (Medium-Lift), 91 HAL Dhruv (Multirole), 77 SA 316/SA 319 (Utility) helicopters. In Transports, the IAF has 250 aircrafts including 104 An-32 (Tactical), 57 HS 748 (Utility), and 50 Dornier 228 (Utility) aircrafts. It has 304 Trainer aircrafts which include 104 units of Hawk 132 (Advanced Jet Trainer), 79 HJT-16 (Light Jet Trainer), and 75 PC-7 Mk II (Basic Trainer) aircrafts in its inventory.
Indian Naval Aviation with 232 aircrafts is ranked 28th with a TvR of 41.2.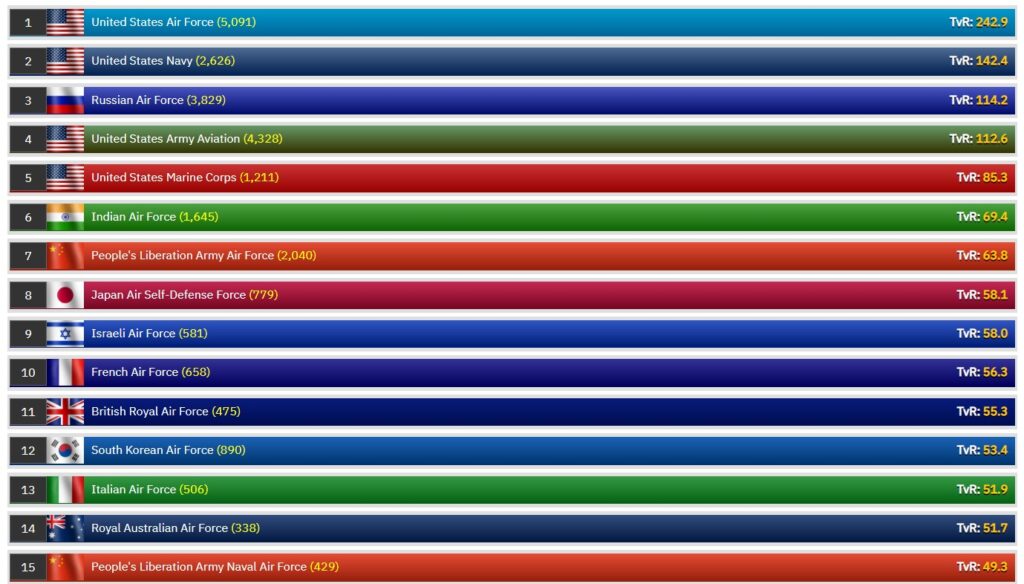 How does the WDMMA prepare the report
The WDMMA review takes into account specific categories of aircraft covering attack, logistics, special-mission, and general support types. Inventory numbers and related aircraft types / variants are provided as-is and derived from publically-available information / sources. "Outlook" results are related to any future airframes currently under procurement though said airframes may not be delivered for service in the current year for various reasons. "Readiness Rates" are based on the published USAF standard. Due to discrepancies regarding UAV reporting between countries and sources, unmanned vehicles are currently not tracked by WDMMA.
While preparing its annual ranking on modren military air services across the globe, the WDMMA uses a formula . The formula produces the 'TrueValueRating' (TvR), which helps WDMMA to separate each power based on not just the overall strength, but also on factors like modernisation, logistical support, attack and defence capabilities. Thus, the military air power of a country is not analysed only based on its total quantity of aircraft but rather on its quality and general mix of inventory. However, the WDMMA states that the TvR is a work-in-progress and is constantly updated as per the requirement. It also focuses on local aero-industry capabilities, inventory balance and force experience.