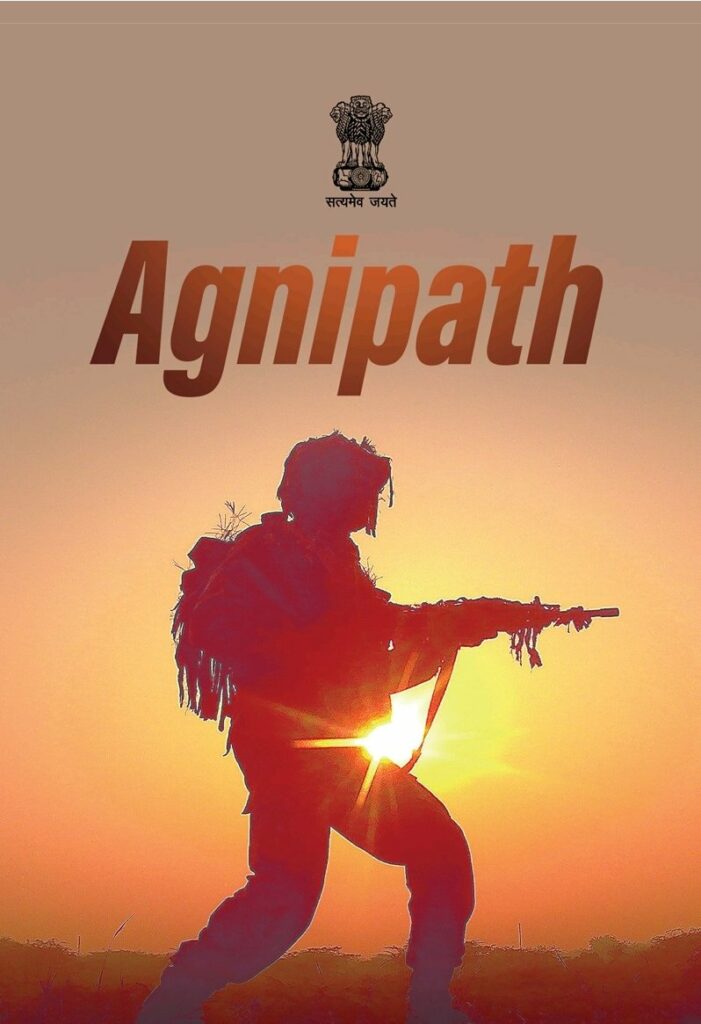 On 14th June 2022, Defence Minister of India Rajnath Singh along with chiefs of the Indian Armed Forces made public a short-term recruitment scheme in defence Services named Agnipath. It was not an announcement of an additional scheme but a change in the military recruitment policy of soldiers which forms the major strength of the armed forces. Under Agnipath, youngsters aged between 17.5 years to 21 years can apply to serve in the armed forces as Agniveers for a short stint of 4 years and later get permanently enrolled based on their performance during the Agniveer tenure. They will be paid a customized package of rupees 30,000 to 40,000 per month for 4 years of which monthly 30% will be contributed to the Agniveer Corpus fund with an equal contribution by the government, which will sum up to 12 Lakhs including interest after 4 years.
Agnipath is a transformative reform aimed at maintaining the younger profile of the armed forces. The average age of troops is 32 at present and in a decade or more it would reduce to 26 years making Indian defence forces more young and fit. Moreover, along with a younger profile making the forces tech-savvy and thus future ready is the need of the hour and Agnipath will sustain this change. This revamped model of military recruitment significantly reduces the pension bill of defence services which seems to hinder the modernization of forces.
Within a few hours of its announcement, this scheme was subjected to intense debate among citizens, veterans, aspirants, defence analysts, media, enthusiasts etc. about its possible outcomes. This did not stop with debates but was an upshot to arson by the young aspirants who feel deprived of getting a chance of permanent enrollment in the armed forces. With more political intervention and the military being a sensitive subject, opposition parties are milking the opportunity.
The majority of modern armies across the world enlist soldiers initially for a contract period and later with the option of absorbing them permanently based on planned needs. Those who serve for longer periods are entitled to pensions. Agnipath seems to have been stimulated by these models existing across the world. Change always faces resistance and at the same time, it is inevitable. The government is intending to radically transform armed forces in the larger interest of the nation, though young aspirants look at Agnipath through a different prism. This is a sudden shocker to all of them.
The majority of modern armies across the world enlist soldiers initially for a contract period and later with the option of absorbing them permanently based on planned needs. 
It is the rural youth in higher numbers who aspire to get enrolled as soldiers in the armed forces with a sense of pride and patriotism. They look at serving in the armed forces as a patriotic life with a stable career. Now in the minds of these youths, the question of what after four years has been raised. Neither the political executive nor the armed forces predicted the response of dissent in the form of riots in various parts of the country. Bureaucrats both in the civil and military have failed in advising their political bosses about the grassroots emotions and realities of military recruitment. Governments being sensitive to the aspirations of these youngsters have come forward reserving jobs for Agniveers in several ministries including that of CAPFs, Assam Rifles and Indian Coast Guard along with states like Assam, Madhya Pradesh, Karnataka etc. announcing preference to the recruitment of Agniveers in state police departments.
Considering the recent skirmishes and unpredictable neighbours, it is essential to have a fit, agile, strengthened and modernized armed forces. At present, nearly 55 per cent of defence expenditure is spent on salary and pension bills, which is much higher than what developed nations spend and there is a need to cut down it. Agnipath tries to achieve these ambitions, however, the government should dig into other options to right-size the armed forces. To quote one such, post-1990s, Rashtriya Rifles was formed to fight the insurgency-dominated Jammu Kashmir, which was somewhat grim for state police and paramilitary forces at that time. Now CAPFs are modernized, and improvements in their capabilities must be mandated to tackle police operations in which defence forces are involved. Though Raksha Mantri said during the announcement of Agnipath, the Government is ready to spend more on armed forces, hinting that 'Agnipath' is not a money-saving measure.
As there will be a rollout of this scheme in 3 months, defence services must see how will be the applicant's ratio and be conscious that direct recruitment to CAPFs, equally patriotic career being more attractive than Agniveers would affect the Agnipath entry in terms of both quality and quantity. As various ministries have announced reservation of jobs for Agniveers, the government must evaluate options to make it in the form of legislation or assured exclusive recruitment plans for Agniveers. It is not the only government which is responsible for Agniveers, they will be part of society and how society treats them matters a lot in deciding the success and outcomes of Agnipath. How will private industries which provide more jobs than government and bodies like CII, NASSCOM, and ASSOCHAM own up Agniveers' skilling and re-employment is key in resettlement? There are already ex-servicemen reservation policies in government but still, ex-servicemen remain a neglected lot due to a lack of solid and effective re-employment plans both at the states and centre.
Considering the recent skirmishes and unpredictable neighbours, it is essential to have a fit, agile, strengthened and modernized armed forces. 
As the government is open to further tweaks, forces can still consider wider consultation not limited to armed forces or government but external consultation involving management institutes like IIMs, and public policy schools keeping in consideration certain societal implications also when recruitment policy is radically changed. Whether Agniveers can be enrolled for a short term up to 10 years with NPS benefits, providing special loan packages after exit, increase in the percentage of government jobs and more such options should be kept open. It is not good in the interest of the nation and the morale of the forces to vilify the financial benefits that these rough women and men are entitled to. These are the ones who are ready to sacrifice their lives and live a much tougher lifestyle than what we all live with our loved ones and families. Can there be any greater sacrifice than giving one's life for the cause of the nation and even missing small happiness at a personal level due to the charter of duties they are mandated to perform?
Undoubtedly there will be plans for restructuring officer entries too, armed forces must be open for extensive and external consultation but not myopic within themselves. Leaders in the armed forces play a significant role in decision making, be it in combat or administration or welfare of their soldiers or veteran affairs too for that matter. Government must be mindful that Agniveers coming out of the armed forces are extremely valuable assets to the society and they are put into the right bridge courses or refresher training before exiting and when they transit to the civil establishment and for roles in CAPFs and police or even in any other set up they enter, where ethos will be much different from what they would have followed in defence forces.
Let us keep Chanakya's words to Chandragupta on the Mauryan soldier as a guiding principle, "O Rajadhiraja, you owe a debt: please, therefore, see to it, on your own, that the soldier continuously gets his dues in every form and respect, be they his needs or his wants, for he is not likely to ask for them himself." Government should showcase its unwavering commitment towards soldiers and ex-servicemen and constitute a veterans' commission or something similar to the Armed Forces Covenant existing in the United Kingdom, which is a legally non-binding but a moral obligation to its soldiers and veterans which is considered with all seriousness. These ideas are not new but have already been initiated by policymakers in the government.
(The author is an educator and a curious policy analyst. He can be reached at vinaykrishnahv@outlook.com. The opinions expressed are author's own)