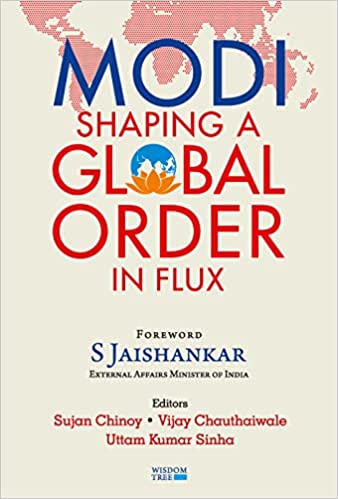 The book, 'Modi Shaping a Global Order in Flux' is a seminal collection of essays written by a diverse group of strategic thinkers, scholars, and diplomats with practical knowledge that highlights the statesmanship, leadership, and moral courage of Prime Minister Narendra Damodardas Modi and provides the world with a strong moral compass to resolve disputes. The book is divided into five sections and each chapter addresses various challenges India has encountered since 2019 in a constantly changing geopolitical volatile environment and the complex navigation in a fragile multilateral world each having its own self-interests.
This book gives a succinct insight into a variety of subjects like Covid-19 that brought existential challenges for India and how the government managed to inoculate nearly one billion of its citizens while keeping data. The book gives an analysis of an aggressive and belligerent China that raised the Kashmir issue at the United Nations General Assembly in 2019 and 2020. Also, it sheds light on a variety of emerging and evolving security paradigms in regional and international geopolitics with changes in the global economic order and talking leadership to address climate change. India's emerging relationship with the Middle Eastern countries and Israel.
It would not be possible to highlight all the essays that are part of this book, so for an interesting read, a few essays have been highlighted with the essence of other essays to give perspective. However, one thing is certain, this book gives a clear insight into how Modi and his team navigated India's economic, industrial, and healthcare challenges without compromising India's interests.
The Lockdown
One of the most interesting essays in this book is on the decisions and actions the government took when the Wuhan virus or Covid-19 started to spread. The lockdown was announced that would lead to restrictions on 65 per cent of economic activity across the country for a quarter of the fiscal. The main reason for the lockdown was to flatten the curve of the spread of the virus and allow time for various government agencies to prepare a robust mechanism for appropriate medical response.
Modi has led India through his transformative leadership in a complex geopolitical fog of uncertainty, and intrigue and walking a political tightrope.
Support packages
Next came the challenge of supporting people who now need government help for sustenance and this was made possible with the help of Jan-Dhan, Aadhar, and Mobile (JAM) which provided direct financial support and an Emergency Credit Line Guarantee Scheme (ECLGS) to give support to small and medium enterprises across the country. Also, the Pradhan Mantri Garib Kalyan Package (PMGKY) provided direct income support.
Digital economy
They say every problem is an opportunity and with Covid, India began its irreversible journey to becoming a digital economy and the Unified Payments Interface (UPI) which at many levels helped reduce direct human contact when it came to purchasing items. The essay on India's massive Covid-19 successful mass vaccination program can easily be a case study on its own. The development of the Co-Win platform by India and making it available to the whole world as an open-source platform showed the world that India will not take advantage in a time of global crisis. With nearly 200 million users, the 'Aarogya Setu' app was made as a readily available package for developers.
Soft power
It must be noted while the rich and often pontificating Western nations hoarded the covid vaccine, Prime Minister Narendra Modi Vaccine Maitri (Vaccine Friendship) provided COVID-19 vaccines to countries around the world. The Modi government started providing vaccines on 20 January 2021 and delivered around 16.29 crore (162.9 million) doses of vaccines to 96 countries. Out of these, 1.43 crore (14.3 million) doses were gifted to 98 countries by the Government of India. At the same time, the government carried out a "Hanuman Task" by inoculating nearly one hundred and forty crore Indians.
Under the ambient of the Atamanirbhar Bharat and make it in India initiative, India has finally been able to work towards developing cutting-edge defence technology 
Assertive diplomacy and shared partnership
Under Modi's leadership, India is now looked up to as a world leader and four things stand out from recent times,
1. When Modi told Putin that this is not the time for war.
2. Foreign Minister S Jaishankar in a global forum stating the era of the West's problem is no longer a global problem.
3. Transforming India through a critical geopolitical evolution with strong political and diplomatic leadership and contributing to the construction of new global order.
4. From strategic detachment, Modi has taken India into important partnerships like the Quad and rapidly elevate India's global standing.
Since Modi's emphatic reelection and becoming the undisputed choice of the people in 2019, Modi has led India through his transformative leadership in a complex geopolitical fog of uncertainty, and intrigue and walking a political tightrope in both Indian domestic politics and international relations which is in constant flux, particularly with Ukraine. Modi started his second term by getting rid of Articles 370 and 35 (a) gave extra special status to Jammu and Kashmir in direct contravention of the Indian constitution that guarantees fundamental rights and equal opportunities to all its citizens. His vision for E-governance is easy governance, effective governance, and also economic governance has also helped millions of people.
Under the ambient of the Atamanirbhar Bharat and make it in India initiative, India has finally been able to work towards developing cutting-edge defence technology and it is one of the only four nations that includes China, Russia, and the United States that has the ASAT missile. India is now also the world pharmacy and an important partner in the global supply chain which also allowed it to forge partnerships with many nations without compromising its independent foreign policy.
Epilogue
The Covid-19 pandemic was a global cataclysmic event that affected the entire world. And for a country like India which is home to the one-third of world's population, this strongly alleged anthropogenic virus emanating from China caused massive trauma to hundreds of millions of people. However, against all odds, India has only emerged stronger.
(The author is a freelance writer and has published articles on defence and strategic affairs. He tweets @LaxmanShriram78. Excerpts from the book have been slightly paraphrased for the sake of continuity)
Book: Modi: Shaping a Global Order in Flux, Foreword by Dr S Jaishankar
Edited by: Sujan Chinoy, Vijay Chauthaiwale, and Uttam Kumar Sinha (Also contributing Authors)
Publishers: Wisdom Tree
Price: ₹ 895 (Hardcover)
SW Ratings: ****