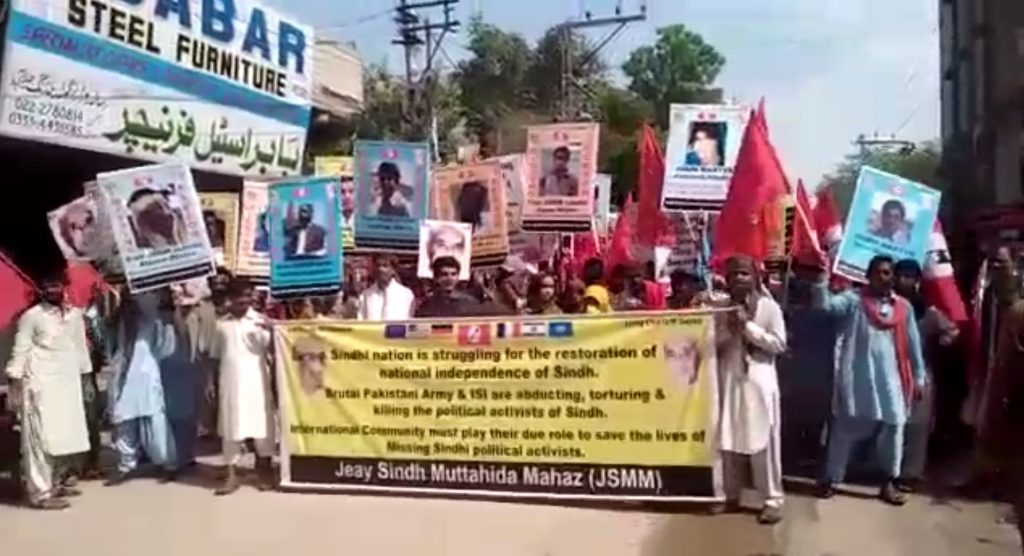 Hundreds of activists of Jeay Sindh Muttahida Mahaz (JSMM) marched in Pakistan's Hyderabad, the second largest city of the province, demanding independence for Sindh.
The protesters also demanded release of Sindhi political activists who have been abducted and enforced disappeared by Pakistani Army and Inter-Services Intelligence (ISI).

A large number of women, children and youth participated in the protest march. The JSMM activists took out the rally from Sindh University (Old Campus) to District Press Club Hyderabad.
Speaking to ANI, Shafi Muhammad Burfat, Chairman of Jeay Sindh Muttahida Mahaz said "Among all these barbaric assaults on its history and culture, and all these ages of occupation and dawns of independence Sindh has retained and maintained its separate historical and cultural identity as a pluralist, co-existent, tolerant and harmonious society where all the different cultures, languages and ideas of the foreign and native people have not only influenced each other but accepted and absorbed the common message of the human civilisation".
He added, "This historical synthesis of religions, philosophies and civilisation from the east and west has given our motherland Sindh a distinct place in the history of humanity". Burfat told ANI, "While the Sindh gave India its name, the Sindh citizens who pioneered in the fields of industry, philosophy, marine navigation, mathematics and astronomy are today chained by the Islam-o-fascist terrorist unconstitutional forced federation of Pakistan by the military might of Punjabi imperialism in the name of Islam".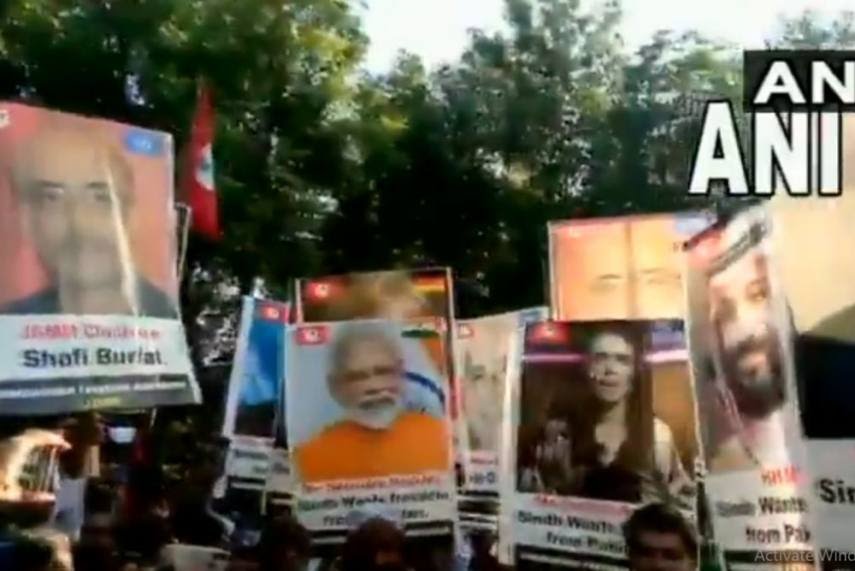 The protestors were carrying banners and placards, demanding restoration of total Independence of Sindh, annexed by the British Colonial Empire in 1948. The protesters urged the United Nations (UN), International community and Human Rights Organizations to take immediate notice of the Pakistani occupation, fascism, State torture, atrocities and exploitation of Sindh.
Many protesters were seen carrying placards of Indian PM Narendra Modi and other world leaders to seek their intervention for the freedom of Sindhudesh.

JSMM is one of the major separatist political party, which has been fighting against the atrocities done by Pakistan. The Sindhi Organisation believes in forming a separate nation from Pakistan. Due to the uprisings, the government of Pakistan has banned JSMM.
Sindhudesh is a demand for a separate homeland for Sindhis which was emerged in 1967 under the leadership of GM Syed and Pir Ali Mohammed Rashdi.
(Source: DD News)