Myanmar's military junta promised yesterday that there would be an election and it would hand over power. The military has not given a date, but has imposed a state of emergency for a year. The statement comes as police filed an additional charge against former premier Aung San Suu Kyi.
Brigadier General Zaw Min Tun, the spokesman for the ruling council, told the junta's first news conference since overthrowing Suu Kyi's government that their objective is to hold an election and hand power to the winning party. Asked about the detention of Nobel Peace Prize winner Suu Kyi and the president, Zaw Min Tun said they were in their homes for their security while the law took its course.
"We guarantee … that the election will be held," he told the nearly two-hour news conference, which the military broadcast from the capital, Naypyitaw, live over Facebook. He also defended seizing power, denying it was a coup even as protesters took to the streets in large numbers in support of Suu Kyi and other arrested leaders.
While China dismissed rumours that it had helped with the military's action, the British Prime Minister Boris Johnson has decried the new criminal charge on Suu Kyi, saying it was fabricated. The United States was "disturbed" by reports of the additional criminal charge against Suu Kyi, State Department spokesman Ned Price said. Washington imposed new sanctions last week on the Myanmar military.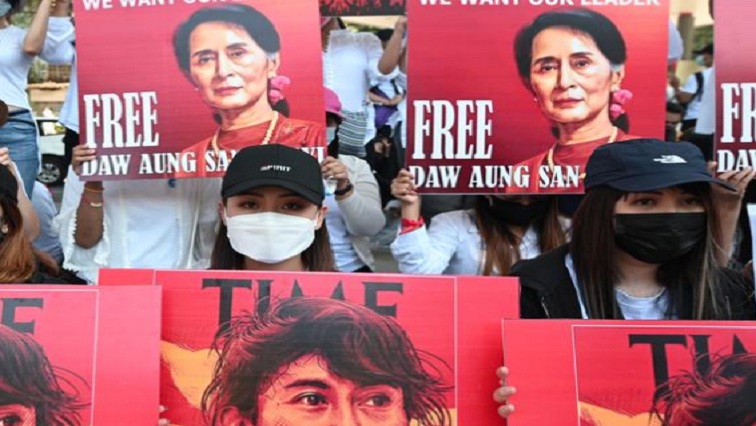 Meanwhile, protesters poured onto a railway track earlier yesterday in support of the disobedience movement and blocked trains between the commercial capital Yangon and the southern city of Mawlamyine.
Peaceful demonstrations against Myanmar's military takeover resumed Tuesday, following violence against protesters a day earlier by security forces and after internet access was blocked for a second straight night. Buddhist monks demonstrated outside the U.N.'s local office while hundreds marched through the west coast town of Thanked.
Demonstrations have grown in towns and cities and a civil disobedience movement has brought strikes that are crippling many functions of govt. Groups of demonstrators turned out early in Yangon and other cities to protest the Feb. 1 coup and demand that the nation's elected leader, Aung San Suu Kyi, and members of her ousted government be freed from detention.
Suu Kyi, 75, spent nearly 15 years under house arrest for her efforts to end military rule. She faces charges of illegally importing six walkie-talkie radios and is being held on remand until Wednesday. Her lawyer said on Tuesday police had filed a second charge of violating a Natural Disaster Management Law.