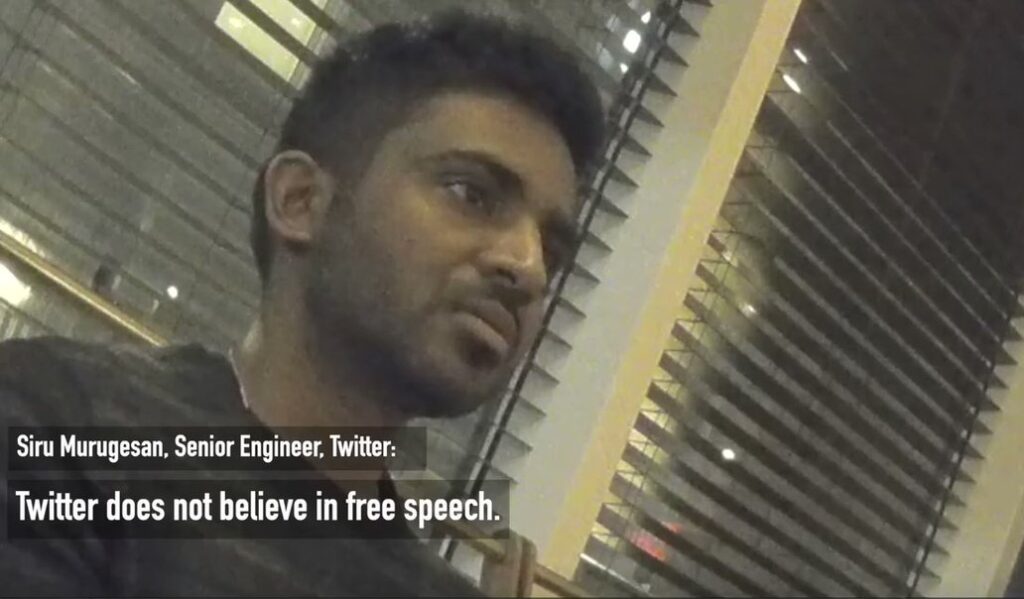 Project Veritas published explosive undercover footage on Monday night featuring one of Twitter's senior engineers discussing the dynamics behind internal reactions to the acquisition of the tech company by business magnate, Elon Musk. In the video Twitter engineer, Siru Murugesan, says many of his colleagues have voiced " this would be my last day if it happens", referring to Musk's highly publicized intended purchase of Twitter. He also says employees at Twitter are " stress – eating " and "worried for our jobs".
More significantly, the sting operation revealed what employees at Twitter feel about free speech, censoring views from the right, capitalism vs communism, etc. Some claims made by the Twitter engineer were:
* "Twitter does not believe in free speech •••• Elon  believes in free speech".
* "Our jobs are at stake, he's a capitalist and we weren't really operating capitalist,more like very socialist. Like we're all like Commies as f**k".
*  "We  did all we could to revolt against it .A lot of employees were revolting against it".
Twitter Employees Abhored Elon Musk bid to buy Twitter
The undercover footage also revealed that Twitter employees were overtaken by despair and anger about Elon Musk's month-long effort to acquire Twitter. Musk announced he would purchase the company for $ 44 billion on Monday. The deal concludes a month – long saga that began with Musk first tweeting out polls and his thoughts about the decline of free speech on Twitter. On the business communication platform Slack, some Twitter employees vented against the new owner, leaked messages reveal.
Murugesan also pointed to free speech being one of the core issues employees at Twitter have with its new likely owner, Elon Musk. When asked about the difference between Twitter's definition of free speech and Musk's, the Sr. Engineer left no room for interpretation. " Twitter does not believe in free speech," said Murugesan. Murugan said 'a lot has changed' since Musk began the takeover process on April 25. He said employees were worried about their jobs, because his companies run differently to Twitter's 'socialist' workplace. Murugesan also said many staffers had openly tried to thwart the takeover, worried in particular about Musk's promise to reinstate people like Trump.
While critics of Elon Musk warned that his buyout of Twitter will see a surge in hate speech on the platform, supporters say it is an important move for free speech. But the sting operation by Project Veritas shows how social media companies do not allow for control on the part of participants and that individuals have no control over the use of what they type in tweets and posts and "likes, " and other actions on social media. Everything is controlled by the social media platform owners, who are free to sort, shift and display user's contributions as the platform owner sees fit.